There's no doubt Southwest Airlines (SWA) has a loyal following and it's easy to see why so many people love them. First of all, they're the only U.S. airline that offers two free checked bags. They were also the only airline not to charge a change fee until the pandemic came around and took away their advantage. Most major U.S. airlines have done away with the pesky and absurd change fee — as long as you don't buy the highly restrictive basic economy fare. On top of that, SWA flight attendants have always been known to be some of the most entertaining in the business – as you can see in this hilarious video.

However, there's no doubt Southwest lost some of its following after their Christmas-week meltdown. The airline couldn't have picked a worse time to have a computer system failure since flights across the board were already chockfull for the holiday break. So when SWA canceled close to 17,000 flights and stranded over two million passengers, they inadvertently assumed the role of the Grinch instead of Santa and ended up ruining the holidays for many people.
RELATED: Taylor Swift's Clever Southwest Airlines Tip For Keeping the Seat Next to You Empty
I had multiple friends stuck in the fiasco and they did say Southwest did the right thing and reimbursed a lot of those passengers for alternate flights, hotels and car rentals. But you can't put a price on lost time or missing an important once-a-year family gathering.
Sitting on the tarmac because .@SouthwestAir has fumbled operations yet again. So much for making it to work on time this morning 🫠

— Thugnificent (@iKeepitLIL) April 18, 2023

Earlier today, Southwest Airlines gave some of their passengers flashbacks of four months ago when their computer systems failed yet again. According to CBS News, the airline requested a ground stop early "to work through data connection issues resulting from a firewall failure."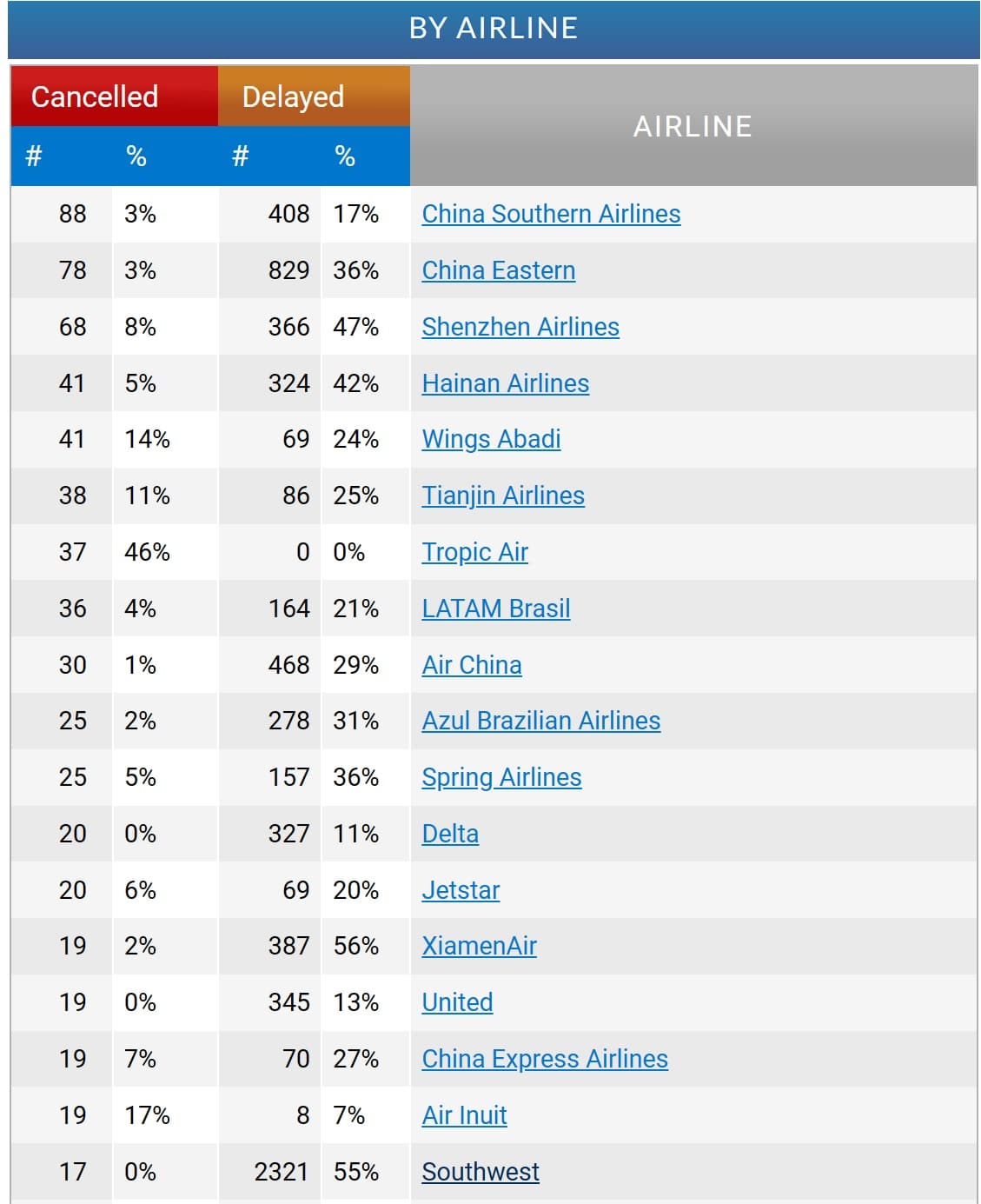 More than 2,300 Southwest flights were delayed today (Tuesday, April 18, 2023) according to FlightAware (screenshot above). Fortunately, it happened in the early morning so they were able to keep cancelations to a minimum. But my point is that, according to one of their chief pilots, there's a 50/50 chance it's going to happen again.
In a shocking candid interview earlier today, Captain Michael Santoro, vice president of the Southwest Airlines Pilots Association, told CNBC's Power Lunch that he thinks the odds of this happening again are "50/50." He said, "this system gets rebooted every night and for me, I'm always wondering if it's going to get rebooted for tomorrow. It makes me nervous that system, I'm not a fan of it and it's old, very old."
When the host asked what the solution is, Captain Michael said, "fortunately, Bob Jordan (SWA CEO) and (Andrew) Watterson (Chief Operating Officer) have taken on this project and they're building it out. But it takes time. It's complex, lots of tentacles and it's a work in progress. So it is slated to be replaced and this IT stuff just takes time."
Earlier in the interview, Captain Michael threw some shade towards the former Southwest CEO when he said, "This system, SWIFT was slated to be updated five years ago and they put off the project to, while Gary K was CEO to, you know, invest in the shareholders and not in the company. So SWIFT got put off for years and despite our warning, it's a problem and you're seeing the effects of that now as patches keep on going in and the patch is failing."
FYI: SWIFT stands for Southwest Airlines Integrated Flights Tracking. And the captain says, "the system dispatches all of our airplanes so it gives the pilots all of their paperwork, everything we need to fly the airplane from Point A to Point B. It requires that system. So when it goes down, no airplane can move. We can't dispatch them and so the airline has to stop operating until it does a reboot."
You can watch the three-minute interview below. If you plan to fly Southwest again, I can't help but think: "Fool me once, shame on you; fool me twice, shame on me."
My advice is to book tickets on another carrier until Southwest Airlines gets their new system in place. Or, if you want to fly with them but really need to be somewhere, book a refundable back-up ticket a few hours later on another airline. Here's more on that trick.
RELATED:
–Hilarious Video: How to Keep the Seat Next to You Empty on Southwest Airlines
–The Easiest Way To Save $50 on Southwest Airlines Flights
–WATCH: A Feel-Good Story Aboard Southwest Airlines When Pilot Surprises Passenger