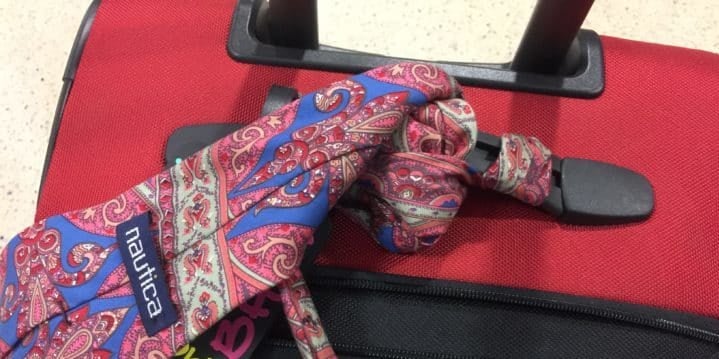 Remember yesterday how I suggested photographing your bags so you know what they look like? Well, another tip my sister taught me is to tie an old tie to your luggage to make it more easily identifiable. My dad had a few old ratty ties lying around, and instead of throwing them out (they weren't in good enough shape to donate), she uses them or parts of them to tie around the handles of checked luggage. That way they're easy to spot—especially those typical black suitcases.
____________________________________________________________
Tried this tip? Let me know in the comments!
Have your own tip? Email it to whitney@johnnyjet.com!
Want to see more tips? Click here for all 832!
Want even more travel tips? Subscribe to the Daily Travel Tip newsletter! All you have to do is sign up for the weekly newsletter by filling in your email address and checking the Daily Travel Tip box in the top-right corner of the homepage.
If you already subscribe to the newsletter, fill in your email and check the Daily Travel Tip box in the same top-right corner of the homepage and you'll receive an email with a link to update your JohnnyJet.com preferences. On that page, just click the Daily Travel Tip box and Update Profile and you'll have Johnny's best tips, straight to your inbox each day. And don't worry—it's easier than it sounds!