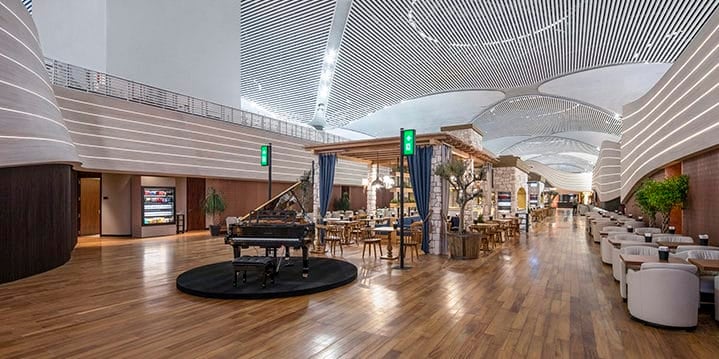 If there's ever a good time to fly business class, it's when you have a long-haul flight and you've got work waiting on the other end. Last week, en route to Istanbul to cover the Turkish Airlines Corporate Club Conference, I was given that opportunity by Turkish Airlines.
Here's my time as a Turkish Airlines business class passenger, including in the airline's incredible lounge at Istanbul Airport, in words and photos:
The flight: TK 4 (JFK-IST) on October 5, 2019
Departing from JFK, my non-stop flight (TK 4) to Istanbul was just under 10 hours. That's a sometimes tough ride if you're in economy, but in business class it's a whole other ballgame. With all the plush comforts and extra attention Turkish Airlines makes available one might even wish the flight were longer!
Check-in at JFK
Let's start with check-in at the airport. You know your travel experience is going to be different when you see a long line of coach passengers waiting to reach the ticket agent and you only have a couple travelers in front of you—and then up to the counter you go. There was barely a line at the JFK business class desk ahead of my 12:30pm flight. I was off to my gate in no time (after security, of course).
The plane and seat
TK 4 is flown by a A330 wide-body. Its business class has 28 lie-flat seats in a 2-2-2 configuration. My seat was 2D, in the center group of two. Legroom? Even at full toddler-tantrum-leg-stretch, I couldn't reach the seat in front of me. Special seat features include an in-chair massage setting, multiple recline options, and of course the lie-flat position during sleep time.
The (Versace) amenity kit
An early high point of my flight: a complimentary Versace toiletry bag! The exclusive offering is part of a new effort to upgrade the business class experience.
The FA uniforms
Refreshing TA's business class look are the new cabin crew uniforms, which were designed by Milan-based haute couturier Ettore Bilotta. Uniformed chefs perusing the aisles, taking dinner orders and interacting with passengers, add another sophisticated touch.
The food
The best part of Turkish Airlines business class, in my opinion, is the food. It's abundant, of five-star quality and elegantly presented.
Tip: You can preselect your main course on the TA website or mobile app (free) or wait until you're settled into your seat and have the chef explain the options and take your order.
Leading up to my main lunch course of grilled swordfish were half-a-dozen small plate offerings: canapés; skewered marinated lamb bites; cheese-stuffed baby artichokes; shrimp; salmon; and my favorite, the velvety cream-of-zucchini soup. The service was a refined experience, with crisp table linens, porcelain tableware, and even these cute little battery votive candles. The flight chef prepared dishes from traditional Turkish and world cuisine recipes.
After the main course, a rolling dessert tray offered fruit, ice cream, Turkish delights, and other cakes and pastries.
Then, it was time to sleep. Each business class seat was fully reclined and transformed into a lie-flat bedspace—a snug, sleep-inducing sanctuary. With my fluffy pillows, thick blanket, and complimentary noise-canceling headphones, I was off to dreamland as we made our way toward Istanbul.
After waking from a full sleep, I was presented with breakfast—a fluffy crepe with raspberry compote and fresh-squeezed OJ—as we prepared to land in Istanbul.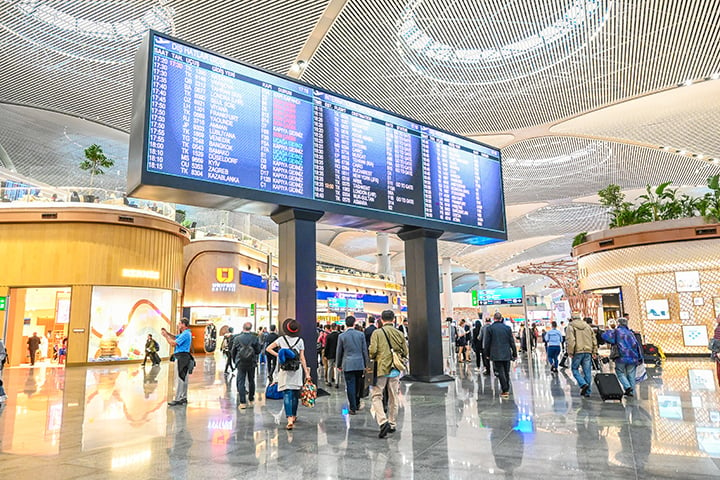 The lounge: Turkish Airlines Lounge Business at Istanbul Airport (IST)
On the ground in Istanbul, I spent a few days collecting insights and experiences as an attendee of the fourth Turkish Airlines Corporate Club Conference, which I wrote about here.
When the time came to return to IST for my flight home (TK 11), I gave myself time to experience the other major draw of Turkish Airlines business class: lounge access. Both Turkish Airlines and Star Alliance business class passengers (and others, including Miles&Smiles members with status; see the links below) have access to Turkish Airlines business class lounges at Istanbul Airport (IST), which is now the world's largest single-terminal airport building.
The three Turkish Airlines lounges at IST
There are actually three Turkish Airlines business class lounges at IST. Two are for international flyers:
And one is for domestic flyers:
Turkish Airlines Lounge Business
I headed for the 60,000-square-foot Turkish Airlines Lounge Business. This open-air lounge looks out over the main terminal and nearby security checkpoints. It feels exclusive without feeling isolated. There are seats for 765 people.

More privacy is available in ten private cubby spaces, where you can recline on a comfy daybed and get a few winks before your flight boards. But these spaces are popular and hard to come by.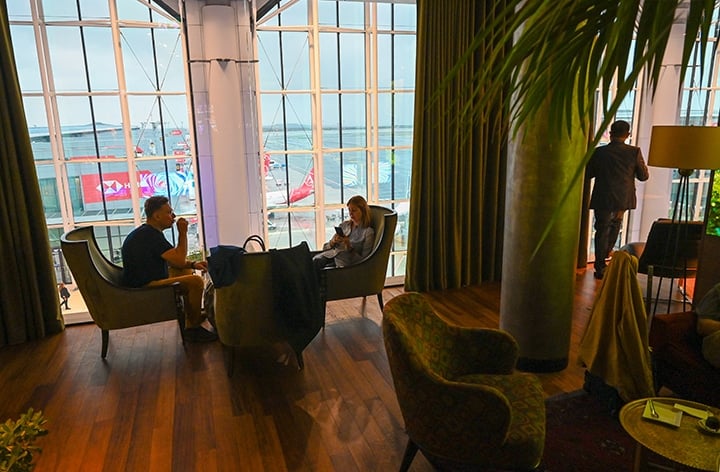 If you prefer a more subdued, less "airporty" atmosphere, there's a library in this lounge. Help yourself to top-shelf liquor and Turkish wines from any of several bar carts and liquor cabinets spaced throughout the lounge, and settle in.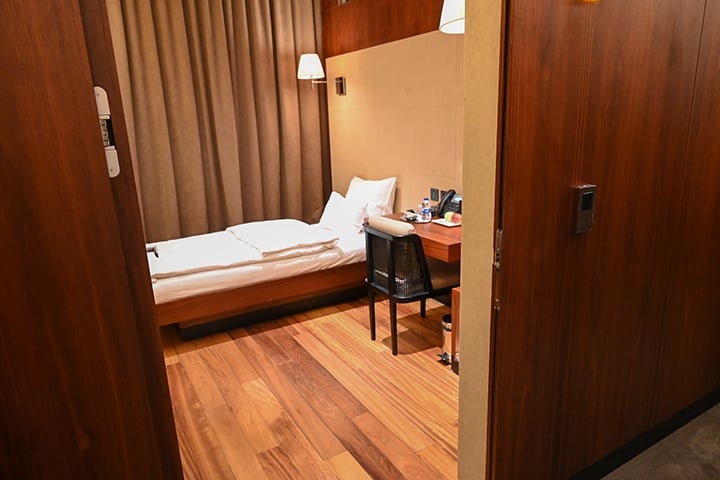 There are 13 private suites with access to showers, but restrictions apply to use of them. Your flight must be part of an international connection with a layover of more than four hours.
The lounge has also partnered with the Istanbul Museum of Modern Art on a gallery space displaying contemporary and traditional works of art. The exhibit changes three times a year.
When's the last time you saw dozens of long-stem roses adorning an airport bathroom? The Turkish Airlines Lounge Business doesn't miss an opportunity to give every space a touch of refinement.
And like the meals served to flyers in Turkish Airlines business class, the food in this lounge is out of this world. Turkish, Asian, Italian, and other world cuisines are exquisitely prepared and graciously served in the center of the lounge. Throughout the space there are self-serve tea and beverage stations as well as baristas ready to whip up your favorite coffee drink. Pastries, cakes, Turkish delights, candy, and sweet treats of practically every kind are elegantly displayed. Vegetarian options are numerous throughout. The salad and condiment bar was the most elaborate I'd ever seen.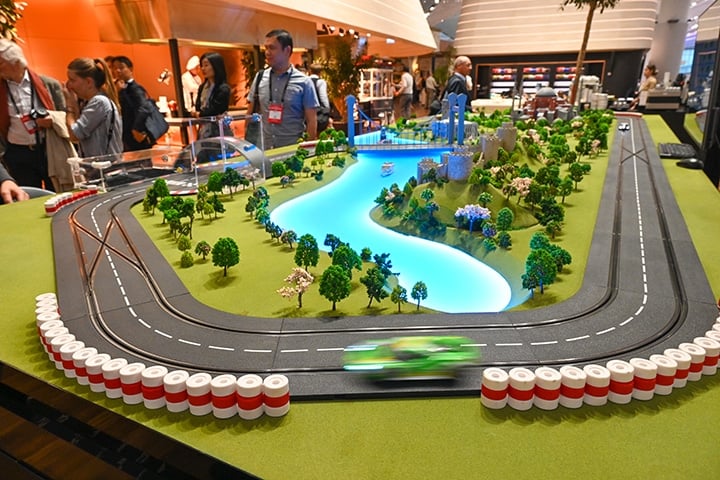 There are other time-filling options. There's a large cinema room with full reclining chairs, and the end of the lounge is a children's playground with quiet, cozy movie-viewing spaces as well as a gaming room.
The Turkish Airlines Lounge Business is nothing short of pampered perfection. When booking your next business class trip with an Istanbul stop, make sure to include a long layover. It would be a shame if you missed or rushed experiencing Turkish Airlines's little crown jewel.
---
For more on Turkish Airlines, including Turkish Airlines business class, visit turkishairlines.com.