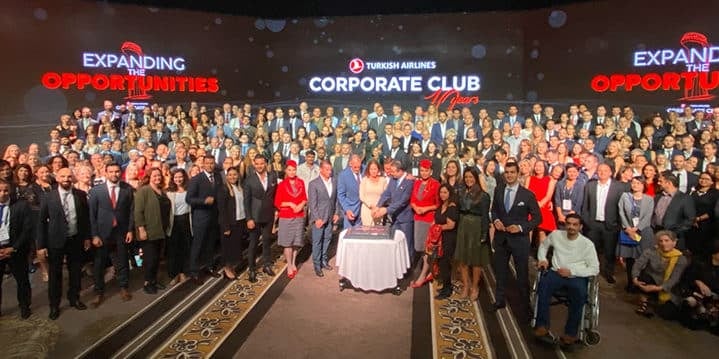 On October 8, over 1,200 business travel experts from 75 countries convened in Istanbul for the 2019 Turkish Airlines Corporate Club Conference. Inside the Hilton Istanbul Bomonti Hotel & Conference Center, Turkish Airlines outlined its next chapter: its new home at Istanbul Airport, its plans for continued growth of its fleet, and its approach to anticipating the ever-changing needs and expectations of today's business traveler.
In addition, the airline partnered with Global Business Travel Association (GBTA) to spark conversations around the latest trends in corporate travel—and what's ahead.
Here's what I took away from my time in Istanbul in three parts:
1. There's a lot ahead for Turkish Airlines
Kicking off the event was keynote speaker M. Ilker Aycı, Chairman of the Board and the Executive Committee for Turkish Airlines. Leaping onto the stage like a rockstar, Aycı took questions from BBC World News reporter Aaron Heslehurst. Nothing too hardball was asked other than a question about how Turkish Airlines was handling the grounding of its 12 Boeing 737 Max planes and the resulting flight cancellations and passenger safety concerns (following two crashes of Max 8 aircraft with Lion Air and Ethiopian Airlines in 2018 and 2019).
Aycı seized the moment, celebrating Turkish Airlines's successes in international travel and speaking about TA's:
Six new 787-9 Dreamliners
Expansion to new destinations in 2019
Relocation from Ataturk Airport to the new Istanbul Airport (IST) this year
Refresh of the Turkish Airlines Corporate Club brand
Enhancement of the business traveler experience with new cabin crew uniforms, improved technology, a reconfigured business class cabin design, and upgraded amenities, gourmet meals, and incentives
Later, Melanie Garrett, a business travel consultant with GBTA, spoke to the group about corporate travel industry trends. She cited studies showing the advantages of a well-rested, minimally stressed, happy, healthy business traveler. Appealing to travel managers, she emphasized that there is great value for a company in ensuring that its traveling employees have positive travel experiences, both in flight and at the airport. "The return on investment per business trip can be measured," said Garrett.
During our lunch break, the travel and airline industry press had an opportunity to ask Mert Dortman, SVP Corporate Marketing & Distribution Channels Turkish Airlines, questions regarding Turkish Airlines Corporate Club.
2. The grand, new Istanbul Airport is impressive
As members of the press, my fellow conference attendees and I were given a private tour of Istanbul Airport, which opened in October 2018, and Turkish Airlines's business class lounges there. First was a comprehensive presentation detailing the airport's construction as well as Turkish Airlines's relocation from Ataturk to its new hub, a project known as the "big move."
On April 5 of this year, Turkish Airlines moved more than 47,000 tons of equipment 28 miles across Istanbul, from Ataturk to Istanbul Airport, in just 29 hours, ahead of its first flight out of the new airport departing early the next day. Dramatic graphics and comparisons gave scale to Istanbul Airport's sheer size. It currently has an annual passenger capacity of 90 million with projected capacity of 200 million when all phases of its opening are complete in 2028. Two independent runways are in operation today. By 2028, it will have six.
At over 15 million square feet, the new airport is measured as the world's biggest terminal under one roof. Everything—the terminal building, taxiways, parking lot, support facilities—uses the latest in technology and innovative design. This includes its baggage handling system, which uses an individual carrying system, the first in Turkey and the largest in the world. There are even roaming robots, equipped with face-scanning technology, that greet and assist passengers by navigating them to their gates! Its enormous, bright space and elegant modern design make Istanbul Airport a destination in and of itself.
3. Istanbul is an amazing city
Istanbul's incredible new airport is 22 miles from the center of the city, the literal crossroad between east and west. As such it's arguably the most important hub for world and domestic business travelers. Connecting or not, you'll hopefully have a chance to actually spend time in this historic city and not just pass through it. In town for the conference, I got to tour some of the city's most beautiful and historic sites.
This magical city, which straddles the continents of Europe and Asia, was the capital of Roman, Byzantine and Ottoman Empires for over 1,500 years. Much of that history has been preserved in museums, grand churches, palaces, domed mosques, and bustling bazaars.
Istanbul's centerpieces are the Sultan Ahmed Mosque (aka the Blue Mosque) and the Hagia Sophia, both of which are located in the Sultanahmet neighborhood. Now a museum, the Hagia Sophia was built in 360 A.D. and originally stood as the world's largest Christian church. During the 15th century, the Ottomans converted it to a mosque. Sultan Ahmed Mosque, which faces the Hagia Sofia, was built in the early 1600s and remains Istanbul's most important mosque.
Sultanahmet Square connects the two and marks where the Hippodrome of Constantinople once stood, a circus where chariots raced and sporting events took place. Remnants of the Hippodrome remain, including the Obelisk of Thutmose and the Serpent Column. The square is now adorned with fountains and flowers. It's a popular open space for tourists to picnic and wander.
Just outside but in view of Sultanahmet Square is the Little Hagia Sophia, a church commissioned by Byzantine Emperor Justinian in 527 A.D. Follow a narrow street and you'll find a peaceful little mosque that has a quiet courtyard and cemetery. It inspired the design of the larger Hagia Sophia.
Also within easy walking distance from the square are the bustling Arasta Bazaar, the Turkish Carpet Museum and newly opened Serefiye Cistern. The 1,600-year-old cistern was for years hidden beneath an old mansion and municipal building. Following an eight-year restoration effort, the cistern was finally opened to the public (free and easy access) in April of 2018. It's smaller than the more well-known Basilica and Binbirdirek reservoirs but it's the oldest in the city.
Istanbul, a city of more than 15 million, seamlessly integrates the old with the new, the exotic with the contemporary. Its mix of Muslims and Christians and ethnicities of every kind makes it a truly special destination.
Here, in a gallery, are more photos from my visit to this city that inspires so many:
---
For more on Turkish Airlines, visit turkishairlines.com. For more on the 2019 Turkish Airlines Corporate Club, visit corporateclubconference.com.