Want to know how to travel in style, just like the pros? We check in with frequent fliers to find out how often they fly, their favorite destinations and what they never leave home without.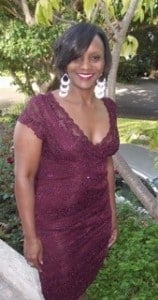 Name: Roni Clark
Occupation: Ramp Agent at major airline/Travel Blogger
Hometown: Southern California
Residence: Charlotte, North Carolina
Website: the-travel-guru.com
Twitter: @thetravelguru_
Facebook: Roni Faida. No Fan Page because all the acceptable ways for me to use The-Travel-Guru are taken!
Instagram: thetravelguru_
Pinterest: /RoniFaida
Google+: +Roni Faida Clark
YouTube: What's that? Hee hee.
Short Bio: I'm trilingual, a certified elementary school teacher with an MBA (say that 5 times fast). I was a Tour Manager for 7 years and now travel the world for fun, blogging about it as I go.
How often do you fly? It probably averages out to once a month (maybe twice).
How many countries have you been to? Oh boy. Way too many to count. But I'll try. 4 countries in Africa, Australia, New Zealand, several islands in the Caribbean, 4 countries in South America, Mexico, 3 countries in Central America, almost all of Europe…Ok, I can't remember all of them. Next question.
How many continents have you been to? 5
Favorite American city: Seattle and San Francisco.
Favorite international city: Paris.
Least favorite country: England.
Country with the meanest immigration officers: USA. They wouldn't let my niece who was living with me come back into the country even though she had her passport and was with me. I'm still bitter about that.
Favorite World Heritage Site: Kremlin and Red Square. My whole life I heard my mom tell stories about Russia from when she visited in the 60s and I never thought I'd get to go so when I stepped into Red Square I got totally emotional.
Favorite airline: The airline that lets me fly standby without having to be bumped to the next flight.
Favorite aircraft type: The one that gives me the most legroom.
Aisle or window: Always the window if I can get it. I love sleeping on planes.
Favorite airport lounge: The US Airways lounge in PHL is lovely.
Favorite U.S. airport: I like Sea-Tac, lots of cool exhibits and they have so many interesting things to see inside of the airport.
Favorite international airport: Dublin.
Favorite hotel: St. Regis in San Francisco, on the old side of the hotel.
Do you unpack into the dresser/closet? Or live out of your suitcase? I carry Eagle Creek packing cubes and I put those in the drawers so I don't have to unpack everything, I just put those in the dresser.
Favorite cruise line: I've been on lots of cruises but Disney does a cruise like no one else. Although, your post on Scenic Cruises makes me want to try them!  
Favorite island: Dominican Republic.
Favorite beach: Any beach in southern Portugal.
Favorite fancy restaurant: UFO in Bratislava, Slovakia.
Favorite hole in the wall: Chabelita's in Los Angeles, California.
Favorite fruit: Blackberries.
Favorite food: Anything cooked by my mother. Seriously, her food is amazing.
Least favorite food: Chitterlings. Although you have to pronounce it chittlins or else you will sound really crazy. Do you know what those are? The most disgusting thing I have ever put in my mouth, even my mom can't make those taste good.
Drink of choice (in the air and on the ground): Red wine. Lots of it.
Favorite travel movie(s): French Kiss. I think I'm dating myself with this movie.
Favorite travel show(s): International House Hunters.
Favorite travel book(s): My DK Eyewitness News Guidebooks. I love those so much!
Right now I am reading: I just finished a thriller by Faye Kellerman but I can't remember the title. I haven't picked up another book yet.
Top 3 favorite travel newsletters/magazines/blogs: Besides mine? 1. girlsguidetoparis.com 2. herpackinglist.com 3. lolaakinmade.com
Favorite travel website(s)—besides JohnnyJet.com, of course! Well, I really do like your website. But a close second is PeterGreenburg.com.
5 things you bring on a plane: 1. Pillow 2. Socks 3. Eye mask 4. Sanitizer (those trays and seats are really filthy) 5. Computer w/headphones
What do you always seem to forget? Lint roller. Those things really come in handy and somehow I mange to forget it almost every time.
What do you like least about travel? Unpacking my bag when I get home. I will literally step over it for days. I have no idea why.
What do you want your loved one to buy you from an airport duty-free store? Euphoria by Calvin Klein. A girl's gotta smell nice!
Favorite travel app(s): Whatsapp. It's a free and easy way to text and share pics while I'm on the road. I absolutely love it.
Most embarrassing travel moment: When I was in Egypt the food wasn't agreeing with me. I had to go to the restroom and when I was finished there was no toilet paper anywhere. I even looked in the trash and there was nothing so I had to use dollar bills to handle my business. Yea, I'm a classy broad.
Worst travel moment: When I was robbed in Paris.
What's your dream destination? Maldives.
Favorite travel charity: Well…I'm embarrassed to say I don't have one. I guess this means I need to find one, right?
Best travel tip: Only pack a carry-on. You don't need as many clothes as you think and it's easy to do once you get the hang of it.