Tip-toeing through the tulips has always been on my bucket list of travel experiences. So when AmaWaterways asked if I'd like to join their Tulip Time Cruise through Holland, my answer was a resounding YES!
Just two weeks before I boarded the AmaCerto for the Tulip Time Cruise, Johnny was sailing on the AmaPrima. I followed his journey along the Lower Danube and anxiously read his roundup of his AmaWaterways experience, anxiously anticipating what I was about to encounter for the first time. What I found was that our experiences were basically the same overall, with some notable differences consistent with the ships and the itineraries chosen.
The Tulip Time Cruise only has 14 sailings each year (seven each on two ships) to correspond with the mack daddy of all tulip experiences: Keukenhof Gardens. Located outside of Amsterdam in the Netherlands, Keukenhof Gardens is the world's largest display of bulbs. Seven million of them. This vibrant and uber-popular flower display is only open for eight weeks every year. The Tulip Time Cruises sail in conjunction with the dates that Keukenhof is open (see dates here).
We boarded in Amsterdam for our Tulip Time sailing, a seven-night journey through the Netherlands and Belgium. What struck me immediately was how many river cruise ships were in port in Amsterdam. At least eight ships were docked side by side in the cruise port, which is just a short walk from downtown Amsterdam and right next to Amsterdam's Central Station for trains.
River cruising is not a hidden secret anymore.
Immediately, the AmaCerto staff was professional and courteous—and would eventually end up being the best staff that I've encountered in years of sailing on both cruise ships and river cruises. Our Cruise Manager Peter Whitehead was so amazing—with quick-witted Australian insight into destinations, excursions, and the ship itself—that he was seriously one of the stars of the show. Boris Cetkovic, our maitre d', was another stand-out personality, always with a smile and eager to please, no matter what your request was in the dining room.
Life onboard the AmaPrima
What was life like onboard the river cruise? Really, really nice, I have to admit. The cabins were spacious and well thought-out. I was sailing with my mom, and our beds were in a twin configuration, with plenty of room to maneuver. A small refrigerator in the cabin was always stocked with complimentary bottled waters, and I stashed a few desserts left over from the indulgent Chocolate Buffet one night to enjoy over the next few days. I was impressed with the computer/TV combination in every room. No need to fight over a public computer if you haven't brought a laptop along on the trip.
The bathrooms were spacious with plenty of room to store toiletries. We didn't have the fancy showerhead combos that Johnny experienced on the AmaPrima, nor did we have fruit in the room daily, but there was plenty to choose from in the lobby.
Food on the AmaPrima
Food onboard was great, with three new selections daily for every course at every meal, and a standard menu of traditional favorites such as steak sandwiches and chicken breast always available. The breakfast buffet was massive, and I was surprised that even on the morning of disembarkation, when you had to be out of your room by 9 am, the same buffet was still served with no skimping on selections.
I highly recommend The Chef's Table, a limited-availability dining venue with stellar views overlooking the river that's free of charge for guests. All you have to do is reserve space there one night. We enjoyed the demonstration cooking kitchen, totally enclosed in glass windows so that you could see the meals being prepared. The food was outstanding on our menu, along with the service.
Tulips and more, off the ship
Of course, you've got to get off of the ship; that's the whole reason you take a river cruise, right? When it was time to explore our ports of call, the excursions were expertly handled, with knowledgeable tour guides and, for the most part, enough time in port.
The ports on the Tulip Time Cruise are a combination of places you've never heard of and big-name destinations. We had two days in Amsterdam, with excursions to Brussels and Bruges in Belgium (for a small fee because of the distance, though almost all of the excursions are complimentary on AmaWaterways). Other small stops were no less charming, and offered up glimpses into local life.
Amsterdam
In Amsterdam, a bus tour of the city was helpful on the first day (along with an included canal cruise). What I liked was that we weren't packed into an already full cruise. Our group had a private boat, just for AmaWaterways, with plenty of space to move around. Our buses were always the same way, never too packed and with plenty of space to choose seats or sit by yourself.
Volendam, Edam and Willemstad
The small coastal communities of Volendam and Edam in the Netherlands were charming, with sailboats docked outside the city in Volendam and plenty of local cheese to be consumed in Edam. Willemstad was another great community, with a marina full of bobbing yachts and an authentic Dutch windmill towering over the small community with excellent walking paths along the ancient military fortress.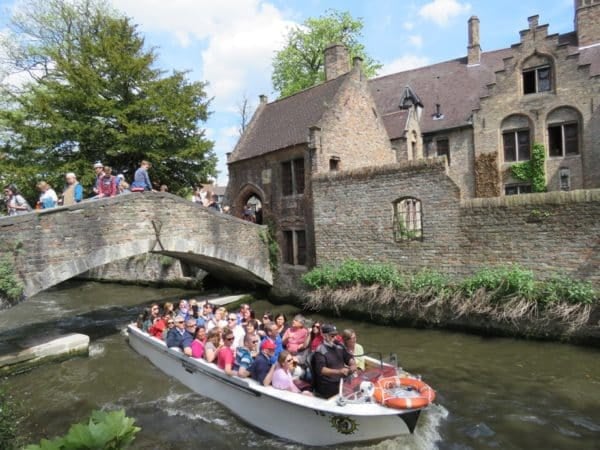 Brussels and Bruges (and Nijmegen)
Excursions to Brussels and Bruges in Belgium were quick-paced and didn't leave too much time for exploring the major cities. Brussels was a major let-down, with massive crowds all clamoring for €1 waffles and time beside the Manneken Pis statue, which is smaller than you could imagine (and takes all of about 10 seconds to see). If we were to do this itinerary again, this is the one excursion that I'd skip. Nijmegen, one of the oldest cities in the Netherlands, is another lackluster destination, unless you want to do some shopping in their modern shopping center. Better off staying onboard and enjoying the lounge, or catching up online.
Limited Edition Tours
We signed up for two Limited Edition Tours, which are free excursions but with smaller capacity. I highly recommend them for the value that you receive. We did a culinary tour in Antwerp, which brought us to a tea room for a full-sized Belgian waffle covered in strawberries and whipped cream. Next, we visited a chocolate shop and received a bag of seven chocolates. Then it was on to a bar for a full-sized glass of Belgian beer. In Amsterdam, our Jordaan walking tour brought us to a coffee shop for a huge piece of apple pie and a coffee or tea.
Keukenhof Gardens
For the granddaddy of them all—and the reason that you take the Tulip Time Cruise—the amount of time at Keukenhof could be just enough or not nearly enough, depending on your penchant for taking pictures and strolling through gardens. The folks at AmaWaterways realize that, and offer two different options for the excursion: After arriving around 10 am, you can spend just two hours there before a 12 pm departure, or you can skip the other afternoon excursions and depart Keukenhof on another AmaWaterways motorcoach around 2:15 pm.
My mom and I did not want to chance inclement weather on the one day that we'd be at Keukenhof on the cruise. So we bought a pass through Keukenhof to visit on a day before we boarded the ship.
Tip: I highly, highly recommend coming in early and getting over jetlag. The pace of excursions and ship life once onboard would be difficult to enjoy if you're overly tired.
We stayed at an airport hotel at Amsterdam Schiphol and caught a bus from the airport to the gardens in late afternoon, with included transportation back when they closed in the evening. I highly recommend this easy way to visit Keukenhof if you're really passionate about enjoying the flowers. We spent a total of five hours at Keukenhof combined, both with our own excursion and on the ship, and still didn't get to see everything.
Misconceptions about river cruising
After my sailing on AmaWaterways, I no longer have the misconceptions about river cruising that everyone seems to have.
1. First of all, river cruising is not just for retirees! There were a lot of young travelers on our sailing, including one family reunion. That's not to say kids are onboard (it's really not kid-friendly, but kids aren't prevented from coming), but rather younger adults who appreciate enjoying a cruise that goes beyond beer parties by the pool in the sweltering heat of the tropics.
2. Second, this isn't a leisurely sailing, folks. No, this itinerary, if you choose to do everything available, is packed and will wear you out! There is no problem with boredom onboard.
3. Finally, river cruising does have a higher price point than the rock-bottom base-price fares touted on ocean cruise ships. However, there's so much included in that price, that it really is a bargain overall. Excursions, along with beer, wine and soft drinks at meals, are all included in the price. So is the specialty dining. There's no hassle getting off the ship, no lines to wait in, no drama with thousands of people.
My sailing with AmaWaterways was a stress-free way to sail through countries with less than 200 people onboard, a personalized sailing that's the ideal way to be introduced to Europe (as well as their destinations in Asia and Africa, too)—or the greatest tulip display on Earth.
For more on AmaWaterways, visit their website here. 2016 dates for their Tulip Time Cruise are available here.