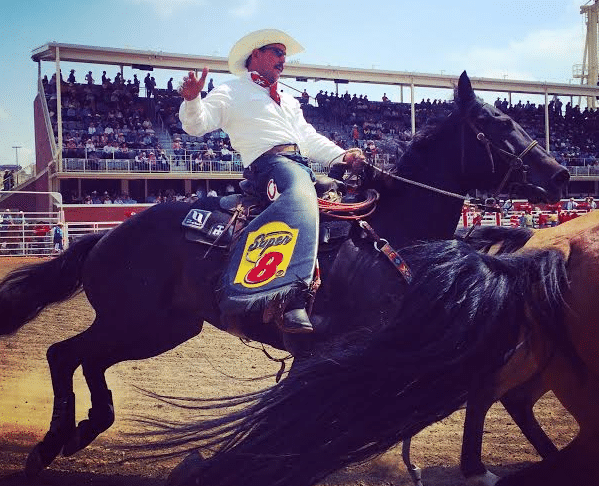 It's that time of year again! The 2016 Calgary Stampede begins today! (purchase tickets here).
For those of you who don't know: The Stampede is known as the biggest rodeo in North America and hosts more than 1.2 million visitors each year. The week-long festival, which begins today, July 8, and runs all the way through the 17th, is an homage to Canada's rich western heritage. And trust me, our neighbors up north can show us Americans a thing or two.
During the Stampede, Calgary—aka "Cowtown"—is just one big party. Country-goers of all ages roam in and out of the festival grounds, enjoying the city's western-themed tent parties and rodeo-inspired food and drink specials.
Inside the festival, you'll enjoy world-class entertainment, including rock concerts from some of country music's biggest names and world-class tournament-style competitions such as bull riding and chuck wagons.
Lucky for you, this ain't our first rodeo. While on assignment for JohnnyJet.com last year, I stampeded in style, crossing off all festival bucket list items, one of which included purchasing my first-ever pair of cowboy boots! Johnny himself also went the year before and has some great tips for you first-timers wanting to buy last-minute tickets.
If you've been too but still don't want to miss out on anything new, here are a few exciting things you can look forward to in 2016:
Download the 2016 Stampede app. Use it to view events, plan your schedule, find your way around Stampede Park, and much more. Available for iPhone and Android.
The musical line-ups featured at the Stampede just seem to get better and better. With more than 30 rock and country acts making appearances this year, there are 100 hours of music…which means there are also 100 hours of dancing that need to be done. Check out this year's Nashville North and Coca-Cola Stage new featured artists.
If you've done your homework you KNOW Stampede food is not for the faint of heart. With 30 new mouth watering hybrids, some of which include teriyaki chicken perogies, salted caramel deep-fried coffee and fruit-infused grilled cheese. Just remember to bring stretchy pants and maybe heartburn meds.
Wherever you look, there's a constant display of showmanship that makes up the backbone of Stampede. In addition to the well-known rodeo, concerts and constant Midway action, there are several free smaller shows that run daily and tend to be extremely family-friendly. Check out newbies like the Bell Adrenaline Ranch, High Dive Act and Adventure Park, among others.
Whether you're a Stampede pro or rookie, you can be sure each year will bring memorable experiences. If you have a Stampede story or suggestion you'd like to share with us, feel free to comment below. Giddy up!