This is the second part in Caitlin Martin's recap of her 7-day Cuban adventure with Celestyal Cruises. Check out part 1 here.
Many people have asked me how I traveled to so much of Cuba in only seven days, how I planned my itinerary and how the transportation worked. Well, thanks to Celestyal Cruises and its people to-people itinerary, I didn't have to plan much and I definitely didn't have to worry about transportation at all. It was incredible and made me realize how great cruising is as a way to see an island nation as complex as Cuba. See my first post here on 14 Cuba moments.
And, let me just point out that I usually like to plan and explore on my own when I travel. Cuba was a little different, for two main reason. First, the nation is largely offline and disconnected from the world. It's difficult to research online—and it's even hard for some travel agents to plan an itinerary there! Second, as Americans we still have to self-certify that we qualify to visit Cuba via one of the twelve categories. So, given these two main concerns of mine, exploring Cuba by cruise ship made the most sense to me because all this was taken care of.
Cruising to Cuba: What are your options?
Celestyal Cruises travels around Cuba every week on the mid-sized ship, Celestyal Crystal. It's currently the longest-running all-Cuba cruise calling at the most Cuban ports of any cruise ship: Santiago de Cuba, Havana and Cienfuegos. The ship can be boarded in either Montego Bay (every Friday) or Havana (every Monday).
Fathom offered a similar itinerary, but now the company is ending its sailings and shutting down the brand. Oceania is a new player who just announced some Cuba itineraries. It's trying to do what Celestyal is doing with its seven-day itinerary, but as Oceania is brand-new to Cuba it's bound to have some growing pains. In fact, I don't think sailings with Oceania begin until December 2017. If I learned anything about Cuba from my trip, it's that there are a lot of hoops to jump through for cruise operators (not to mention business in general). I would rather go with a cruise ship that has the experience with Cuban ports.
Finally, there are many cruise ships that offer a day or two in Havana as a part of a Caribbean itinerary. You have to decide what's right for you, but if you're really interested in an immersive Cuban experience, one or two days will not give you that. Going to Havana is amazing and shouldn't be missed, but it's only one slice of Cuba.
Of course, the market will likely get more crowded as many cruise operators are trying to get permits. But right now if you're thinking of cruising, there's only one excellent option in my opinion: Celestyal Cruises. In talking to other travelers aboard, many of them actually said the same thing to me. They'd done a lot of research and Celestyal was the best option.
Why cruise to Cuba?
If you think cruising is all older people who don't want an authentic local experience, you're wrong. Cuban sailings don't attract only that type of traveler. So, before you make assumptions, here are 10 things that make sailing around Cuba via cruise—like with Celestyal Cruises—the way to go right now: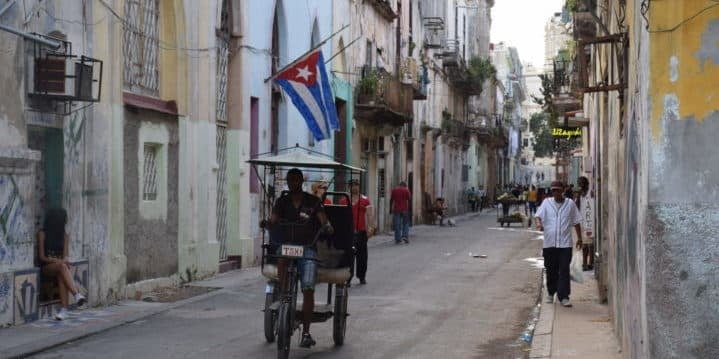 1. Unique cultural experiences
Each Cuban port offers a unique cultural journey with meaningful interactions beyond just the novelty of walking around a place previously off limits to Americans. In fact, talking one on one with one of my tour guides over lunch was one of the most memorable parts of the trip. He was very open and honest in answering the questions I had, and he was able to share opinions that helped me understand the country from a different point of view.
The Celestyal itinerary offers excursions included in the people-to-people program, and you can also book additional excursions on your own if you want to add something else. And there's usually extra time before the ship leaves each port if you want to go roam on your own after your excursion.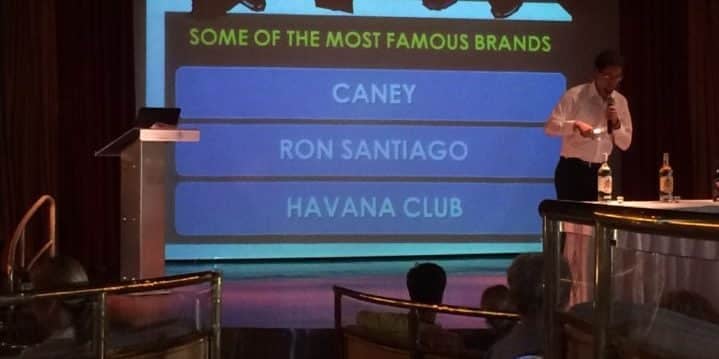 2. Cuban history, culinary lessons and more aboard
With Celestyal, Cuban seminars are taught by Dr. Jorge Arocha, a Cuban native and stays onboard with travelers for the entire duration of the cruise. He is very accessible and answers any questions you might have after his lessons or any time you see him on the ship. Celestyal Crystal offers a wide variety of Cuban activities and culture to learn. You can take a Cuban culinary lesson, study revolution history, learn to roll Cuban cigars, practice Cuban dance, and explore Cuban rums. There's no shortage of entertainment at night with excellent Cuban dancers and singers. They were some of the best performers I've seen on any cruise.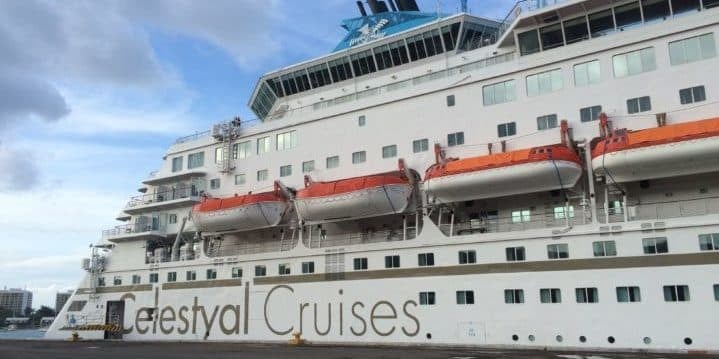 3. Reliable transportation with access to several parts of the country
Local buses in Cuba can be very time-consuming and sometimes unreliable. Sometimes a bus is on time, and sometimes it's not. Buses can take over 15 hours to get from Havana to Santiago de Cuba. Flights from Havana to Santiago de Cuba are just over an hour, but sometimes the transportation from the airport to the hotel is a problem. Getting around Cuba isn't easy.
With a cruise ship you'll always have reliable transportation and the ability to sleep comfortably, knowing you'll wake up in the morning at a new port. And if the cruise ship charters a bus to take you on an excursion, no worries: That bus is always on time!
4. Comfortable (and available) accommodations aboard for every budget
If you don't have a hotel booked in advance, you might not find one with available rooms last minute. If you're trying to book as you go and literally flying by the seat of your pants, Cuba is not the place to try that (yet). The infrastructure will get there, but it's just not there yet.
There are 15 different cabin types to choose from on Celestyal, so there's a room for every budget. You can book an interior room to save or relax in an oversized suite with a balcony and an ocean view. Recently, the ship added even more balcony rooms (and updated those rooms).
5. You can maximize time and sleep while traveling
The best way to travel is when you don't really have to think about it! Not only is it easy to sleep on the ship (how successful are you at sleeping on a plane or a bus?) but it's also great for maximizing time. You go to sleep after several glasses of (unlimited) wine and then wake up in the morning at a new port. What's not to love about that?
6. You can meet other like-minded, curious travelers
Whether you're a married couple, a family or a group of singles, there are plenty of people to meet on a cruise ship circling Cuba. Celestyal attracts travelers of all ages. Remember, the main point of the cruise is to explore undiscovered Cuba. So, you can expect a diverse crowd with one thing in common: They are all curious and want to learn about Cuba.
I started up conversations with anyone I saw. I met a married couple that brought their children and a 90-year-old father. They all went on the excursions together. Then in the evening after dinner on the ship, the children hung out at the disco, the parents hung at the bar watching live entertainment, and—based on what we saw—the father would usually have one drink before an early bed. I met young group of people on the top deck laying out drinking mimosas. Some were married and some single. I loved the diversity of this sailing.
7. Your visa requirements and people-to-people requirements are taken care of
The cruise line handles each traveler's visa requirements and ensures travelers meet the people-to-people requirements put in place by the U.S. government. At the end of the cruise, travelers receive a certificate noting that they've met these people-to-people requirements for peace of mind before re-entering the U.S.
8. You'll dine in Cuban paladares
We had plenty of opportunities to eat off the ship, so long as our excursion team made a reservation for us in advance. Onboard with Celestyal, you'll be able to enjoy meals and local conversations at Cuban paladares (privately owned restaurants) like 1514 Restaurant in Trinidad, which came alive with Cuban musicians and conversation (with the restaurant owner).
9. Reliable food options on the ship
Even though it's awesome to eat in the local paladares, sometimes restaurant availability can be a problem. Restaurants just don't have the infrastructure yet to prepare for a large number of travelers. I had a family tell me it took them an hour to find a restaurant that could seat them and when they finally sat, the restaurant had one option on the menu! Having the ship stocked with meals was more important than I considered before boarding.
The local meals aboard include yummy dishes like ropa vieja and plates from around the world. Every day, you can eat at a buffet, casual dining spot or a fine dining restaurant. I usually ate morning and evening meals aboard and had lunch out in Cuba.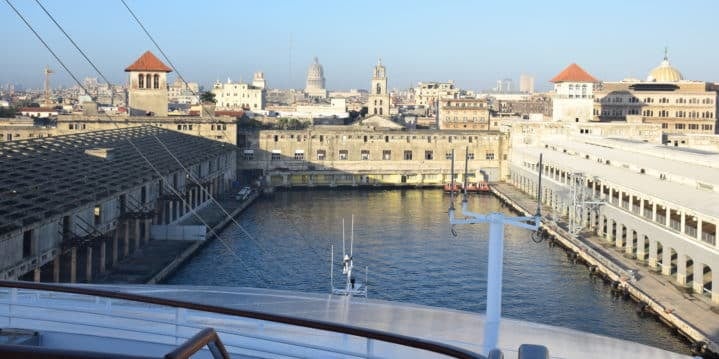 10. You'll see Cuba from a different perspective
There's something to be said for seeing Cuba in the distance from the ship, and then getting close up and seeing where everything is located. The cruise ship will tell you what time to be on the upper deck for prime views. It was nice to have a taste of the geography in advance, and then throughout the day, having a sense of where we were in relation to what we saw that morning.
Leaving each port also offered another look back at what we saw that day. Often, we'd find locals waving along the cliffs—and some even jumped and swam a little bit to the ship (they clearly don't see cruise ships very much!).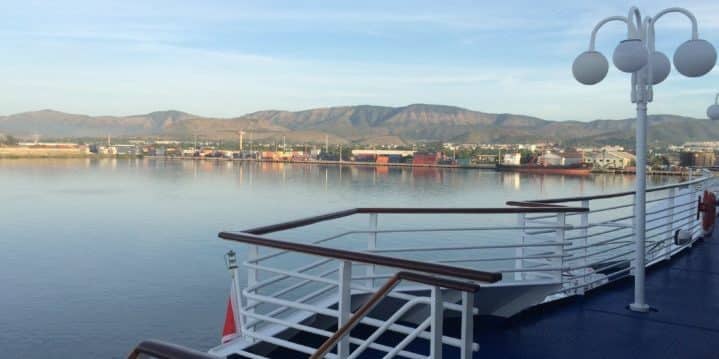 Wrapping up: Celestyal Cruises
Have I convinced you to try a cruise yet? As far as I'm concerned, Celestyal Cruises' people-to-people program is the best option out there right now for a fully immersive Cuban experience that meets the U.S. travel requisites. Overall, it's the best way to see a lot of Cuba in a little amount of time.
Feel free to shoot me an email or drop me a comment below if you have more questions on navigating your Cuban trip!
---
For more information on Celestyal Cruises. check out yourcubacruise.com or call 1-855-364-4999.