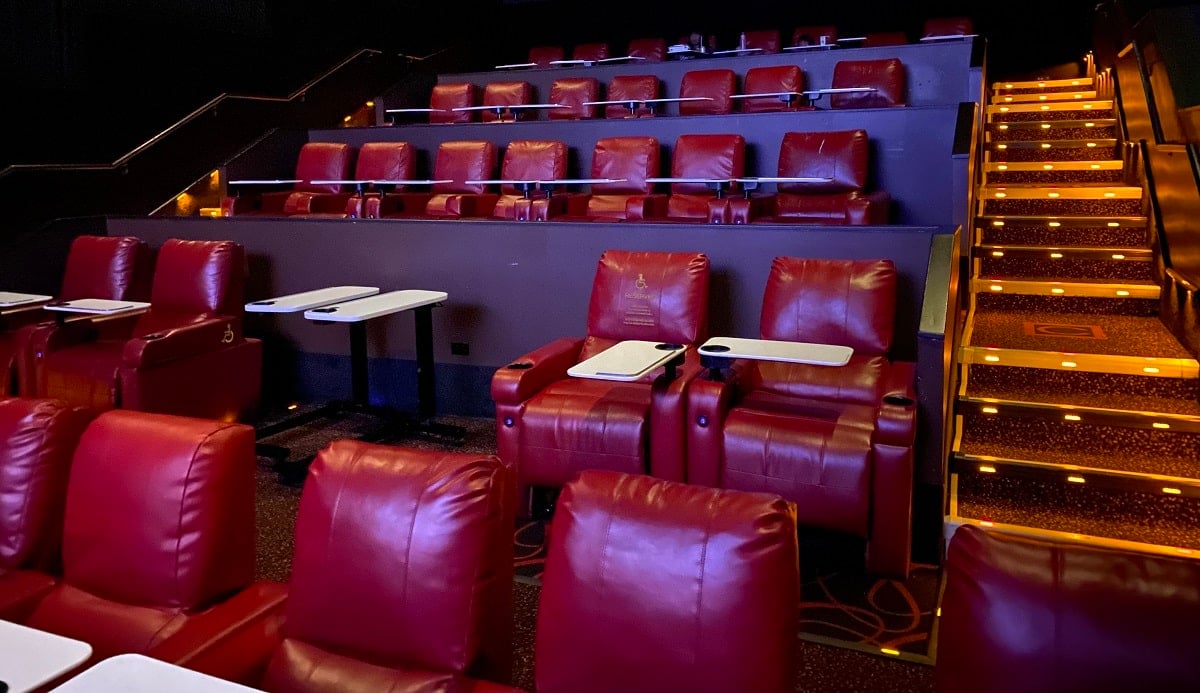 My son's birthday was yesterday so I took a few hours off during the day and we went to go see the new Paw Patrol movie . It's one of his favorite TV shows and prior to the pandemic he used to love going to the movies with his mom.
I personally dislike going to the movies for a number of reasons but mainly it's because I'm easily distracted by people talking to each other or on their phones, crackling their candy wrappers, coughing, pulling out guns …
Yes, I have a few pet peeves and even more when I travel. Here are my 10 air travel pet peeves and how to deal with them.
Our two-year-old daughter, Olivia, had never been to the movies before. That all changed when we learned about AMC's smart private rental offer since movie attendance has dropped off a cliff thanks to COVID-19.
Instead of having empty theatres, customers can now rent a whole one for themselves and their friends and family. That way, you know everyone is vaccinated and playing it safe.
Our friends did just that a couple of weeks ago and we were all going to go. We each chipped in $10 per person a couple months ago (less than the cost of an actual single movie ticket!) But leading up to the date, with all the news of breakthrough cases, we decided to pull out and give our spot to someone else.
Jack was really bummed but we just didn't want to take a chance at an indoor theatre with about 25 people. We looked into renting the theatre for ourselves and found prices were even cheaper for matinee shows. If you can go off-peak (think: Wednesday at 2:30pm), it's only $199. That's a pretty great deal and less than we would have spent on an actual birthday party if it weren't for COVID.
I'm not sure if all AMC theatres are like this but the one at South Bay Galleria has a really great set up. Five rows of seven plush, electric, leather lazy boy seats across except for one row, which had four seats.
If I knew the theatre was this large and spread out I would've invited at least a couple family friends. But I have to tell you it was kind of neat to have a theatre to yourself.
In the beginning I was thinking we really aren't getting our monies worth since the kids are being so well-behaved. Then about an hour later, Olivia, started getting restless and started walking up and down the stairs and I was like go for it.
The theatre also has in-seat dining, where waiters will bring you food and drink, which is awesome but we're on a budget so we passed except on a tub of popcorn. FYI: You're not supposed to bring in any outside food, which I didn't know until I read the rules while researching this post. Oops! But my wife always packs snacks from home for the kids, mostly because of our son's food allergies, which can make eating out challenging.
Theatre rental prices range from $199 to $399, depending on the date, time and theatre so if you have an AMC near you (not sure if other theatres do the same), then I highly recommend it.
I told Jack that for his next birthday, we're packing the place in with all of his friends and family.