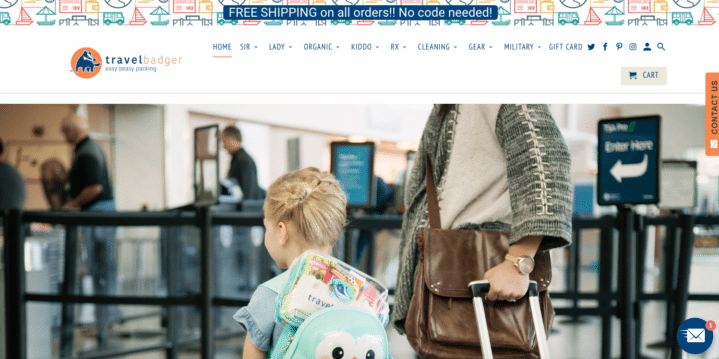 Raise your hand if you've ever arrived at your destination and realized you've forgotten some or all of your toiletries. Both my hands are in the air. I usually have my toiletry kit with me but many times, one or more items from it are missing. Why? It's usually because I never got around to going to Target or CVS to replace the depleted items.
When you're traveling, it can be inconvenient to stop at a store to pick up forgotten toiletries, especially if there isn't a Target nearby. BTW: Is it just me or do you find it hilarious that the Target cashier always asks, "Did you find everything you were looking for?" I just stand there in a bit of a daze and say, "Actually, I wasn't looking for any of this stuff!" Going to Target for one thing is as difficult as having just one potato chip.
Anyhow, I digress. When you want to make sure you have all your toiletries, you should check out Travelbadger. TravelBadger recently sent me some of its pre-packed toiletry kits, which I didn't expect to be too exciting—but sure enough, I was wrong. When the package arrived and my wife saw me taking them out, she exclaimed with a big smile, "Where did you get those cute and handy kits?" That's when it dawned on me that these products would benefit not just novice travelers but expert travelers, as well.
Travelbadger offers multiple types of pre-packed kits that come in sturdy, reusable travel bags that are TSA-compliant. Bags are sorted into four categories:
Men's
Women's
Organic
Kid's
There are four types of men's kits, all at different price points. The Unisex Badger Kit costs $14.99 and comes with Pantene 2-in-1 shampoo/conditioner, Dial body soap, Arm & Hammer deodorant, Colgate mouthwash, Colgate toothpaste, a travel toothbrush, a Plackers three-pack, a cotton swab five-pack, Chapice (flavor varies), Tylenol two-pack, a quart bag, and a Badger Bag.
The most expensive men's kit is the Sir Badger Best Kit at $29.99. It comes with Giovanni wellness shampoo, Axe shower gel, Axe cooling facewash, Axe deodorant, Gillette foamy shave cream, a Gillette disposable razor, Colgate toothpaste, Colgate mouthwash, a travel toothbrush, a Plackers 12-pack, Chapstick (flavor varies), Q-tips (30-count), a Tylenol two-pack, a small comb, zip-top quart bag, and a Sir Badger Bag.
The women's offering is similar but their most expensive kit is the Ladies Best Travelbadger Kit for $29.99 and comes with Nexxus shampoo, Nexxus conditioner, Olay body wash, Olay lotion, Lady SpeedStick, Colgate toothpaste, Colgate mouthwash, a travel toothbrush, a Plackers 12-pack, Chapstick (flavor varies), Q-tips (30-count), a Tylenol two-pack, a small nail file (colors vary), a zip-top quart bag, and a Lady Badger Bag.
As new parents, Natalie and I both appreciated the Kiddo Badger Bag ($19.99), which has Disney 3-in-1 shampoo/conditioner/body wash (character varies), Children's Sparkle Fun Crest toothpaste and toothbrush, four multi-colored firefly flossers, a pack of five cotton swabs, Chapice (flavors vary), one packet of Kidz Emergen-C (fruit punch), two colorful assorted Band-Aids, Banana Boat Kids Sport SPF 50 sunscreen lotion, a pack of 32 Me-4-Kidz Little Buddy antibacterial wipes, Kleenex pocket tissue(10-count), Playpack Grab & Go (character varies), a zip-top quart bag, and a Kiddo Badger Bag.
You can also create your own bags or just buy individual items, as there are hundreds of reasonably priced choices, from a two-pack of Advil ($0.99) to a worldwide USB charger/adapter ($24.99). You can search alphabetically or within the following categories:
Sir
Lady
Organic
Kiddo
RX
Cleaning
Gear
Military
Each category has so many choices.
After combing through the website (oh, by the way, they sell a men's comb for $0.99) I realized I may never go to Target or CVS again to buy my toiletries. Thanks to TravelBadger, I won't have to make any last-minute trips to the store or hope the hotel carries what I'm missing.
Travelbadger's pre-packed toiletry kits have the perfect tagline: Easy. Peasy. Packing. It really is easy peasy packing with Travelbadger.