Here's something you should know about Key West: Cab drivers are the source of all island-related intel. So when I hop into a flamingo-pink minivan outside the lilliputian Key West airport after a long day of travel, I'm treated to an onslaught of opinion pouring out of my cabbie's mouth. Opinions of the Key West bar scene. Opinions of the spring breakers currently infesting the island. Opinions of completing cab drivers. Opinions of Kim Kardashian and whether she and Kanye would ever actually come to Key West. (Hey, Khloe Kardashian and French Montana came!)
But when we pull up to the entrance of Oceans Edge Key West Hotel and Marina, my cabbie falls uncharacteristically silent. "This is a new one for me," she says of the hotel, conceding that she's just as curious to see past its grand stone entrance as I am.
Oceans Edge is indeed new—so new that you can still smell the fresh paint in the art-festooned lobby; so new that the hotel's outdoor wooden walkways have yet to weather. It's also another sign of new things afoot on Stock Island, the adjoining atoll to Key West proper that many locals refer to as the last vestige of "old" Key West. Oceans Edge represents the first hotel built here in years, with a second boutique spot, The Perry Hotel, following suit. Some $400 million has recently been poured into improving Stock Island's infrastructure, and if ferry service to Cuba ever takes off, the terminal will be based here rather than Old Town Key West.
Locals may grumble about the new developments. But as a three-night stay at the waterfront hotel proved, change needn't always be feared.
The property
There's so much that's singular about Oceans Edge that it's almost too much to digest. For starters, the 20-acre property is the first and only luxury hotel (in the world?) to be built astride two ocean bodies (the Atlantic and the Gulf of Mexico). It's also now the largest resort in the Keys, the only property in the island chain to offer water views from every room (175 of them, to be exact), and the only Keys property to offer direct marina access. Oh, and two more pieces of trivia: The property's 163-slip marina is closer to Cuba than any other marina in the US, and said marina holds the most fishing records of any marina in the world.
And yet, with all of these bragging rights, Oceans Edge's greatest appeal is its lack of pretension. Staff members are friendly without being obsequious. The clapboard, "conch-style" architecture blends in seamlessly with the environs. Rocking chairs and West Indies-style sofas dot the lobby's front porch. The pool scene, while epic (more on that later), is hardly party central (Fountainbleau Miami this is not). Pelicans chill alongside modest boats docked in the marina—though a few stunning yachts also make an appearance—and boaters as well as hotel visitors jog the waterfront path that encircles the property. The 300 palm trees and numerous native plants only add to the laid-back serenity. And have we mentioned that Oceans Edge is dog-friendly?
Every room with a view
The rooms here have many selling points, but just to reiterate the headline-grabber: Every. Last. One. has an ocean view. (A public health reminder: ocean views are better for your mental health.) And if you're lucky enough to snag a corner room, as I was, then you're gazing over the chartreuse-hued water from two different angles. The prime water-viewing spots are the room porches, of course, just large enough for a couple of chairs and a small table begging for a cup of coffee or a glass of wine. (The only drawback: adjoining lanais butt right up against one another, making private conversation a bit tricky.)
But the internal views are pretty terrific, too. In homage to the locale, each guest room is done up in an island-nautical motif, cobalt and ivory dominating the palette. Pillow prints feature palm leaves. Driftwood and fish sculptures dot the shelves. An aged-looking nautical map of the Florida Keys hangs over a pristine white writing desk (who actually does work on a trip to the Keys?). The overall vibe is Caribbean beach property meets seasoned treasure hunter.
And did I mention these rooms are large? Like, New York City studio apartment large? The brightly lit bathroom suite has a sizable standup shower and separate tub, and my room has a separate sitting room, so large you could roll out a yoga mat and do a few quick stretches (which I kept promising myself I'd do). The deep-blue couch here is plush and inviting, the perfect place to curl up with a book if the island is hit with an afternoon rain squall.
And what's this basket of vittles sitting on the coffee table? I assume it's a compendium of mini bar offerings, but as it turns out, the hotel is generous with the gratis amenities, allowing you to munch on cheese, salumi and hummus when you're craving just a touch of sustenance—or want to pack a picnic to go.
Speaking of minibars, the rooms don't have them, which at the end of the day is probably for the best—it would be too easy to drain your half-fridge of beers while sitting on the porch watching boats and birds fly by. But in-room bottle service is available, for both wine and spirits.
Pools and more pools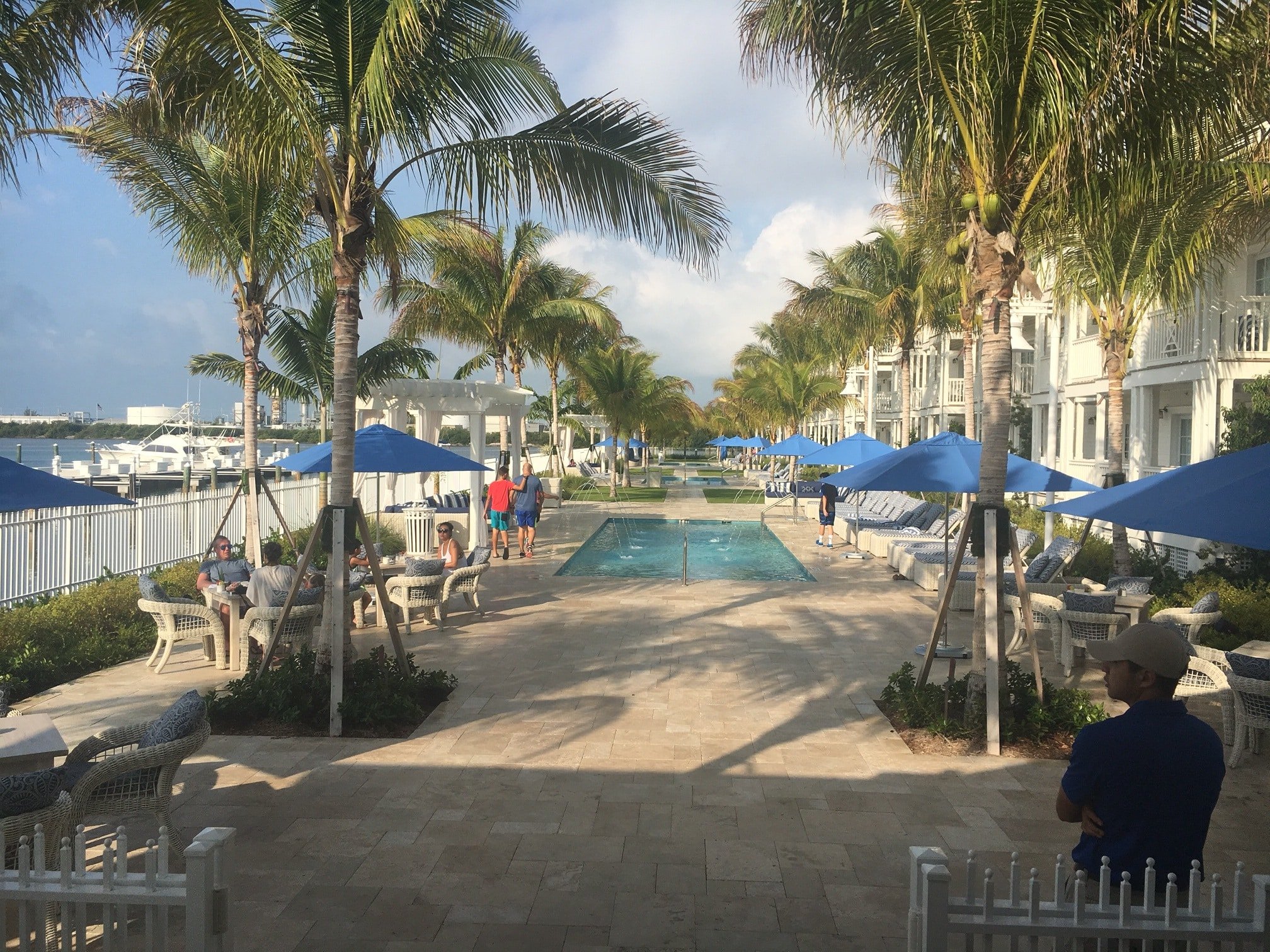 Pack every swimsuit in your drawer, because Oceans Edge boasts not one pool, not two, but six, all heated, with plentiful lounge chairs and cabanas peppering their edges. Is this chlorine excess? On the contrary, it's a dream for anyone (me) who hates swimming amongst noisy kids and/or amorous couples. Don't like the scene at one of the pools? Simply move a few chairs down to the next one. The pool closest to the restaurant is the only one offering waiter service, but none is so remote that you can't stroll up to the bar and order a mojito to go. Just snag your desired seat early, because guests tend to make pooltime an all-day affair.
Hit the (salted) water
Because mermaids cannot live by six pools alone (ostensibly), the hotel also offers a comprehensive "watersports wellness program," which shakes up the typical tropical-island water experience. Created by on-site manager Sera Sullivan, the program is rooted in Therapeutic Aquatic Experiential Education (TAEE), an interdisciplinary approach to water-based fitness that she developed a few years back. (Sullivan has a degree in ecopsychology and a background in clinical mental health.) Her signature offering is the Serenity Eco Therapy experience where she leads participants in a two-hour workout program on the water that incorporates paddleboarding, yoga and pilates. But for Instagram bragging rights, book a private trip to a secret sandbar known as the Mud Keys, a spot thankfully avoided by tourists due to its misnomer of a moniker (the beach is actually gorgeous).
Dining
Yellowfin Bar and Grill, the open-air restaurant that sits atop the marina and right next to the pool area, carries that pretension-free vibe into your on-site dining experience. The Caribbean-tinged menu is local seafood-centric, panko-crusted grouper and brown butter-basted yellowtail snapper being two standouts. My suggestion? Eat at the bar, behind which is an enormous chalkboard mural (from Los Angeles artist Elkpen) with sketches and factoids of native Keys wildlife. And speaking of the bar: Yes, the cocktails are potent, but they're also freshly made; there's nary an Island Oasis piña colada maker to be seen. Kudos also to the hotel for offering a separate Starbucks coffee shop, where you can pick up a latte and some fruit for a light breakfast (who wants to wait 30 minutes before diving into the pool in the morning?).
Venturing off property
How to take stock of Stock Island? It is indeed still honky-tonk and fishing-driven where Key West proper remains tourist-happy and booze-soaked. But the fun is sussing out its undersung charms and getting ahead of what will soon be a better-known vacation spot. Home to the Key West Tropical Forest and Botanical Garden and the Rees Jones-designed Key West Golf Club, Stock Island also has artistic bragging rights, hosting not only the Key West Symphony Orchestra but also the alternative artist collective, concert venue, and skate park known as Coast.
And there's a charming and growing dining scene, too: Hurricane Hole and Hogfish Bar and Grill remain the gold standard for casual marine-side dining (the fried hogfish sandwich at the latter is famous and a must), while newer restaurant Roostica slings schmancy wood-fired pizzas and a casual Sunday brunch. A locals' secret is Yahman's Authentic Jamaican Jerk, a tiny shack located next to Coast that slings the real (spicy) deal. And keep an eye peeled for Hoss and Mary's Grub Shack, a transplanted burger joint from Maine slated to open this summer at Cow Marina. (The place gained great renown back in 2010 for its Man v. Food appearance.) And if you crave more discovery, simply download the hotel's app, Porter and Sail, which is basically like having a concierge in your pocket.
So what is Stock Island's drawback? For starters, you definitely need a rental car to get to all these places, or at least a bike, for which the hotel can arrange a rental. Hoofing it around Stock Island is a shortcut to heat stroke, and cabs are expensive propositions down here (so far, Uber has failed to break into the market; any cab driver will give you an earful as to why.). It's also not yet a destination unto itself; this is a place where people work rather than whoop it up.
For said whooping, your target is Old Town Key West—ground zero for peerless dining, drinking and debauchery (as well as fascinating history, literary and otherwise). Oceans Edge offers a morning ride into town and then an early evening pickup—not ideal for experiencing the nightlife of Duval Street, but certainly enough to take the town's temperature and soak up its architectural and waterfront charms. (The full rundown of Key West's attractions is an article for another day, but new bars, restaurants and hotels have recently brought a more sophisticated edge to the anything-goes enclave.)
But don't treat Oceans Edge as a mere launching pad to other parts of the Keys. Its pools, restaurant and water offerings make this new hotel a place to vacation properly—to hit CTL-ALT-DEL on your frenzied day-to-day and relearn the pleasures of doing very little, with the cerulean sea and sky as your backdrop. Frenzied partying can always be had, but how often do you have the chance to spend eight hours by an uncrowded pool, finishing that half-read novel as your iPhone sits idle on the lounge chair beside you?
---
For more, visit oceansedgekeywest.com.