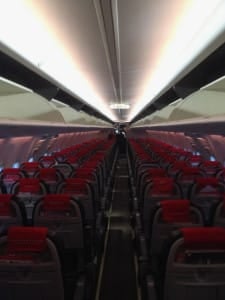 One day, two Norwegian reviews. Here's reader Abraham Lora's first-person account of what it's like to fly the increasingly affordable Norwegian Air Shuttle to Europe. Click here to see guest contributor Katherine Belarmino's take.
I was flattered to have been asked by Johnny Jet to write about my flight experience on Norwegian. I'm on the go as much as I can be (not as much as JJ obviously, but who can be?) and I was intrigued by Norwegian's non-stop service to either Copenhagen or Stockholm from LA (depending on the day of the week). As I look on their website again, it appears that they'll also begin non-stop service to London in time for the summer season to begin (Editor's note: LAX to London-Gatwick directs are now available).
Booking
After deciding that I'd like to go to Estonia for a few days, I decided to book a one-way for Wednesday, May 21 on flight 7088, a non-stop departing LAX for Stockholm at 8:55 pm. I found their website is very user-friendly and easy to navigate. I also noticed that Norwegian is flying to Europe from various other US cities. I encourage anyone to include them in their research when looking for fares. Norwegian is pretty up-front regarding all of their fees. Please research accordingly so you're informed in advance.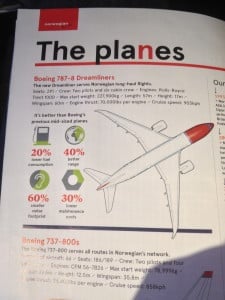 I paid $363.10 for my one-way ticket. They tried to up-sell me for $89, which would have gotten me one checked bag for 23 kg, a dinner entrée, a cold meal entrée served before arrival, and a seat reservation. Without paying extra, you can bring hand luggage up to 10 kg onboard, which is what I did—so if you can stay under that weight, I'd recommend not paying for the bag. However, you'll pay more at the airport than online if you later change your mind and choose to check a bag, so plan accordingly.
Aside from the cost of the ticket, I was intrigued that Norwegian was promoting the use of the Dreamliner 787 aircraft. I'd never been on this plane before, which was another reason why I booked this ticket. I'd noticed that on other routes, Norwegian has promoted this plane only to, at the last minute, substitute out the 787 for another type of aircraft, so be forewarned of this possibility.
At LAX
Norwegian uses the Tom Bradley International Terminal at LAX, which has been beautifully remodeled. After checking in for the flight—which took all of two minutes as I was greeted warmly by the Norwegian ticket agent—and going through security (also a short wait), I walked around the new terminal taking in its elegance and wide-open feel.
As I approached the gate area and the annoying hordes of people who insisted on crowding, even though Norwegian boards by row number, I saw the 787 plane sitting there. I'm not going to lie: I expected a much bigger looking plane for some reason, but it did look sleek and new and I grew excited to board so I could check it out.
Onboard
As I boarded—and was greeted by a lovely young Thai flight attendant—I noticed that the interior of the plane was very comfortable and not cramped at all. The seats were of sufficient size, even for a big guy like me, and I had enough knee and leg room (which is sometimes is an issue when I fly). I liked how the plane felt tall and gave an overall feel of being very large and spacious in the interior. The lavatory also was wider and bigger than the standard size used in other planes. I could actually "use" the lavatory without claustrophobia setting in!
The staff was a mix of young Thais and some Scandinavians. They greeted everyone warmly and I felt they did an amazing job in all of their tasks, especially considering it was a completely full flight. The passenger next to me had preordered the two meals that were offered in the up-sell. The meals looked alright, and he said they were quite tasty. Dinner was a choice of chicken and pasta or beef with mashed potatoes and vegetables. The meal included a glass of wine as well that was of good quality. The light meal before arrival was a baguette with cheese, a yogurt and a granola bar served with juice, coffee, tea.
Every seat has their own entertainment system and Norwegian includes this in the ticket price. No paying to view any of the movies or TV shows, which I thought was a nice touch since I expected them to charge for this. I was also able to keep my iPhone charged since every seat also has a USB charger.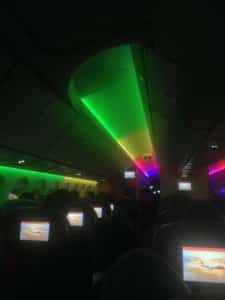 My take
The 10-hour flight to Europe went by very quickly. I was able to sleep for long chunks of time due to the overall comfort of the seat and flight. On May 22 at 4:35 pm local time, flight 7088 arrived at Stockholm Arlanda airport.
My one complaint would be that Norwegian needs to have their staff come around more often with beverages, even if just water. They only came around twice on a 10-hour flight offering water. I realize they do all they can to keep fares low, and we as passengers can pay for what we want, but frequent water on this type of flight is pretty much a requirement.
I have to give Norwegian a solid B+ for their product, which provides safe, comfortable and cost-efficient non-stop travel between LA and Scandinavia. I wouldn't hesitate to use them again in the future for any of my travels.
Editor's note, extended — a few relevant thoughts from my own Norwegian experience, flying Stockholm Arlanda-JFK last fall:

Aircraft was a Dreamliner 787
In his welcome address, the friendly pilot told us how awesome the Dreamliner is