One day, two Norwegian reviews. Here's guest contributor Katherine Belarmino's first-person account of what it's like to fly the increasingly affordable Norwegian Air Shuttle to Europe. Click here to see reader Abraham Lora's take.
I could tell as soon as we walked up to the check-in counter that this flight was going to be a little different. Everybody in line was tall, blond and beautiful. And it wasn't just because we were flying out of LAX. The majority of the passengers on our direct Norwegian flight were Scandinavian, heading home after vacationing in sunny Los Angeles.
It all started when a fellow blogger posted on Facebook that Norwegian Air was holding a fare sale featuring their new non-stop flights to multiple Scandinavian destinations from New York and Los Angeles. I'd never heard of Norwegian Air before, but with fares starting at $180 one-way, I was more than willing to try out an unknown airline.
In the news
I did have a bit of trepidation at the thought of flying on one of the new Boeing 787 Dreamliners, as they'd frequently been in the news in the not-so-distant past for failed batteries and delays. My nerves really started to kick in when a reporter for The Daily Breeze contacted me for an interview and asked if I'd been following the controversy surrounding Norwegian's American-based flights.
It was then I learned of the uproar caused by revelations of Norwegian moving their headquarters to Ireland, hiring a Thailand-based crew and being infamous for flight delays. But it seemed the Dreamliner's mechanical issues had been successfully addressed and publicity specific to Norwegian appeared to be fueled by American-owned airlines worrying about the new competition, so I set aside my fears. I felt even better when we arrived at our gate over two-hours early to find our plane waiting and the welcome words "On Time" displayed on the monitor.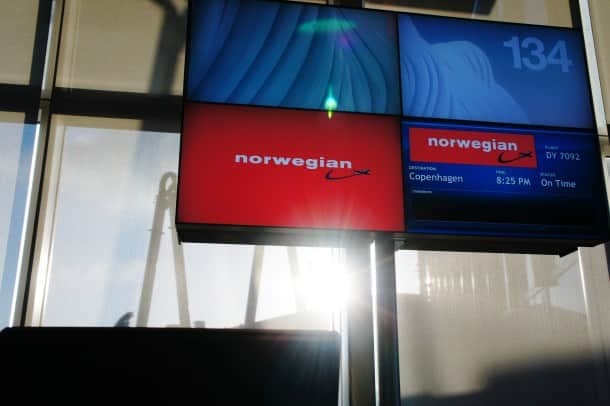 Norwegian's Dreamliners are made with carbon fiber and other composites, which means they are lighter and go further than other planes can on less fuel. This translates to lower prices for passengers. When I boarded the aircraft I first noticed the rows upon rows of leather seats, all with personal entertainment systems in the back of the headrests.
Onboard
At our seats, we watched the safety video and learned a little more about the plane. Some of the key features of the new planes are outlets under the seats, USB power ports in the entertainment system, and larger windows that darken at the touch of a button instead of window shades that pull down. One feature advertised that we did not have on our flight was wireless internet, which was a disappointment. Editor's Note: Norwegian only offers Wi-Fi on their inter-European flights.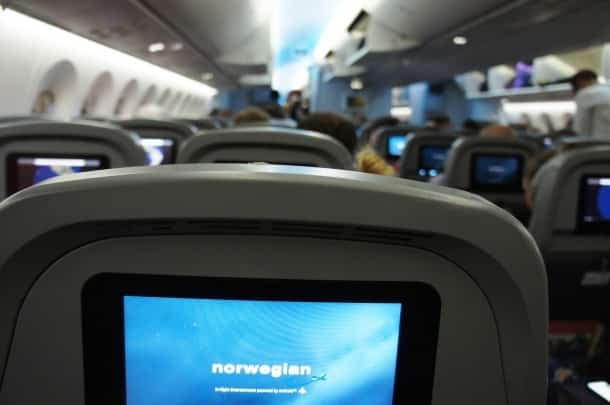 The Dreamliners have also incorporated features to decrease jetlag, which include cabin mood lighting designed to assist passengers in relaxing and cabins pressurized at a lower altitude than other, similarly sized planes, which allows for the absorption of more oxygen. As the Norwegian video stated, this is all in an effort to offer "more jet and less lag."
When we were served our preordered meal, I was surprised by how edible it was. While it was certainly not gourmet, my chicken stroganoff, dare I say it, actually tasted fairly good. The entertainment system offered a number of movies, including some recent Academy Award-winners, music and destination guides. For those that didn't order meals ahead of time, snacks could be ordered through the entertainment system.
Pricing
Our roundtrip flight with Norwegian to Copenhagen in April was priced at $607.30, an incredible deal for a non-stop flight to Copenhagen. When I compared prices with those of other airlines, I found prices that were almost twice as much. Of course, where budget airlines get you are the add-ons.  True to form, as I booked our flight I learned that for only $89 per person each way I could choose our seats, check one item of luggage each, and be served food, all for a pre-paid savings of $37. Since we would be checking luggage and I prefer to choose my seat, I purchased the add-ons, which still brought the price to a low $785.30.
For us, the extra cost paid off. The Dreamliner's seating arrangement features three aisles of seats with three seats each. However, in economy class there are exactly two sets of only two seats at the back of the plane. For both flights I was able to book these two-seater rows so we didn't have to share our row with a stranger for the 11-hour flights. Plus, we had room between the seat and window to place our bags so we could take full advantage of our leg room.
My take
All in all I was extremely pleased with our flights with Norwegian. Both our flights to and from Copenhagen were on-time, the interior of the aircraft was much nicer than most, and the personal entertainment system provided hours of entertainment to help the flights pass faster. I would definitely consider flying again with Norwegian.
Editor's note, extended — a few relevant thoughts from my own Norwegian experience, flying Stockholm Arlanda-JFK last fall:

The flight departed about two-hours late (an airport rep in Stockholm told me this flight is always delayed)
The Wi-Fi was broken (a flight attendant told me "all" flights usually have functioning Wi-Fi)