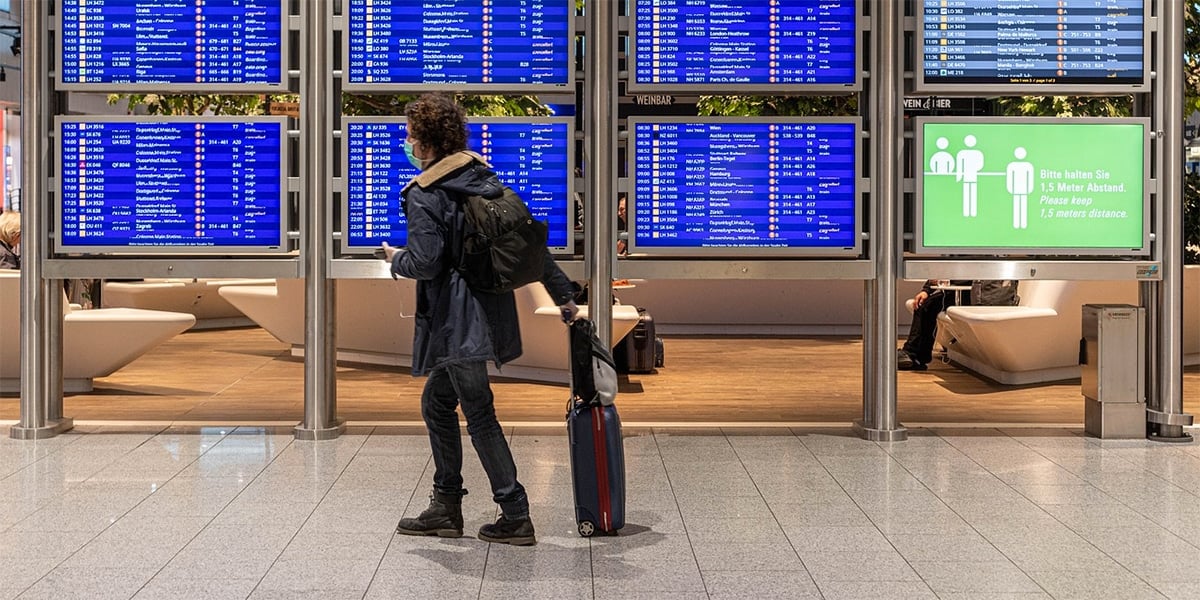 One of the things I never understood was how wearing a mask became political. That never made any sense to me. So I was happy when the new administration allowed the CDC and TSA to put some teeth into the mandatory mask rule, which all airlines and airports had already adopted on their own because it's about safety not politics.
The CDC order (you can read all 11-pages here) goes into effect just before midnight tonight (Monday, February 1, 2021). The only thing this CDC order changes is that it makes refusal to wear a mask a violation of federal law. So, instead of violators just being kicked off or banned from an airline (over 2,000 people have already been), they will now be arrested and charged with a federal crime, which will really crush someone's record. Not to mention, the whole thing will cost them a good amount of cash and time.
Below are some of the highlights of the rules from various agencies and news organizations:
TSA to implement Executive Order regarding face masks at airport security checkpoints and throughout the transportation network
Starting on February 2, 2021, TSA will require individuals to wear a mask at TSA airport screening checkpoints and throughout the commercial and public transportation systems. This requirement will remain effective until May 11, 2021. (TSA)
CDC requires wearing of face masks while on public transportation and at transportation hubs
"As the COVID-19 pandemic continues to surge in the United States, CDC is implementing provisions of President Biden's Executive Order on Promoting COVID-19 Safety in Domestic and International Travel and will require the wearing of masks by all travelers into, within, or out of the United States, e.g., on airplanes, ships, ferries, trains, subways, buses, taxis, and ride-shares. The mask requirement also applies to travelers in U.S. transportation hubs such as airports and seaports; train, bus, and subway stations; and any other areas that provide transportation.  Transportation operators must require all persons onboard to wear masks when boarding, disembarking, and for the duration of travel. Operators of transportation hubs must require all persons to wear a mask when entering or on the premises of a transportation hub." (CDC)
RELATED: Where to Buy N95 and KN95 Face Masks
Buy N95 and KN95 face masks on Amazon.com
Buy N95, KN95, KF94 masks on WellBefore
Homeland Security gives TSA workers authority to enforce Biden's mask mandate
"Additionally, the masks need to fit snugly and should not have exhalation valves or punctures. If someone chooses to wear a gaiter, it must be made with two layers of fabric or be folded to have two layers. Face shields and goggles can supplement a mask, according to the order, but cannot be worn in place of a mask. Scarves and bandanas do not fulfill this new requirement, which exempts children under the age of two or people with a disability who cannot wear a mask." (CNN)
CDC issues order requiring masks on public transportation
The order exempts children under 2 years of age and people with a disability that makes it unsafe to wear a mask. Airlines struggled with an exemption for safety and stopped allowing it. The CDC said transportation operators can require medical documentation. Travelers will be allowed to remove masks while eating or drinking. (LA Times)
Harvard health expert makes case for everyone to wear N95 masks
A health expert from Harvard made his case Tuesday that everyone in the U.S. should wear N95 face masks in order to slow the spread of COVID-19. Joseph G. Allen, the director of the Healthy Buildings program at the university, penned an op-ed in the Washington Post and said there's "no reason any essential worker—and really, everyone in the country – should go without masks that filter 95%." (FOX News)
Bottom line
If you don't want to wear a mask, then it's best you stay home and not take any kind of public transportation or go into any public building and that includes airports, and bus and train stations, because this new mandate means there will be consequences. People need to be a team player until we can put this virus behind us.