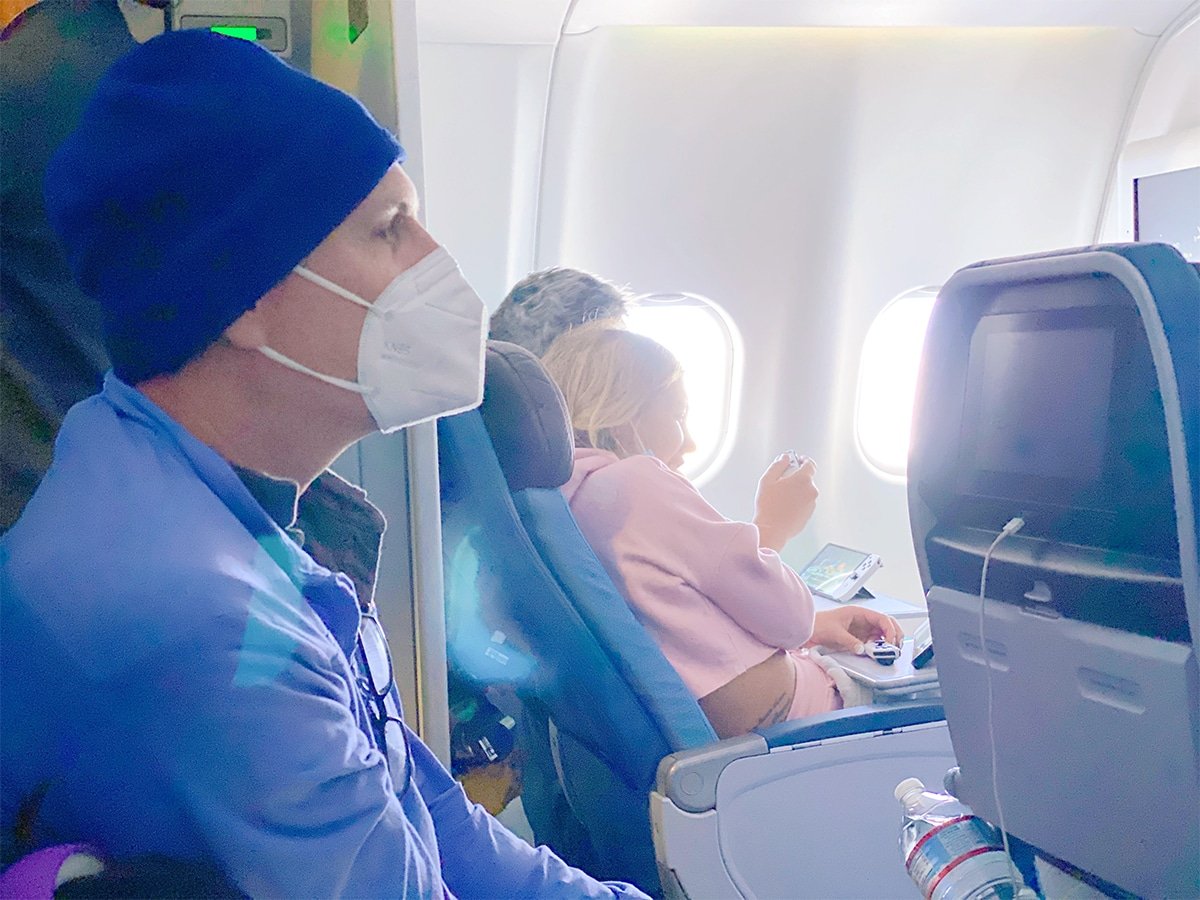 Yesterday, April 18, 2022, was one of those rare days where there's so much news, it's difficult to keep up. It reminded me of March 11, 2020 when the WHO declared COVID-19 a pandemic: stocks plunged, the NBA halted its season, President Trump banned travel from Europe and so much more.
Once the news that a Florida federal judge had ruled that the CDC mask mandate was unconstitutional, the White House said they weren't going to appeal and the TSA wasn't going to enforce it, rules changed quickly and dramatically. This made it obvious that the Biden administration wasn't planning on extending the May 3rd mask mandate deadline. But I know the news caught everyone, including the airlines, off guard. But it was welcome news to many.
Alaska Airlines was the first to release a statement that masks were optional, followed by United. Within four hours, all the major U.S. airlines announced masks were optional mostly via Twitter; I've embedded their tweets towards the bottom of this article.
My sister Carol just happened to be flying Delta Air Lines last night from New York's La Guardia to West Palm Beach at 8pm. When she was boarding the plane, I told her that Delta had just announced that masks are now optional and asked her to get me some photos in-flight. She did even better as she recorded what I believe is the first Delta flight attendant to make the announcements that masks are now optional, since it happened within two minutes of the company's announcement.
As you can see, most passengers were still wearing their masks and I think that will be the case for the next couple of months, and even years, during flu season. It will most likely depend on the region, route, and caseloads. But I hope one thing that this pandemic did was make masks more common for people to wear when they're sick or even better, encourage them to stay home.One of the great things that came out of the pandemic where the airlines are concerned, was forcing them to drop change fees. So now, if you're sick, you can reschedule your flight without having to pay a penalty. There's no reason to fly sick.
One of my biggest pet peeves when I travel is being around passengers who fly sick and even worse, don't  cover their mouths when they cough or sneeze. That's why I've been a big fan of wearing masks on planes well before the pandemic. I always carried masks in my carry-on bag, just in case someone near me was sick or if I started to feel under the weather.
There's still some confusion because it doesn't matter that the TSA says they won't enforce masks. They never did to begin with. It's the airport authority so we might find some airports still requiring mask-wearing. I know some state transportation lines are going to still require masking, which is definitely going to be a problem but I think it's a good thing since they don't have the type of air flow or HEPA filters planes do. (I'll embed some of those major airport announcements below as well.)
Amtrak stated masks will now be optional as well as Uber and Lyft.
I do think planes are safe as long as the people near you aren't sick, which is a big 'If'. The best way to protect yourself, according to the doctors, is to get vaccinated, boosted, wear a solid mask (N95 or KN95/94), wash your hands and wipe down high-touch areas. I would also recommend booking a first class ticket so you have fewer people around you. And thanks to not a lot of business travelers flying these days, sometimes those seats can be found for cheap. Always check the price of a first class ticket, the cost of an upgrade or use your miles and points.
I also started flying with a portable HEPA filter and on my last trip, I put it on my two-year old's seat since she's unvaccinated. Here's more on the air filter I travel with.
I will continue to wear my mask when traveling and especially on crowded public transportation or in a store where others are wearing one. I'm a team player so if someone is immunocompromised, I don't want to risk giving them anything.
But let's hope this National Unmasking Day puts an end to all the unruly passengers and we can come together. I know it's a long shot but here's hoping.
Here are the airline, airport, train, ride share announcements.
Airlines
BREAKING: Face masks are officially optional in airports and onboard all Alaska Airlines and Horizon Air flights, effective immediately. Full statement: https://t.co/zVonJVowr7

— Alaska Airlines News (@AlaskaAirNews) April 18, 2022
Face masks will no longer be required for our customers and team members at U.S. airports and on domestic flights (though there may be some exceptions based on local or country requirements). https://t.co/GT1lZq5TAf

— americanair (@AmericanAir) April 19, 2022
Read the guidance @Delta shared with employees regarding the White House announcement on the federal mask mandate: https://t.co/vWNjlT2Vgs

— Delta News Hub (@DeltaNewsHub) April 18, 2022
In line with Monday's federal court ruling and the TSA's guidance, mask wearing will now be optional on JetBlue within the U.S. While no longer required, customers and crewmembers may continue wearing masks in our terminals and on board our aircraft. More: https://t.co/QmyTfePZMo pic.twitter.com/ZtKngrHQrN

— JetBlue (@JetBlue) April 19, 2022
Masks are now optional onboard Southwest Airlines flights. Learn more: https://t.co/DbnSpJPVFr

— Southwest Airlines (@SouthwestAir) April 19, 2022
— Spirit Airlines (@SpiritAirlines) April 19, 2022
Masks are no longer required on domestic flights, select international flights (dependent upon the arrival country's requirements) or at U.S. airports. More comfortable keeping yours on? Go right ahead… the choice is yours (you look dino-mite either way)! pic.twitter.com/hwq678v55d

— United Airlines (@united) April 18, 2022
Airports
Effective immediately, masks are now optional for employees, passengers and visitors inside the Airport.

— Atlanta Airport (@ATLairport) April 19, 2022
We have been informed by the TSA that they will no longer be enforcing the national mask mandate at airports. As a result, masks are no longer required at DEN and we will be removing mask signage (which might take a bit of time).

— Denver Int'l Airport (@DENAirport) April 19, 2022
UPDATE: Effective immediately, the TSA will no longer enforce the requirement of face masks in airports.

DFW Airport will no longer require customers or employees to wear a face mask, though anyone may choose to wear one voluntarily.

— DFW Airport (@DFWAirport) April 19, 2022
We've followed @TSA guidance throughout the pandemic and now are pleased to share that masks are no longer required in U.S. transportation hubs, including airports. Read more from TSA here: https://t.co/aZE7R8wKOS

— Harry Reid International Airport (@LASairport) April 19, 2022
Statement regarding mask enforcement at @mspairport. pic.twitter.com/9m2yYCRet5

— MSP Airport (@mspairport) April 19, 2022
Face Mask Update: TSA will no longer enforce Security Directives and Emergency Amendment requiring mask use on public transportation and transportation hubs. Face masks are now optional in our airport and facilities.
Details: https://t.co/8R58M9U5Sj

— Orlando International Airport (@MCO) April 19, 2022
Masks no longer required in the terminal. @TSA is dropping mask mandates for airports and airlines nationwide in the wake of a Florida court ruling. Story here: https://t.co/tHM4Nnu8k7

— Pittsburgh International Airport (@PITairport) April 19, 2022
TSA no longer requires face masks on public transportation and in transportation hubs like SEA. Masks are optional, please check with your airline and destination for more information. Learn more about COVID-19 and travel requirements → https://t.co/jHc6FcaEuf pic.twitter.com/voWdVaYkwR

— Seattle-Tacoma Intl. Airport (@flySEA) April 19, 2022
Ride Share
You can now ride without a mask and use the front seat if you need to. While mask usage is still recommended, we've updated our Covid Safety policies. Let's move forward, safely together.

For US riders only. pic.twitter.com/LgHYSsC4Bg

— Uber (@Uber) April 19, 2022
Train
While Amtrak passengers and employees are no longer required to wear masks while onboard trains or in stations, masks are welcome and remain an important preventive measure against COVID-19. Anyone needing or choosing to wear one is encouraged to do so. pic.twitter.com/TEkCsv1xOX

— Amtrak (@Amtrak) April 19, 2022