On May 11, I joined Tim, Tom and Stuart, the heroes behind the Despicable Me Minion Mayhem ride, for the first-ever Running Universal Minion 5K at Universal Studios Hollywood in Los Angeles.
Pre-race jitters
I had picked up my runner's packet two days before the race, and my Minion-themed outfit was ready to go! Staying only 15 minutes away from the park, my 4am wakeup call was not too bad. I was eager to find my corral in time!
The 3.1-mile race began at 6am at the front gate of Universal Studios Hollywood, and the sold-out event got off to a great start with the usual pre-race excitement and chatter in the corrals. The traditional red carpet was replaced with a yellow Minion carpet, and it was fun joining other "Minions" eager to get started.
This was my first race after a three-year running hiatus, and I was pretty nervous. I didn't have a running buddy and wondered if I would be able to finish the race within the allotted time. The nature of this family-friendly run, however, made it easy to connect with participants of all experience levels, young and old—and we all told each other that of course we were going to make this happen, no problem. We were here to have a good time, and we enjoyed taking pictures of each other's costumes.
The race begins
With the weather at a perfect 60ºF, and Minions at hand for the countdown, we were off on our quest to conquer Universal Studios Hollywood. We started out in the upper lot, entering the Studios through the main park entrance. It felt great to finally be on the move.
The first character meet-and-greet took place, quite appropriately, at the Super Silly Fun Land inside the Despicable Me play area. I took pictures while on the move, but I was way too anxious to stop to have my own picture taken with anyone. Got to keep that 16 minutes-per-mile pace, right? I'm sure Gru was proud of me.
After making our way through Springfield U.S.A., it was on to Hogwarts Castle. It was great to run through an almost-empty Wizarding World of Harry Potter and enjoy the scenery. Cast members cheered us on, as though we were participating in the Triwizard Cup.
We left Hogwarts behind, running past DreamWorks Theatre Featuring Kung Fu Panda Adventure and WaterWorld.
After returning for a small loop around the back of Hogwarts Castle, it was finally time to run down to the backlot of the Studios. The sun was up and Gru's adopted kids—Margo, Edith and Agnes—waited for us in front of a huge Hollywood backdrop.
Next it was time to face Bruce, the shark from Steven Spielberg's Jaws, who looms in the harbor of Amity. The New England seaside village is a reproduction of the Martha's Vineyard location where Jaws was filmed. Bruce did not intervene as runners stopped to have their pictures taken with a Minion enjoying his time at the seaside.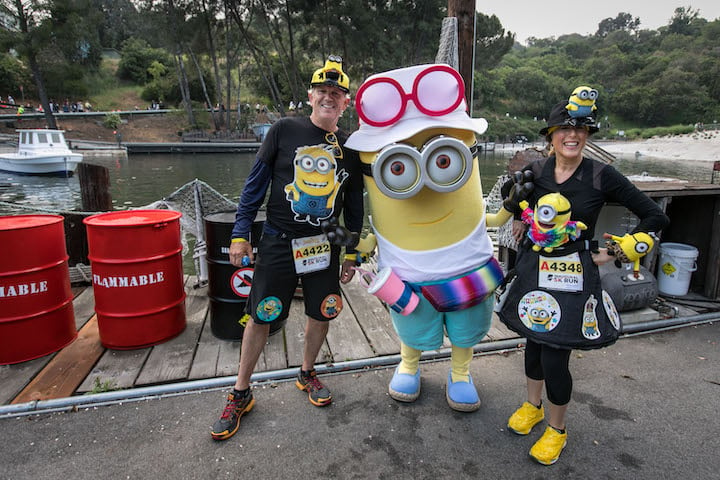 From the Jaws set, our route took us through the south side of the lot, along Colonial Street, which is widely known as Wisteria Lane due to the prominent exposure it got on Desperate Housewives.
Passing the backdrop of Dr. Seuss's How the Grinch Stole Christmas was a treat. No Minions here! It got a bit scary when we passed the Bates Motel and Hitchcock's Psycho house (still no Minions in sight).
Reaching the War of the Worlds set, runners were greeted by the evil Purple Minion. While many runners stopped to get their picture taken with the little evildoer, I simply slowed down to enjoy walking through this amazing set.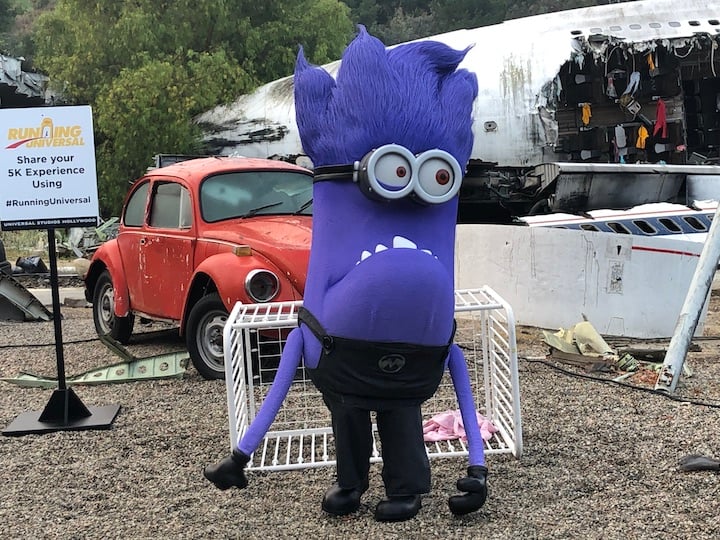 Steven Spielberg's 2005 War of the Worlds set cost a small fortune. While the movie was shot on several locations, the airliner crash scene was shot at the Universal Studios lot in Hollywood.
Spielberg purchased and transported a Boeing 747 to the lot, where it was chopped into massive pieces to create the wreckage scene, with damaged houses built around it. The price tag for the airliner was $50,000, and the transportation costs were an additional $2 million. Spielberg filmed on set for three days; the scene appears in the movie for a few minutes.
It was totally eerie to walk through the set. Seeing the destroyed town and the scattered plane parts up close was so much more impressive than when you ride through the movie set on the tour tram.
Soon it was time to run back up the hill, but not before being greeted by one more Minion. This time the setting was in front of the Sullivan Truck Repair store of Fast & Furious: Supercharged fame.
Medals and post-race fun
The race ended at 7:30am with an awards ceremony, refreshments and entertainment at Universal CityWalk. And yes, I had to get that picture taken with the Minion bling!
I truly enjoyed every moment of the race and the pre- and post-entertainment. It's no surprise that this first race was sold out in no time. It was so popular, in fact, that within days of the announcement, Universal added a second race day. The most exciting part for me was that the 5K was at all times inside the theme park or throughout parts of Universal Studios's historic Backlot.
How to run in a Running Universal 5K
The basic race package ($75) included a Minion 5K Finisher Medal, a bib with timing chip, a T-shirt, a Minion pin, post-race refreshments, complimentary general parking, a customized digital finisher's certificate, and the opportunity to purchase theme park tickets at an exclusive price. Select eateries on CityWalk offered 10%-15% off all food during race weekend to anyone with a race bib. Some stores even offered benefits for runners.
Upgrading to a VIP package ($135) got you VIP check-in, complimentary valet parking, post-race breakfast, a Running Universal water bottle, and a one-on-one meet-and-great with Minions, all in addition to what's included with the basic package.
Non-running family members and friends were also not left out and could purchase access to the fan-viewing zone at the finish line on CityWalk. This viewing package ($45) included access to the spectator area, a Minion baseball cap and drawstring bag, and complimentary refreshments.
This was the first race in what is to become the theme park's Running Universal series. The next race is set for November 16, 2019, and themed to Jurassic World. In addition to the 5K, a 1K Raptor Run for kids will also be available. I can't wait for the November. Here's hoping that the Running Universal series will eventually extend to the Orlando parks!
Where to stay
Once done and refreshed, it was time to go and enjoy the park, costume and all. Why stop the fun when there is more to be had?
Universal Studios Hollywood recommended Good Neighborhood Hotels packages that included a stay and a ticket to the park. Rates started at $105 per person, per night, based on a family of four. The closest hotels to the park are the Hilton Los Angeles Universal City, the Sheraton Universal Hotel and the BLVD Hotel & Spa. All are within a 15-minute walk from Universal Studios Hollywood. Proximity, however, comes with a price: room-only rates range between $179/night and $350/night.
---
For more on Running Universal events, visit runninguniversal.com.