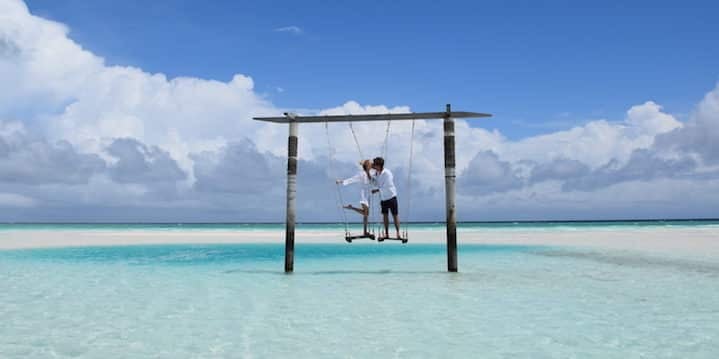 If you ask me, the tranquil blue waters and gently swaying palm trees of the Maldives are the visuals of pure luxury. The country's countless islands (26 ring-shaped atolls made up of more than 1,000 islands) dot the Indian Ocean with stunning beauty and endless opportunities for adventure. For honeymooners, it's a natural choice. But with so many secluded, five-star private luxury resorts in the Maldives—each stocked with ample food, romance and activities—how are you to choose where to stay? My new husband and I asked ourselves this question as we looked to book our own Maldivian honeymoon.
Let's be honest: A lot of the resorts we considered looked perfect in our searches online. What a tough decision it was! When the time came to book, we ultimately decided to split our time between two amazing resorts, each with a completely different feel, so that we could experience seclusion and adventure in more than one Maldivian form.
To start, we turned to a travel agent.
Why a travel agent didn't work
After doing my own research, I got overwhelmed by all the beautiful options in the Maldives. So, I spent some time emailing with travel agents. One agent offered deals that were basically the same as what I found on the resort websites. I got frustrated with another agent when I spent hours composing an email conveying exactly what we were looking for and then in return received resort options that weren't tailored to us and awkwardly pasted into an email. (She clearly didn't read my email.) So, I lost my patience with travel agents early in the planning stage.
I knew working with an agent could be easier and better. I'd used travel agents before, I'd worked with them, I even know some well. I know they can provide value. However, my experience i our honeymoon search was the opposite of what I'd come to expect from a travel agent catering to discerning travelers and honeymooners. I had to take my business elsewhere.
Our dream resorts: Anantara Veli and Niyama Private Islands Maldives
After the travel agent fail, I went back to my own online research. Eventually this led me to a hotel ownership group with impressive reviews online and several five-star properties in the Maldives. The group's name was Minor Hotels. Googling for info and reading reviews generated the lead, and we were off from there. (Plus, I'm a hotel nerd so I was genuinely interested in the company and owners behind some of these amazingly dreamy properties, which the Maldives isn't short on.)
After my husband and I found Minor, we began to fall in love with a couple of its properties: Anantara Veli and Niyama Private Islands Maldives. We had our resorts! We booked our own flights to Maldivian capital of Male and looked to each of the resorts to coordinate our transfers to/from the Male airport. The rest of our itineraries were constructed with the help of the resorts themselves. It was pretty easy. There was no need for a travel agent in my opinion. And in the end, we  realized the hands-down most-dreamy and special honeymoon that any tropical lover could ask for!
I've written up more on each of the resorts that made our honeymoon so special:
In the end: an unforgettable and unique honeymoon
When we booked our honeymoon in the Maldives, we went in with heads full of hopes and expectations. We knew the water was beautiful and the overwater bungalows were spectacular and private. But from those two expectations grew an understanding of a destination that was so much more than picturesque turquoise rings in the Indian Ocean.
We learned how a destination so well-known can surprise. From the island-hopping, delicious cuisine and local kindness at Niyama to the picturesque underwater scenery and our hand in reef recovery at Anantara Veli, the Maldives made for an experience that will remain in our hearts for a lifetime. And that's exactly what we wanted from our honeymoon.
---
For more on Minor Hotels, visit minorhotels.com. For more on Anantara Veli, visit anantara.com/en/veli-maldives. For more on Niyama Private Islands Maldives, visit niyama.com.