Greetings from sunny Southern California! I left off last week with the London Olympics, from where I flew 10 hours and 15 minutes on a British Airways 747 to LAX. Over the weekend I attended the Los Angeles Food & Wine Festival where I got to hang out with our mayor and celeb chef Giada de Laurentiis.
BTW: The weather at the beach has been spectacular and I've been playing volleyball and body surfing almost every day (the Pacific Ocean is 70 degrees Fahrenheit). I thought I would do that the rest of the month but yesterday I pulled my groin darting for my teammate's ball. Now that I can barely walk I think I may just get on a plane and visit my family back east — you can follow my travels live on Facebook and Twitter. It's also the first place I post any crazy travel deals I come across.
Trip:  LHR-LAX
Airline: British Airways
Aircraft: 747-400
Flight Number: 283
Scheduled Departure Time: 12pm
Push Back from Gate: 12:10 pm
Actual Departure Time: 12:40 pm
Miles: 5,440
Flight time: 10:13
Seat: 60A (upstairs)
Cost: Sponsored
Hotel to Airport
My British Airways flight from Heathrow to Los Angeles wasn't leaving until noon. That gave me plenty of time to sleep in and have a relaxing breakfast at the Chancery Court Hotel. Luckily, when I woke up I turned on the TV to watch the local news because I learned the Tube's Central Line was not operating so I needed to come up with a "plan B" to get to Paddington Station.
Tip: Always watch the local news or follow their Twitter updates to find out what's going on so there won't be any surprises.
London Tube
Of course, I could've just taken a taxi but they cost so much more and usually take a lot longer thanks to London's gridlock traffic. So I met my colleague Brett Snyder from CrankyFlier.com who was on the same flight (here's his trip report) and we took the Tube's Picadilly Line to Kings Cross Station and transferred to the Hammersmith Line. Here's a Tube Map to help you navigate on your next trip to London.
Heathrow Express
We then jumped on a Heathrow Express train from Paddington Station to Heathrow. Their trains run every 15 minutes and takes 20 minutes to Terminal 5 (15 minutes to the other terminals). When I arrived to London a couple days prior I bought a roundtrip ticket at one of the self-service kiosks for £34 ($53). A cheaper alternative is to take the Tube (Piccadilly Line) right between the airport and city as it costs £5.00 ($8.50) and takes roughly 50 minutes. Here's a link to Visit London's Heathrow Airport transportation page.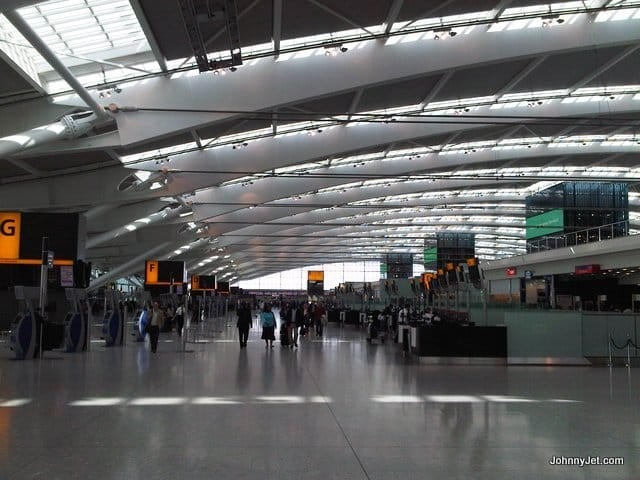 Heathrow
When Cranky and I arrived to T5, one of my favorite airport terminals in the world, I was shocked at how deserted it was. I was expecting a mad house with long lines. It was the opposite. It took a minute for me to get my boarding card and five minutes to clear security. It would've been shorter if I hadn't forgotten a bottle of water in my carry-on which security easily flagged.
Unlike my last trip (10 days prior) the security agent was super friendly and professional. She told me I could drink my water as she went through all my belongings which I think is a joke. At least she did it rather quickly. The last one who flagged Natalie's bag for a little container of Nutella took 25 minutes and was outright rude. We couldn't see her name but she was a heavy white girl with tattoos all over her body and had a really bad attitude.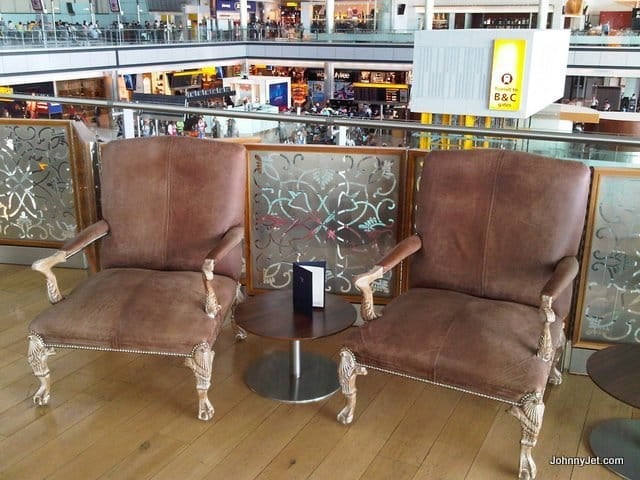 British Airways Concorde Room
Although I didn't have a first class ticket I was given access to British Airways swanky Concorde Room. It's exclusive for first class travelers and is located next to BA's business class lounge but it has a totally different feel. For starters, if you have a first class ticket you can walk just a few steps from security to the entrance and enter that way. Those with Business Class tickets have to walk all the way around and down before going back up to enter which I think is a nuisance and BAA (the airport operator) only does this to try and get more business for their retailers.
Breakfast in the Concorde Room
We didn't leave much time to enjoy the Concorde Room as our flight was boarding in 30 minutes and it was at least a 10-minute walk/tram ride to the B Gates. So we sat down at one of their dining room tables and had a made-to-order breakfast (soft boiled egg with soldiers) and fresh-squeezed orange juice.
Harrods Tip
Before getting on the plane I made a pit stop at Harrods to get Natalie a present and their cashier asked if I wanted to pay in US dollars. They make it seem like they are helping Americans out when in reality they are charging a much higher exchange fee so always pay in local currency.
Club World
British Airways provided me with this ticket so I had a Club World seat (Business Class). On this 747-400 there were 70 Club World seats. Upstairs has only 20 seats total so I chose one up there since it's like your own private jet.
Tip: To reserve a good seat on BA, use their free check-in 23 hours, 59 minutes and 59 seconds before departure time. Otherwise you can reserve one prior to that but they charge a fee.
Club World Seats
BA's Club World seats are in a forward-and-backwards pattern, with window and middle seats facing backward, while aisle seats face forwards. In this configuration, I prefer sitting in a window seat either in the exit row or the last row of the cabin since they have direct aisle access. Unfortunately, I didn't follow my own advice and didn't snatch one of the golden seats (I was busy at the Olympics when it was time to check-in). But I did get 60A which is the row up top and the seat next to me was empty — when was the last time you had an empty seat next to you? Especially in business class!
Club World Entertainment
There's so much privacy you might actually forget you are on an airplane. You'll also love that the seats turn into a 180-degree, fully flat sleeper seat. Since we were flying during the day and arriving in L.A. at 3 pm I tried not to sleep so I wouldn't throw off my internal clock. But the seats are just too comfortable not to take a little snooze. Instead I used the power port so I could work some hours on my laptop.
When I felt lazy I just sat back and watched the wide selection of movies (including the 25 on-demand new release movies), TV shows, video games and audio options – all available with the quick touch of the screen which is nine inches wide. To increase your enjoyment, they also provide noise-canceling headsets. There's a little drawer on the side to put your phone, camera, book, and bottled water.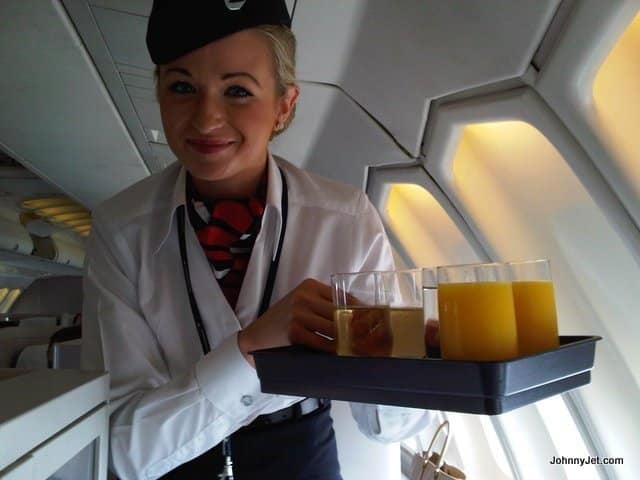 Food
We had two flight attendants stationed up top and they were both excellent and friendly. Before takeoff they served drinks and passed out menus and designer amenity kits. Right after takeoff they came around with more drinks. Then the food service began. British Airways just enhanced its gourmet dining experience for premium passengers. They also recently introduced the new Height Cuisine and a special Olympics inspired menu where they worked with Michelin Star Chef Heston Blumenthal. Since working with Blumenthal, the airline has introduced umami rich foods into its menu. Umami is regarded as the 'fifth taste' often found in protein rich foods such as seaweed, tomatoes, mackerel and parmesan cheese.
British Airways Olympic Menu
For a limited-time (July through September) on most long-haul flights departing London Heathrow, British Airways has an Olympic menu as an alternative to its regular menu. It was created by chef Simon Hulstone who took inspiration from the airline's menus dating back to 1948, the last time the Games were held in London. Popular ingredients from the time have been incorporated into his menu, with some dishes reinvented for a modern day audience using local produce.
LHR-LAX Menu
Our menu went like this:
Starters:
Smoked salmon with capers and lemon
Salad with golden beetroot, peppered goat's curd and micro watercress with elderflower dressing.
Everyone's tray came with seasonal salad served with vinaigrette.
Main course:
Filet of Herefordshire beef with smoked garlic mash, green beans and artichoke.
Sustainably sourced hake fish pie with warm tartar sauce
Risotto with grilled halloumi cheese and honey-roasted carrot with cumin and tarragon (this is what I had)
Chilled main course salad of corn-fed chicken with rocket pesto and marinated peppers with balsamic dressing.
I passed on the dessert which was Lemon curd cheesecake with raspberry and basil compote and a selection of cheeses. As I knew I would be hitting the self-service mini bar set up downstairs in the galley with all kinds of Cadbury chocolates, chips, sandwiches, and fresh fruit.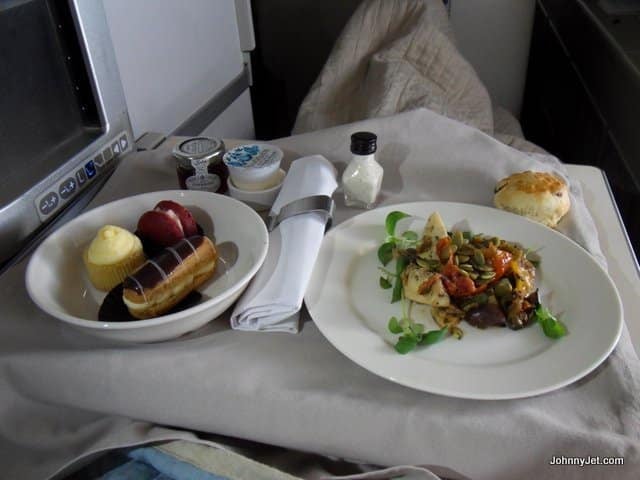 Afternoon Tea
About two hours before landing the crew came around with afternoon tea which consisted of sandwiches – prawns with mayonnaise and another with chicken, rocket and double Gloucester cheese and tomato. I had the mixed Mediterranean vegetable and pumpkin seed salad with olive oil and red wine vinegar dressing. We also had plain or fruit scones warm with clotted cream and strawberry preserves. There was also a plate with a chocolate éclair, lemon cupcake and raspberry cream sponge. The British sure know how to spend an afternoon.
The flight was smooth pretty much the whole flight and I don't think the seatbelt sign went on once besides the first few minutes of takeoff and landing! I've been flying BA so much lately that I now know their pattern: 40 minutes before landing the pilot gets on and informs the passengers and crew there's only forty minutes left and that in 20 minutes the seat belt sign will go on and the toilets will be off limits. So everyone gets up (that's why I try to time mine to be in the bathroom when the captain makes the announcement).
Los Angeles Immigration
We landed in sunny L.A. and there was a long walk to immigration. Since BA lets first class and then business class passengers out first, we had a head start. I was walking right behind Buzz Aldrin who was in First Class and wearing an Omega jacket so he must've been at the Olympics as a guest of that sponsor. Many passengers got stuck at customs while I just zipped through since I'm a member of Global Entry. Here's how you can save a ton of time on your next international trip.