I've been telling people that if American Airlines follows Delta's and United Airlines' unpopular move of changing their frequent flier program of earning miles based on ticket price rather than distance flown, that the big winner is going to be JetBlue. After all, the only thing that prevents frequent fliers like me from flying the New York-based airline (and Virgin America & Southwest) more often, is that it's too difficult to give up American's frequent flier perks like double miles, free access to more legroom, first class check-in, priority boarding, inexpensive upgrades, free checked bags, etc.
But today's JetBlue announcement, revealed that that they plan on "increasing the number of seats on its A320 fleet as part of a major cabin refresh (meaning a lot less legroom)" and that "beginning in the first half of 2015, customers will be able to choose between three branded fare bundle options. The first of these will be designed for customers who do not plan to check a bag (meaning they will be charging to check your bag)." Guess this means there will be nothing truly special about them.
Most of the airline industry speculated this was going to happen when JetBlue didn't renew CEO David Barger's contract. He's out come February and current president Robin Hayes is in. The reason why is that it's believed he didn't give the airline's investors what they wanted…which was even more money.
One reason why everyone else loved flying JetBlue was that they had the most spacious economy class seats in the skies with 34 inches of seat pitch compared to the 31 inches that most of the other airlines offered. FYI: Pitch is defined as the distance between the same position in two consecutive rows. Although I rarely check a bag, I know others loved the fact that their first checked bag was free.
With today's announcement, you can bet I won't be touting JetBlue like I used to and I'm not alone. Mashable has a great headline for this story: "JetBlue adding bag fees, cutting legroom, breaking hearts".
Even though I'm not a JetBlue loyalist, my heart is broken, too. If American Airlines goes to the dark side, it's time for me to jump on the Southwest and Virgin America bandwagon.
Updated: JetBlue's PR sent me a note with the info-graphic below and a link to their blog post that they recently wrote highlighting seat pitch and living space.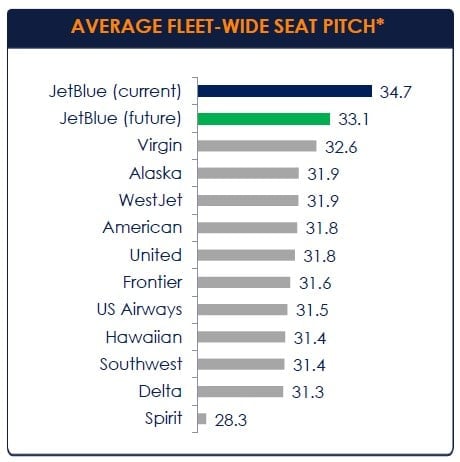 You can read JetBlue's full press release here: JetBlue's Plan to Drive Shareholder Returns Through Differentiated Product and Service.