Our son Jack was born in mid-September and we thought that by now, he would have traveled out of the country. But our pediatrician recommended we wait until flu season is over so that's what we're doing. We were planning to go to San Francisco for Jack's first road trip but with all of the rain, we thought we should wait for another time. Besides, it's a long ride for his first road trip and both Natalie and I had gotten sick … it just wasn't meant to be. In the end, we decided to go somewhere a little closer to Los Angeles, like Palm Springs.
After reading contributor Matt Thompson's story on the Ritz-Carlton Rancho Mirage, we thought it would be the perfect getaway so we called up our friends to arrange for a two-night stay and we set off on the two-hour drive.
The last 30 miles of the drive are the most beautiful and interesting, especially when there's snow on the mountains. The Ritz-Carlton Rancho Mirage has 244 rooms in a three-story building. The hotel is nestled in the foothills of the San Jacinto Mountains and it's very baby- and kid-friendly.
Here's what we loved:
On arrival, babies are greeted with a stuffed animal.

During the day, there's a candy bar set up in the lobby with some of the desert's most famous local residents' (past and present) favorite candy.
There's a Ritz Kids area, where children can play video and computer games, watch movies and learn about the local area.
There are lawn games for families, including Bocce, Cornhole, and Ladder Ball.
There's a family-friendly pool and a separate adults-only pool.
There's a Club Room (prices vary) with five different food presentations throughout the day. The staff is super friendly and they have awesome treats, like S'mores.
Speaking of S'mores, a handful of the ground floor rooms have fire pits and guests staying there can roast their own S'mores.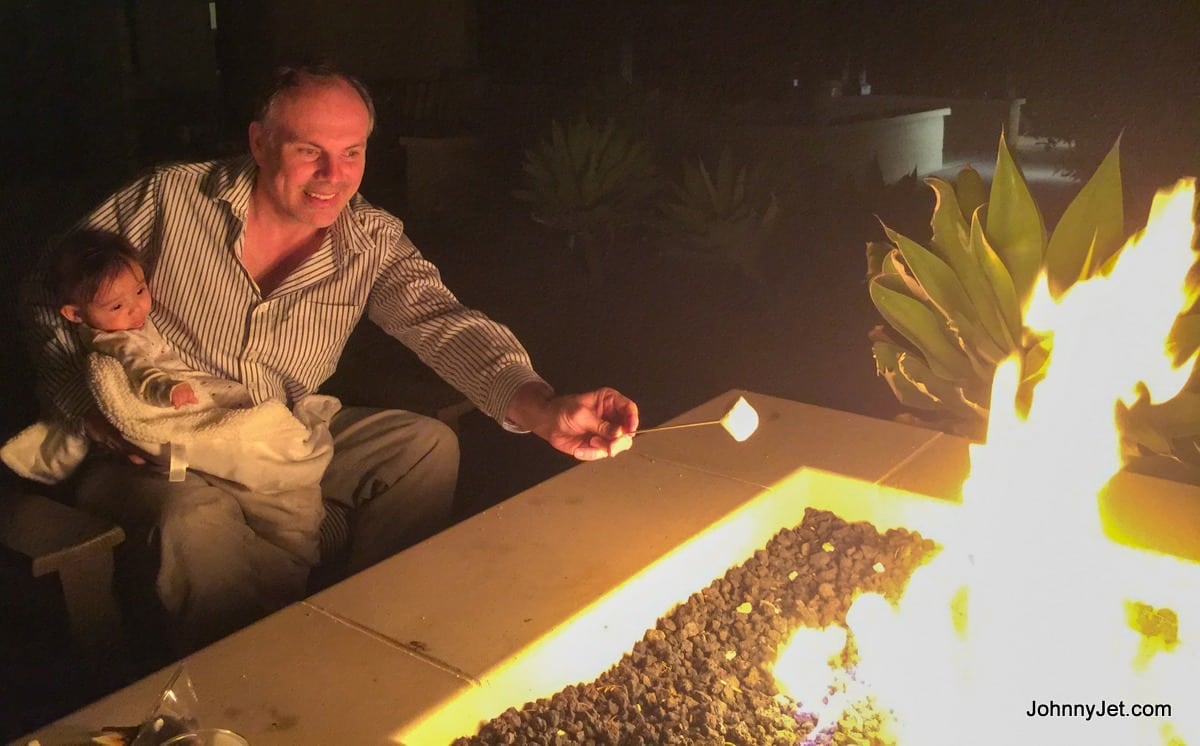 The spa has the most incredible showers! They're infused with invigorating fragrances like mango, eucalyptus, and jasmine.
They have really good food. For an upscale dinner experience, don't miss The Edge. They are the only restaurant in the area to dry-age their bone-in meats in house, which makes them incredibly tender and flavorful. The other restaurant is State Fare Bar & Kitchen, which is open for breakfast, lunch and dinner and serves local specialties like avocado fries, pictured here.

What we didn't like about the hotel is that the rooms are kind of small and they don't have electrical outlets by the bed (at least I couldn't find any). And if you're in one of the ground floor rooms with a fire pit, there's not a lot of privacy.
If you go, be sure to stop at the Cabazon Dinosaurs for a great photo op. If you're headed back to LA, they are located at the exit before the Cabazon Outlets.
Save
Save
Save
Save
Save