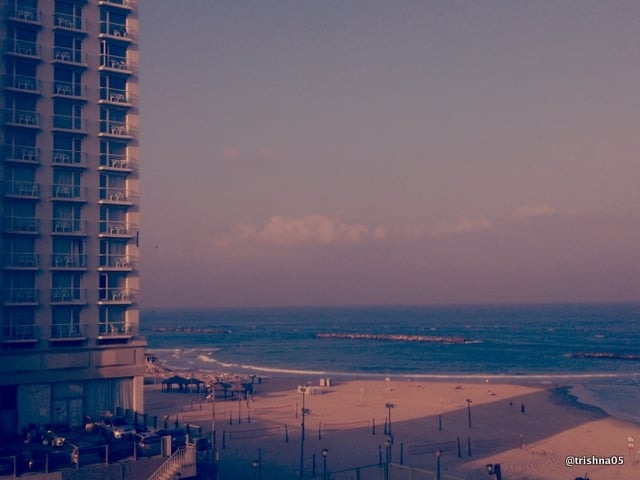 Want to visit Israel but don't know where to begin or what to expect? With the help of my friends at DigIsrael and the Israel Ministry of Tourism, I've come up with a crash course on the Holy Land based on my personal experiences. Here are 10 ten helpful tips to keep in mind:
1. Flights: EL AL is Israel's national airline. It offers the most nonstop flights and the only first class service between New York  (JFK/Newark) and Israel as well as the ONLY nonstop service from Los Angeles. Worldwide, EL AL flies to 35 destinations from Israel and serves dozens of other destinations throughout the world (including the U.S.). EL AL provides kosher meals on all its flights and is also known for its first-ever frequent flier program for pets.
2. Security and Customs:  Israeli security is one of the most extensive in the world, so it's best to adjust your arrival and departure to Ben Gurion Airport accordingly. On my way home to the States, it took 3 hours for the entire process. I finally got to my gate as last-minute passengers were boarding the flight! If you're a non Israeli, you will be questioned about the intent/purpose of your trip and there's a good chance your bags will be inspected. Both happened to me. A good attitude is the best approach, and remember, security is there for a reason, it's nothing against you! (If you hold a U.S. Passport, a Visa is not required.)
3. Hotels: Israel has over 9,500 hotels, offering a wide range of choices to suit all tastes, purposes, and budgets. From five star resorts to simple communal living facilities, here are some of my favorites:  Le Meridien Dead Sea, Leonardo Plaza Jerusalem, Herods in Tel Aviv and the Kibbutz Ein Tzurim.
4. Travel Insurance: Travel insurance is recommended whenever traveling outside the U.S. and Israel is no different. If you join a tour  group similar to DigIsrael, they may require it. If so, I suggest using InsureMyTrip, it's easy and inexpensive. (I paid $32).
5. Languages: Hebrew and Arabic are Israel's two official languages. English is well spoken by most, but there's no guarantee. Almost all road signs, shops, restaurant menus, guides, and other materials are available in English too.
6. Money: The Israeli currency is the New Israeli Shekel (NIS). It comes in 20, 50, 100, and 200 shekel notes. One shekel is divided into 100 agorot. (1 USD = 3.8349 NIS ). Always be sure to check current exchange rates before you leave, as they fluctuate.
7. Transportation/Organized Tours: Israel is not a large country, so the best way to travel is by using ground transportation. There are many organized tours, mostly in air-conditioned mini-buses that will work with your desired schedule (They charge around 1,300-1,800 NIS per day + hotels and meals for the driver). DigIsrael rented a minibus from a reputable company called Shasha Tours. There is a decent public transportation system, however tourists are not recommended to use it.
8. Climate and Clothing: Most of the year, it is VERY hot and sunny. The winters can be cold, especially in the mountains (2600 ft) or at night . But if you're traveling at any other time of year, pack lighter garments (cotton/linen). Don't forger to include a couple more conservative outfits or shawls for when you visit various holy sites.
9. Credit Cards:  Most restaurants, shops, and hotels accept credit cards. The most common are Visa, American Express, EuroCard/Mastercard, and Diners Club.
10. Tax and Tip: The Value Added Tax (VAT) is 15.5%, which should be included in your bills. Non-Israelis paying in foreign currency are exempt from VAT payments at hotels, flights, and organized tours. Tipping is fairly standard with the norm being 10 percent.