This post contains references to products from one or more of our advertisers. We may receive compensation when you click on links to those products. For an explanation of our Advertising Disclosure, visit this page.
IHG has over 5400 hotels around the world. However, their loyalty program doesn't have the same cache as Marriott, Hilton, or Hyatt. Personally, I'm a supporter of the program based on my love for its Kimpton brand. Although there are some great perks for top-tier status, I am learning why the other hotel brands and even flexible credit cards have higher loyalty among their members.
IHG Status Benefits including No IHG Blackout Dates
IHG Rewards has four levels of hotel loyalty. Additionally, they offer Inner Circle and Ambassador status as add-ons to your status for extra benefits at Kimpton Hotels and Intercontinental Hotels, respectively.
| Benefit | Club | Gold Elite | Platinum Elite | Spire Elite |
| --- | --- | --- | --- | --- |
| Collect Points or Miles/Credits | x | x | x | x |
| Exclusive Rates (Your Rate) | x | x | x | x |
| Extended Check-Out | | x | x | x |
| Dedicated Customer Service Phone Assistance | x | x | x | x |
| No Blackout Dates for Reward Nights | x | x | x | x |
| Reward Nights Count Towards Elite Status | x | x | x | x |
| Free Internet | x | x | x | x |
| Elite Members Points Don't Expire | | x | x | x |
| Priority Check-In | | x | x | x |
| Welcome Amenity / Raid the Bar at Kimpton hotels | | x | x | x |
| Bonus Earnings on Top of Base Points | | 10% | 50% | 100% |
| Elite Rollover Nights | | | x | x |
| Complimentary Room Upgrades | | | x | x |
| Guaranteed Room Availability | | | x | x |
| Exclusive Choice Benefit Upon Receiving Status | | | | x |
| Exclusive Hertz Gold Plus Rewards Five Star Upgrade Upon Receiving Status | | | | x |
Through a combination of spending on my IHG One Rewards Premier Credit Card and points earned from hotel stays, I am an IHG Rewards Spire Elite. Based on my Kimpton stays and some unknown formula that isn't published, I'm an Inner Circle member. Additionally, I paid the $200 to have IHG Ambassador status for this year. In other words, I have the highest status available in the IHG Rewards program.
No Award Availability When Cash Rooms Were Available
I was traveling to Austin recently for a charity bike ride. Because there is a Kimpton Hotel in Austin, of course staying there would be my first choice.
When I went to book my room at the Kimpton Hotel Van Zandt, I was disappointed when I saw that no points rooms were available. This is perplexing because one of the benefits of the IHG Rewards program is "no blackout dates on reward nights." The no IHG blackout dates is one of the reasons I value this program.
As I clicked around, I noticed that cash rooms were available, so the hotel was not sold out during my travel dates. However, the rooms were about $700 (plus tax) per night. I love Kimpton, but I don't love any hotel enough to spend that kind of money. This is especially frustrating when the promise of no IHG blackout dates has been made.
Calls To Customer Service
Historically, Kimpton customer service has been wonderful. However, since IHG merged the Kimpton brand into IHG Rewards, it hasn't been the same.
I called customer service and explained the situation how cash rooms were available, yet points rooms were not. The agent told me that hotels are only required to make a certain percentage of their rooms available for award bookings. When I countered that the benefits of the program specifically state "no blackout dates on reward nights," she didn't have an answer for that and just said, "sorry, there's nothing we can do."
Obviously, that answer was not acceptable.
Twitter Is Your Friend
The Kimpton social media team has been incredible over the years. Although Kimpton has now outsourced their social media interactions, the team still comes through whenever I encounter problems.
I sent a Tweet to @Kimpton and explained the situation. They asked me to provide details via Direct Message.
Hi, Lee! Mind sending us a DM with more info including the dates you're trying to book. We want to take a look into this. Thx!
— Kimpton (@Kimpton) April 7, 2019
Afterward, I checked on the Kimpton Van Zandt and points bookings became available for Friday night. I quickly snatched up the room and canceled my reservations at the nearby Aloft.
For some reason, Saturday night was still not available when trying to book with points. At that point, I decided to just crash at my friend's house on Saturday night.
A couple of days later, I received confirmation emails from Kimpton where someone booked two Saturday night reservations on my behalf.
Because I had already accepted the invitation to stay at my friend's house, I went online and canceled the Saturday night reservations. Unfortunately, the points for one of those two Saturday night bookings are still missing from my account.
Staying at the Kimpton Hotel Van Zandt
In this case, booking the room was a total pain and took way longer than it should have. However, my stay was wonderful. Kimpton takes excellent care of their guests. The properties are unique and have character.
Evening Wine Hour
And the 5 pm Wine Hour is always a hit. Not only does the Van Zandt offer your choice of red or white wine, but they also provide local craft beers and delicious margaritas. If you get there early enough, bite-sized goodies are also available!
At check-in, I was greeted warmly and offered either a beer or water. Of course, I chose the beer.
Lakeview Luxury Spa Suite Upgrade
I went upstairs to my room and was pleasantly surprised with the upgrade to a Lakeview Luxury Spa Suite. Normal rooms were $674 plus taxes this weekend and this suite would have cost $818 plus taxes.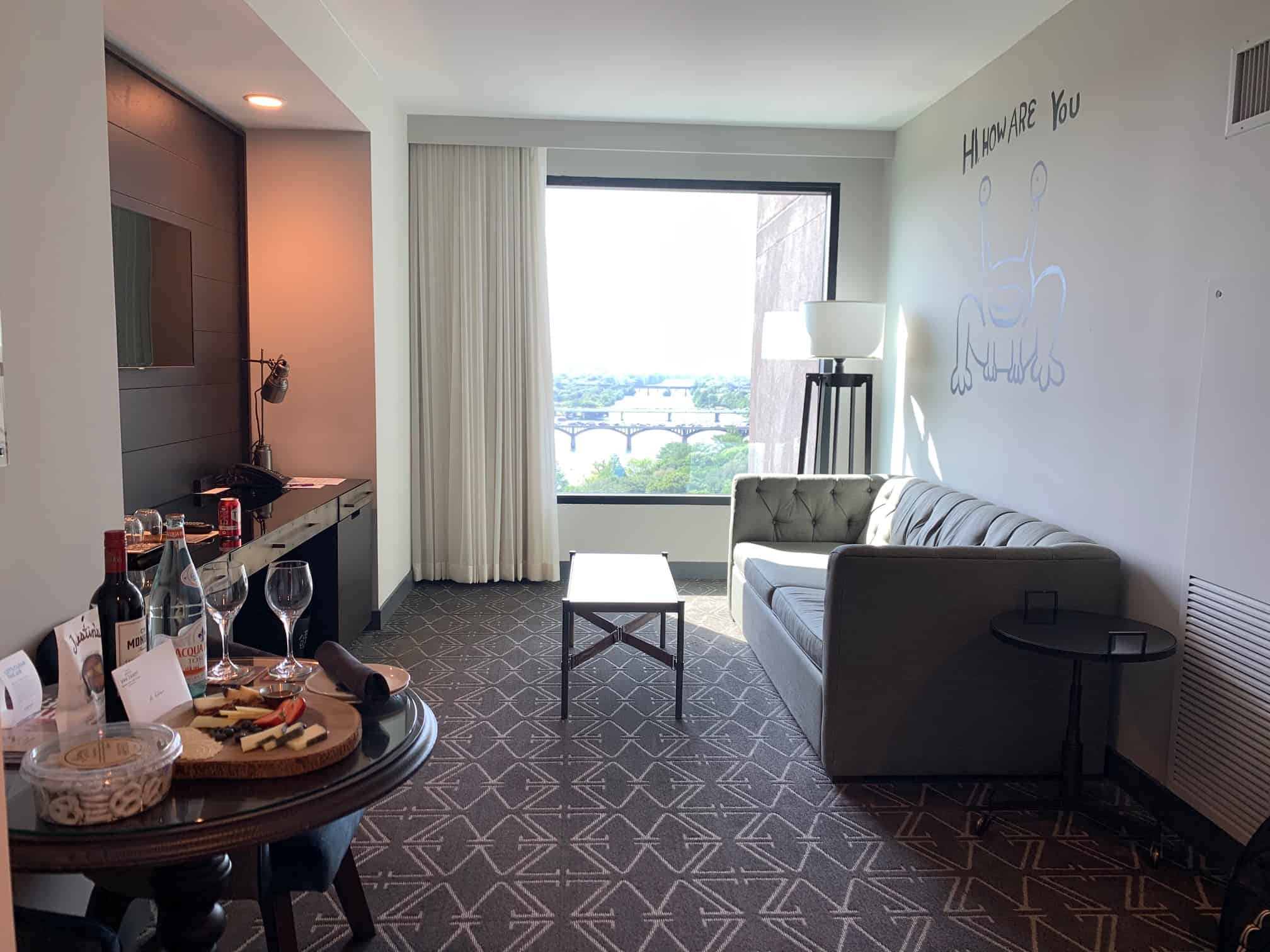 My suite had a comfy couch with a view of the rooftop pool and the river. The bathroom was large with a stand-up shower and a soaking tub. On the other side was a spacious king bed with views of nearby Rainey Street.
Does IHG Deserve Your Loyalty?
It has been love at first sight for me with Kimpton since my first stay five years ago. Unfortunately, staying loyal gets more and more challenging each year. After being told no by customer service, especially when the no IHG blackout dates are supposed to be part of the benefits of the program, most travelers would have stayed someplace else. However, before giving up, don't forget that social media teams usually have more power because those interactions are visible to the public.
Do situations like this affect your desire to stay loyal to a brand? Has a hotel property ever refused to offer stated benefits that you deserve? How did you handle it? Please let us know in the comment section below.