By now, I'm sure you've seen all the headlines about multiple airlines canceling over 3,500 flights and delaying thousands more over the weekend.
According to FlightAware, the biggest U.S. airline culprits for cancellations and delays on Sunday, April 3 were:
-Southwest: 400 canceled flights (10% of their schedule) and delayed 1,459 (38%)
-JetBlue: 373 (34%) canceled and delayed 458 (42%)
-Spirit: 308 (37%) canceled and 243 (29%) delayed
-American Airlines: 271 (8%) canceled and 570 (18%) delayed
-Frontier: 85 (15%) canceled and 181 (33%) delayed
-Allegiant Air: 69 (14%) canceled and 155 (31%) delayed
-Alaska Airlines: 66 (8%) canceled and 148 (19%) delayed
-Delta: 41 (1%) canceled and 637 (21%) delayed
-United: 12 (0%) canceled and 334 (16%) delayed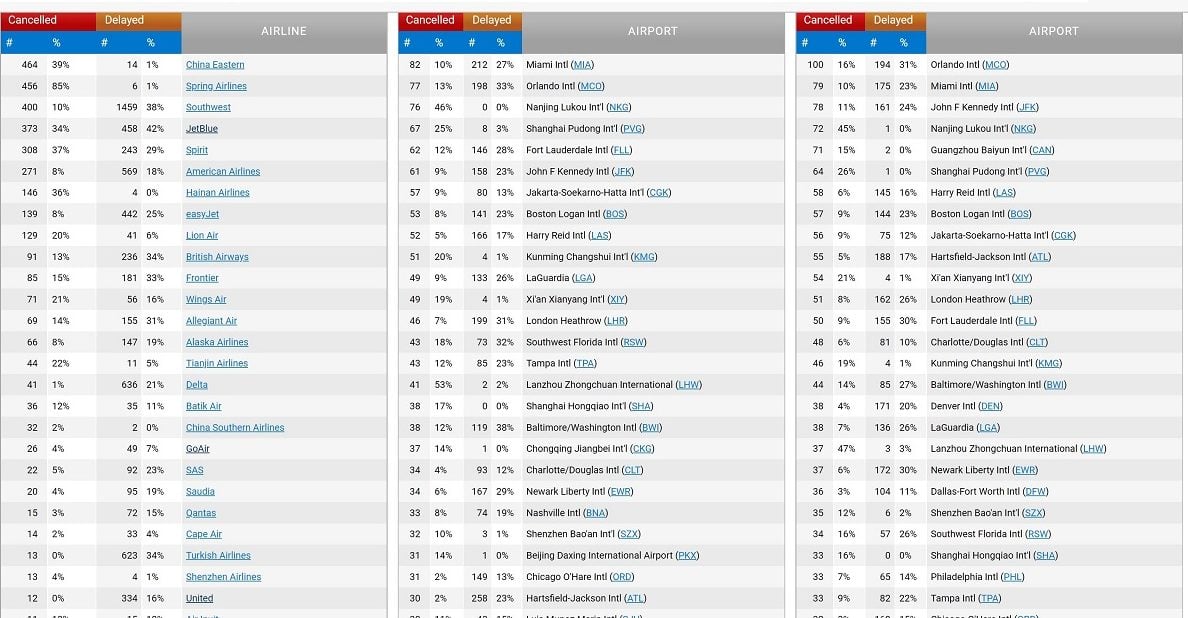 In short, Alaska Airlines blamed a pilot strike, Southwest Airlines said it was a mixture of weather and maintenance of some backend technology. American, Delta, JetBlue and Spirit blamed the severe thunderstorms in Florida and air traffic control.
There's no doubt there was some severe weather but it shouldn't have messed up operations as badly as it did. That's why I'm not buying JetBlue's (and other airlines') blame solely on severe weather. If the weather was so bad in Florida, then why did United Airlines only cancel three flights on Sunday out of the self-proclaimed Sunshine State? See screenshot below.
I think the real reason is because the airlines don't have enough staff including pilots, gate agents and reservations agents because there's no excuse having huge lines and hold times to speak to a customer service agent.
RELATED: How To Reach an Airline's Reservations Agent Without Waiting
I know JetBlue used to be a fan favorite but they're quickly losing customers thanks to how they mishandled their operations this past weekend.
My sister was one of those passengers affected by the delays and cancelations. She said that West Palm Beach Airport was a madhouse on Friday after they delayed her flight twice and then canceled it. There were hundreds of people in line and only three agents working. Call times to speak to an agent took over three hours (see photo above) and to get her checked bag back was just as bad.
TIP: Caught Up in This Weekend's Airline Chaos? Here's How To Reach an Airline's Reservations Agent Without Waiting
My sister wasn't alone. Here's just a few of the comments from my readers:
Marie: Weather related is true but under staffing continuous delays for over 6 hours at airport is beyond No voucher for food no credit for future travel and wait time on phone also beyond Hire new help!!! Customer service is gone!!! Jetblue was always the best but they have declined immensely!!
Sarah O: Hire more people and pay them more and stop being victims of your stock holders and stock price…we are suffering and you will too!!! Jetblue used to be great, now its a disaster, 4 cancellations 4 Ubers to and from NYC airports and I'm still not home, missed two days of work in Palm Beach…so very unhappy. Their app sucks, their customer service sucks and their ground staff is uninformed and stupid…do they not realize that folks have flight checkers for all airports and over 25 flights landed in Palm Beach with no problem yesterday!! Radar shows 9 mile an hour winds, hahaha and no rain all day today…JB you just are losing it…Last ditch insult..my 9pm flight from JFK is now leaving after midnight..crew, plane here but no pilot! I'm canceling my JB credit card and flying delta and frontier from now on…unless you reimburse me for the 1K I lost this weekend in ubers, hotel and loss compensation. You think people are stupid, sad, and lazy but this is going to hurt! Peter Boneparth and Robin Hayes better wake up!
As a gesture of goodwill, JetBlue gave customers a $50 travel voucher for a future flight but they're not covering hotels or transportation to or from the airport like other major airlines do when there's an overnight delay.
One Twitter follower tweeted me: @Shrimedianet: "They're blaming weather that doesn't seem to exist. So therefore they don't have to refund anyone.