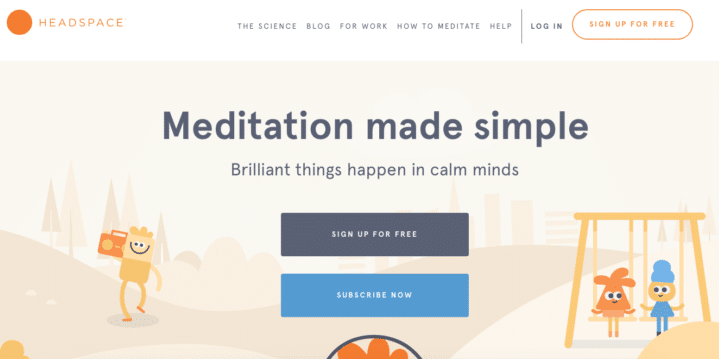 I don't think anyone would disagree when I say that travel can be very stressful. Many people even have a hard time sleeping away from home (and/or shortly after they return). For anyone affected negatively by travel, or who just wants to slow down once in a wile, there's Headspace.
Headspace is a mediation and sleep app that's been around for a while and looks promising to someone who's never tried it. It's highly rated in both the Apple (4.9 with 385,000 ratings) and Google Play stores (4.5 with 86,696 ratings) and has had some big names sing it praise. Actress Emma Watson is quoted on the homepage saying, "It's an app that teaches you how to meditate. It's kind of genius." Headspace's tagline is "finding calm" and a simple way to reframe stress, saying: "Relax with guided meditations and mindfulness techniques that bring calm, wellness and balance to your life in just a few minutes a day. Plus, we have meditations on sleep to help you create the ideal conditions for a good night's rest."
More from the description: "Get more from your day through mindfulness, be less distracted and reactive, and focus on the things that matter most to you. Our Basics course is completely free and will teach you the fundamental techniques of meditation and mindfulness. After that, by subscription, gain access to the full Headspace meditation library. Train your mind with guided meditations on everything from managing stress and anxiety, to getting a better night's rest, to relationships. Bring more awareness to daily activities through on-the-go exercises, and use SOS sessions to skillfully manage moments of panic or anxiety. And at night, our new sleep experience (which includes sleep sounds and meditations) can help you get the rest you deserve. The Headspace animation library is full of tips and helpful wisdom to keep your practice on track, and you can even add friends to keep each other motivated."
Here's what's included in the app:
Hundreds of guided meditations on subjects like focus, exercise, and sleep
Everyday Headspace: daily meditations on a new topic each day
"Mindful Moments" to keep you present throughout the day
2-3 minute "mini meditations" for a quick mental reset
"SOS" sessions for moments of panic, anxiety and stress
Sleep Sounds to help you drift off
Headspace animations to teach you new skills and answer your mindfulness questions
Track your progress and time spent meditating
Add Mindful Minutes within Apple Health
Buddy up and add your friends to meditate with you
Guided meditations and mindfulness exercises for Kids with sessions on Kindness, Calm, and Focus
Training led by former monk and renowned mindfulness expert Andy Puddicombe
In terms of pricing, Headspace has a free version and two auto-renewing subscription options: $12.99/month and $94.99/year. There's also a Forever subscription option, which offers unlimited access for a one-off upfront payment of $399.99. (These prices are for United States customers. Pricing in other countries may vary and actual charges may be converted to local currency depending on the country of residence.)
Good to know: Headspace subscriptions will automatically renew unless auto-renew is turned off at least 24 hours before the end of the current period. You can go to your iTunes account settings to manage your subscription and turn off auto-renew.