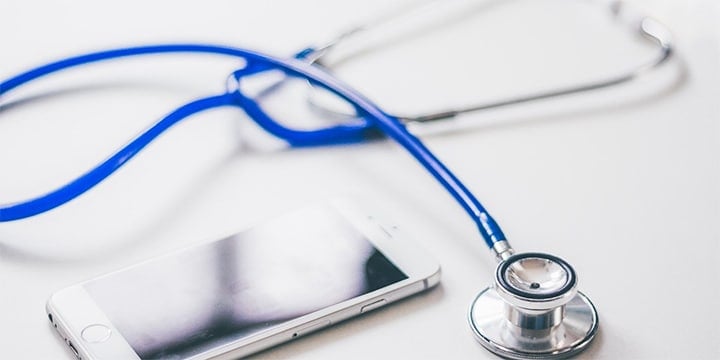 Not a lot of people are traveling internationally right now so you might want to keep this tip saved for when you do … and we all will travel again, but it might be another year. One of the silver linings to come out of this global pandemic is that it has forced everyone (businesses and consumers) to adapt to technology. For example, some schools, including some in New York City, said they won't close school for snow days. That's because if the weather is bad, they can just have the students and teachers log on to their computers for remote learning. I know … it sucks because growing up in Connecticut, some of my best memories are when we would listen to our local radio station read the names of school closures and delays. My, how times have changed, eh?
If you get sick or injured while you're traveling, you might have a way to connect with your personal doctor via the internet. But if  you don't or need to see a doctor in person, there's Air Doctor. It's a service you can use to find a doctor worldwide, no matter if you're traveling for business or leisure.
RELATED: Would Doctors Travel During the COVID-19 Pandemic?
Air Doctor allows you to schedule in-person doctor appointments in 39+ countries using their app (iOS and Android). You will be able to receive service from a private, pre-screened practitioner in their native language.
Doctors are paid directly by Air Doctor, so users never need to leave cash, find an ATM, or hand over a credit card to doctors they see. Air Doctor also offers a telemedicine service that allows customers to have initial consultations with doctors familiar with their local languages, cultures and medical systems.
According to the website, all of Air Doctor's partnering doctors are "licensed trusted professionals who are qualified to treat you. Before scheduling an appointment, you have the ability to see all of a doctor's information including professional background, spoken languages, other patients' reviews and much more." 

In a press release, Jenny Cohen Derfler, CEO of Air Doctor, added this: "By opening our convenient smartphone application, anyone can have instant access to a list of local physicians who have been screened and are approved to serve traveler needs. Saving travelers from unnecessary stress, they can use the application to set an appointment for a visit in a private clinic or even their hotel room."
As for specific prices: I just searched for a doctor near Los Angeles International Airport (LAX) and found a video conference offered for as low $30 with a doctor who speaks English, Hebrew, Georgian and Romanian. To see a general doctor, prices ranged from $70 to $600. They also offer access to dentists starting at $30; orthopedists $87; pediatricians $70; gynecologists $200; gastroenterologists $390; ophthalmologist $150; dermatologist $120 and Urgent Care $72 – all with appointments today and all spoke multiple languages except the Urgent Care.
I looked up doctors in Bangkok and there were two available, starting at $96 and both spoke English.
Obviously, the best doctor you can go to is someone who knows you the best so I would first try a video conference with my own doctor. If that failed, I would ask my friends on Facebook if they recommended any doctors wherever I was in the world (I've done it before, like the time I suspected I had malaria after I arrived in Budapest from a trip to Africa). But Air Doctor seems to be a great second or third option, which is why I have the app downloaded on my iPhone.