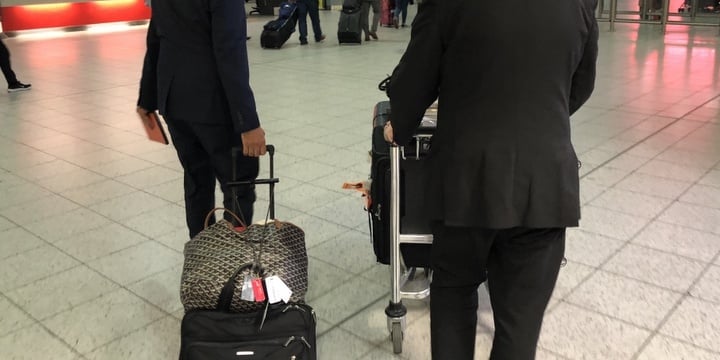 Although I didn't travel this week, I felt like I did as I arranged for my dad's flight from New York's LaGuardia airport to Fort Lauderdale. He's 90 years old and his plans are always changing, so I wait until the last minute to buy his flights. Of course, that's usually when fares are at their highest (but not always). I tend to use miles for his flights for obvious reasons but also to get him up front so he doesn't have to walk far, has more space, and we don't have to pay for baggage or a seat assignment.
I used American Airlines miles because that's what I have the most of and unfortunately, AA was charging a crazy amount (60,000 miles) for first class non-stop. I could have flown him LGA-ORD-PBI in economy for 12,500 miles or LGA-MIA non-stop for 20,000 miles. There was also a first class flight with just a one-hour connection in CLT for 25,000 miles. I gave him the choice and he's always up for an adventure so he chose the latter.
Tip: Always keep searching (especially last-minute) mileage options because they change constantly. It's sometimes smart to call the airline directly and find a knowledgeable agent to help even if it costs a fee.
After I booked the ticket, my dad was worried about the connection. He didn't want to get stuck in Charlotte for the night as he can't hear well. I told him no to worry because I'd arranged a Blacklane PASS concierge. I wrote about Blacklane PASS a couple months ago after my wife, son and I used the service in London; my mother-in-law used Blacklane PASS for her trip as well and said it left her feeling like a movie star.
Blacklane had given me passes to try out the services, and I had a couple left over, so I put one towards my dad's trip. Here's how it works, but in short: For $200 for the first person and $100/person for anyone else traveling in the party (both per airport), the team will treat you like a rock star. They meet you right by the curb for departures and planeside for connections and arrivals and fast track you through any lines, including at immigration. Since I had credits, I booked all three airports, but he really only needed the connection as one of my sisters was dropping him off and my other sister was picking him up. Still, it turned out to be a good thing because sister number one hit nasty NYC traffic and arrived at the airport just 45 minutes before departure!
If I hadn't booked Blacklane PASS, he definitely would have missed the flight. The concierge was waiting with a wheelchair and whisked him to the front of every line. In Charlotte, he said the agent was waiting for him just as he stepped off the plane and wheeled him to his connection, even stopping so he could get something to eat. To make a long story short, my dad raved about the concierges and kept telling me how worried he'd been about traveling alone and making the connection—but with Blacklane PASS he'd felt like he had old friends waiting for him at each stop. I wasn't worried, either, because Blacklane emailed me the cell phone numbers of each concierge and was in touch with my sisters along the way.
From a reader…
And don't just take my word on Blacklane PASS. This is an email I received from a reader recently: "Hi.  I read your weekly email and was intrigued by your recent mention of Blacklane PASS, so I decided to give it a try. You were 100% correct.  What an experience!  I felt like a VIP!  I used it for my departure from MCO to YHZ and went to the front of every line.  I was even the first person to board my aircraft!  Well worth the money, especially in a busy airport (I flew during Thanksgiving weekend). Thanks for the tip and keep up the good work. Lonny M. ~ New Glasgow, NS, Canada"