If you know me, then you know I spend time almost every day looking at airfares either for my myself and my family members, and to find incredible deals I can share with my newsletter readers (sign up for free here). One of the deals I found this week is $82 flights to Hawaii.


I've been using Google Flights ever since they bought ITA Software because it makes searching so easy. You can search by airline, alliance and class. One of Google Flights' best feature is the ability to set a fare alert, which I do even after I book a flight because if the price drops, I can cancel my original ticket, rebook and get a travel credit (as long as you don't book Basic Economy fares). 
This week, Google announced their newest feature, which tells travelers the cheapest time to book flights, when airfares are expected to be lowest for booking their chosen dates and destination.


According to Google, "For searches with reliable trend data, you'll now see when prices have typically been lowest to book your chosen dates and destination. For example, these insights could tell you that the cheapest time to book similar trips is usually two months before departure, and you're currently in that sweet spot. Or you might learn that prices have usually dropped closer to takeoff, so you decide to wait before booking. Either way, you can make that decision with a greater sense of confidence." See screenshot above.
Google goes on to say, "When you enable price tracking, we'll automatically notify you if flight prices drop significantly. You can set up tracking for specific dates, like your best friend's destination wedding in February. Or, if you're more flexible, you can turn on "Any dates" price tracking to receive emails about deals anytime in the next three to six months. To enable this feature, make sure you're logged into your Google account."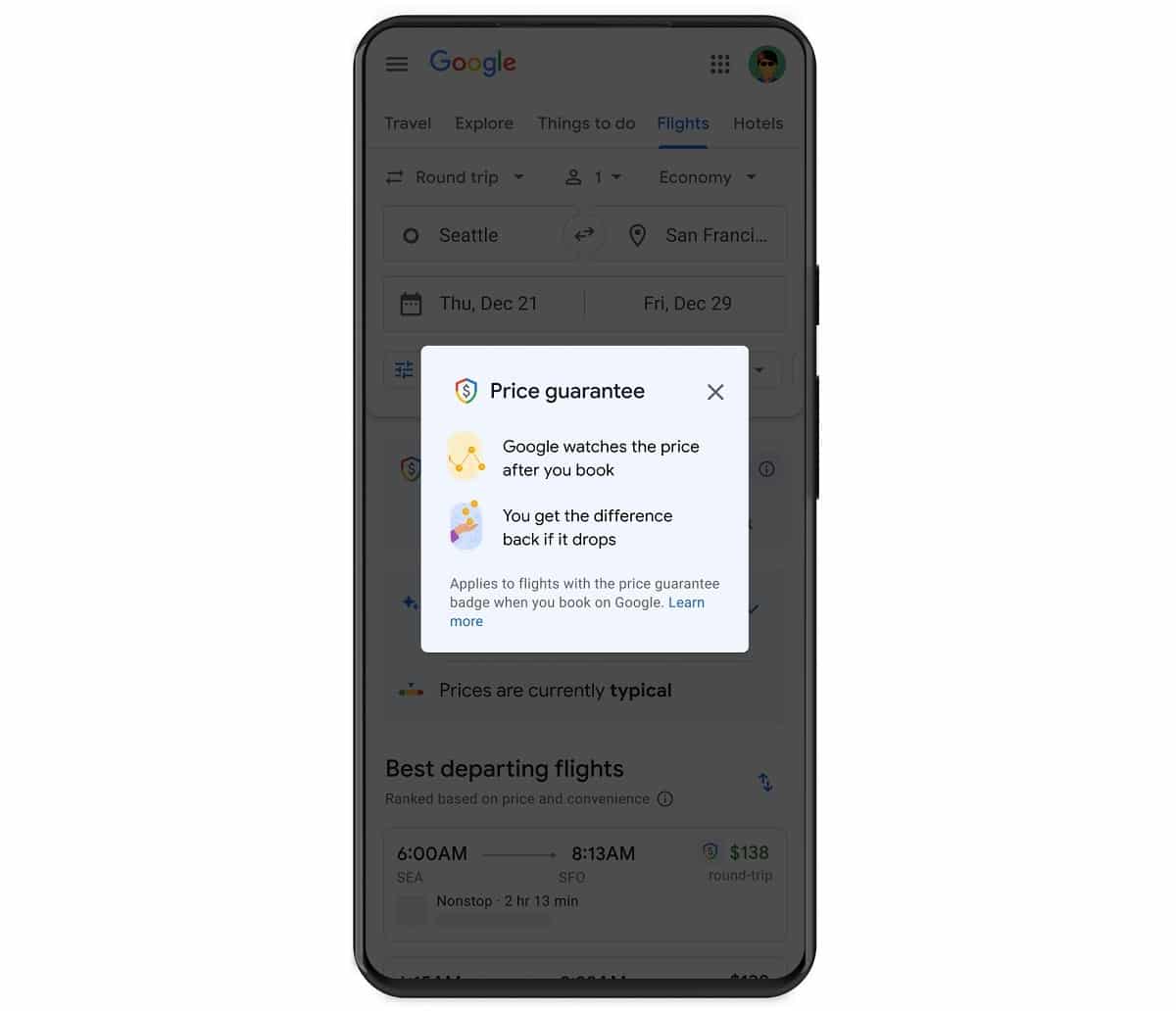 Google is so confident in their data that on some flight results, if you see the colorful price guarantee badge (see screenshot above), that means the fare you see won't drop any lower before departure. If you book one of these flights, they'll monitor the price every day before takeoff, and if the price does go down, they'll reimburse you the difference via Google Pay. Note: "These price guarantees are part of a pilot program available for select Book on Google itineraries departing from the U.S." You're most likely to see it on itineraries for Alaska, Spirit, and Hawaiian, although that's not an exhaustive list.
Google has also shared the cheapest times to book Christmas and European flights in their latest 2023 flight booking trends. The data is based on several years of historical data. Here's what they found:
"For flights around Christmas, average prices have been lowest 71 days before departure. For trips to Europe from the US, there's no longer a "sweet spot" where average prices dip before going back up. Prices tend to be lowest 72 days or more before departure."

I just did the math so if you're planning on heading out on Friday, December 22, 2023, then you will want to book your tickets on Thursday October 12. For those heading to Europe this summer, Saturday, April 20 is the date to book to depart on July 1, 2023. 
I already booked our Christmas flights and June flights to Europe since I'm using miles and found a great deal (30,000 AAdvantage miles). I can always cancel them and get a full refund. But I will definitely note these sweet spots to see if I can find a better deal.
Top Flight Destinations for December Holidays
Finally, Google also shared their top flight destinations for December holidays. These are the top searched destinations on Google Flights for trips departing from US airports, December 20, 2023 – January 5, 2024.
Cancun

Miami / Fort Lauderdale

London

New York

Tokyo

San Juan

Honolulu

Orlando

Paris

Los Angeles
Even though Cancun is notoriously the most popular international destination for Americans, it surprises me that this is where most U.S. travelers are heading for Christmas. I would have thought South Florida, New York or Southern California but they did make the top 10.
Where are you heading this Christmas?

KEEP READING:
–8 Ways To Make Sure An Airline Doesn't Lose Your Bag … And That You Don't Get Robbed or Stalked
–The Trick For Getting Airport Luggage Carts for Free
–Airline Lost Your Luggage? Do This If You Want to Get Compensated
–Why Frequent Fliers Use Apple AirTags or Samsung SmartTags When They Travel
–An Airline Executive's Number One Tip for Avoiding Lost Luggage When You Fly
Want more travel news, tips and deals? Sign up to Johnny Jet's free newsletter and check out these popular posts: The Travel Gadget Flight Attendants Never Leave Home Without and 12 Ways to Save Money on Baggage Fees. Follow Johnny Jet on MSN, Facebook, Instagram, Pinterest, and YouTube for all of my travel posts.