Greetings! I was fortunate to be invited on a two-day preview cruise this week aboard "the most anticipated ship of 2018," making me one of the first passengers to see it. And let me tell you, Celebrity Edge did not disappoint as you can see from the video above or the photos below.
The 2,918-guest passenger ship will officially debut on December 1, 2018, and will be sailing the eastern and western Caribbean on seven-day itineraries all winter and early spring. Rates will start at $1,049/person. On April 28, the ship will sail back across the Atlantic (it was built in France ) and cruise the Mediterranean on 10/11-night itineraries.
I brought my sister on the preview cruise with me and she—like everyone else I spoke to—absolutely loved it. In fact, my buddy the Cruise Guy called it "the most spectacular ship" he's ever been on, and he's done 261 cruises! That's impressive. Since there's so much to see and do on Celebrity Edge, I figured it would be best to share my experience in pictures rather than trying to describe it.
So here we go: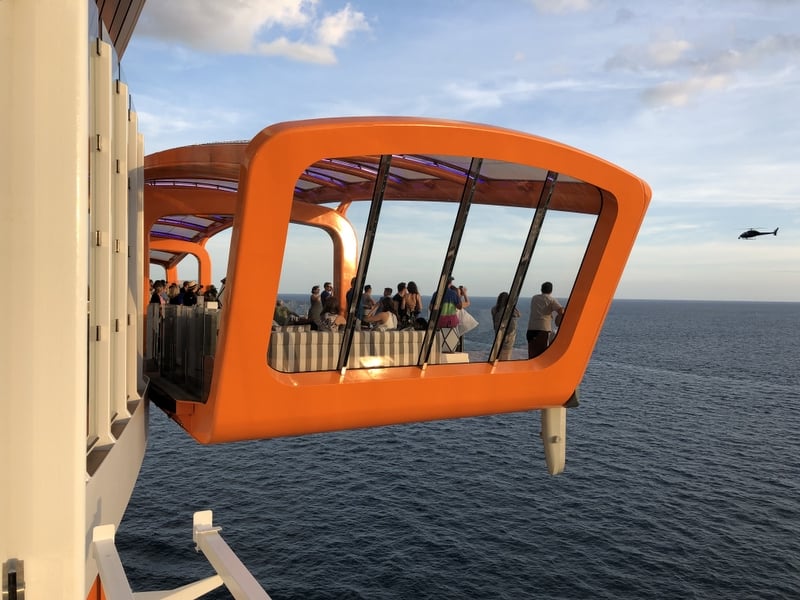 The "Magic Carpet"
The most noticeable feature of Celebrity Edge is the tangerine-colored Magic Carpet. I don't like the name because it's not really a magic carpet, but in any case it's the world's first cantilevered moving platform aboard a cruise. It's about the size of a tennis court and it weighs 90 tons. Passengers can't be on it while it's moving so it's mainly used as a bar and restaurant (an informal extension of the ship's Raw on Five restaurant).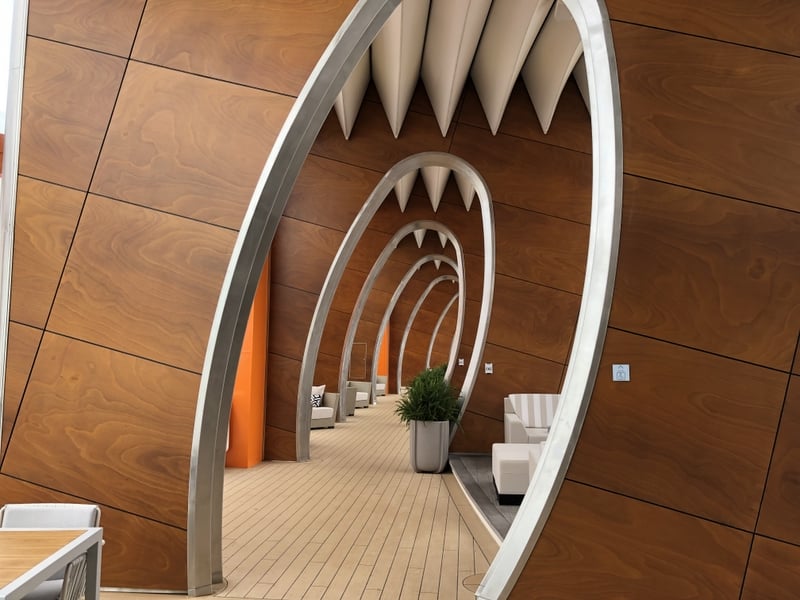 The architecture
Celebrity recruited internationally acclaimed architect Tom Wright to create Edge's outdoor public spaces. Tom has worked for over 30 years in the industry and designed the world-famous Burj Al Arab hotel in Dubai. The above photo is the Cabanas area on Deck 14.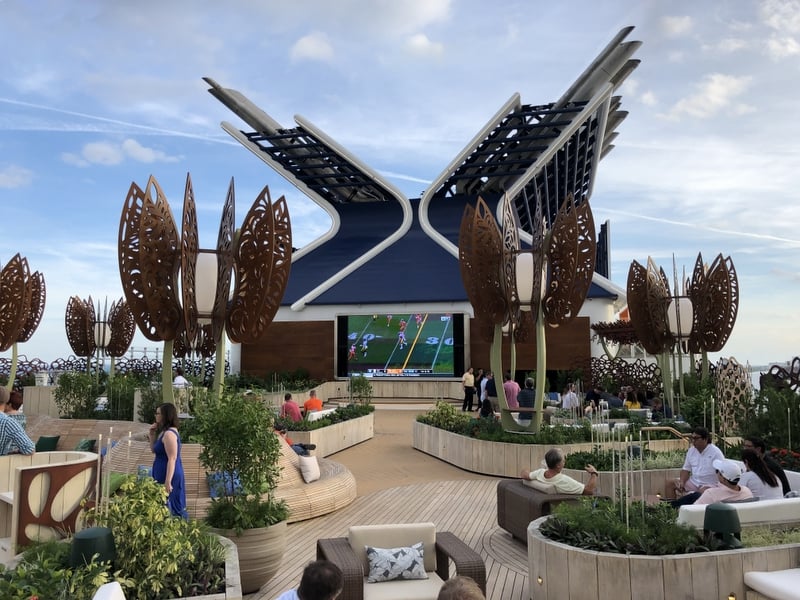 The rooftop garden
The rooftop garden is a beautiful relaxing area that has a large-screen TV. While I was there, they were showing the Sunday Night Football game but the area's main focus will be under-the-stars movie-going experiences and live musical performances.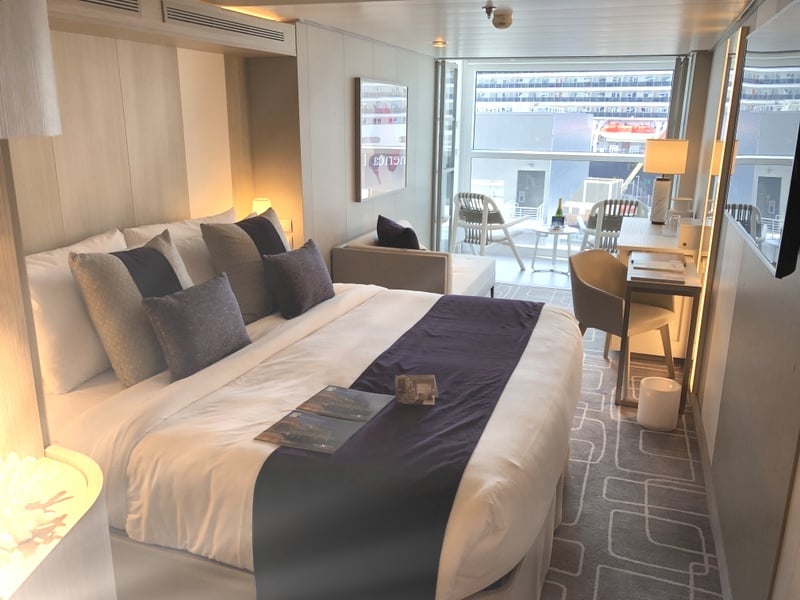 The rooms
The first thing I noticed when I walked into our stateroom (6262) was that it was much larger than most similar rooms I've experienced. The Edge staterooms each come with an "Infinite Veranda," which means at the touch of a button the room can become an outdoor space. This adds 26% more space and more importantly allows guest access to fresh air. The windows are similar to what you see on Scenic river cruises, but Celebrity has taken them one step further by adding an electronic blackout blind.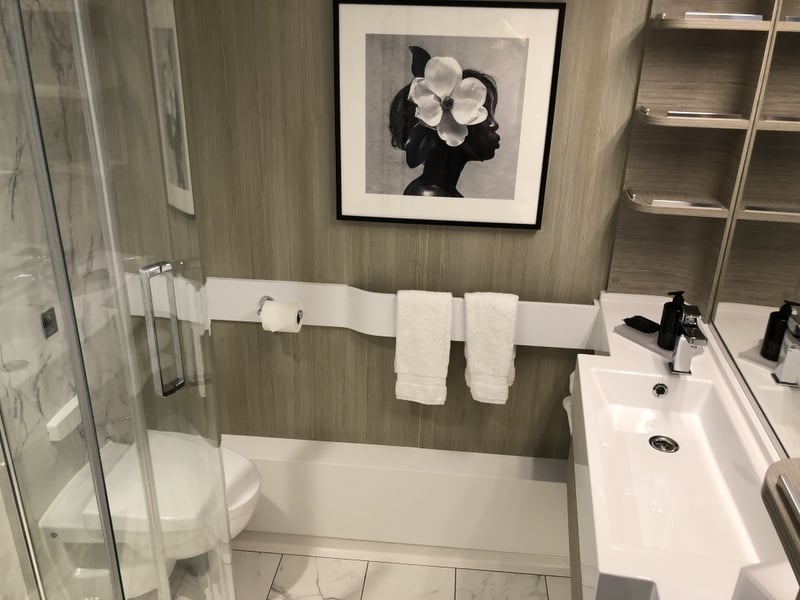 Bathrooms
The bathrooms on Edge are awesome. Usually in a cruise ship's shower you pray you don't drop the soap because it tends to be tight. Not on Edge. I couldn't believe how much space there was in there and how strong the water pressure was. Celebrity also uses Lather products, which is a nice addition.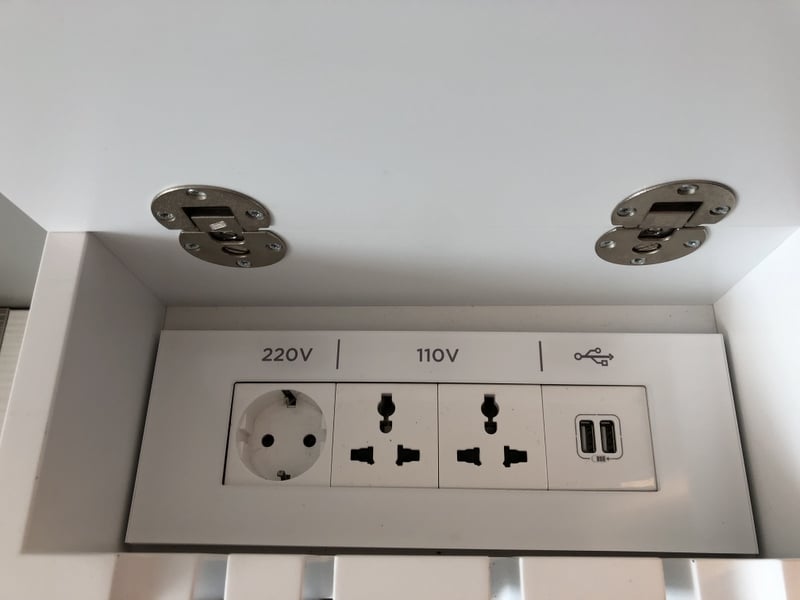 Power outlets in the rooms
When I went to plug in my phone and computer chargers in my stateroom, I was shocked to see only one outlet by the bed along with two USB ports. But after some looking around, I found a whole power strip by the desk with universal adaptors built in and two additional USB ports.
Ocean View Café
Celebrity Edge has 29 total restaurants, cafes, bars, and lounges. The main dining is the Ocean View Café, where the food is diverse and excellent.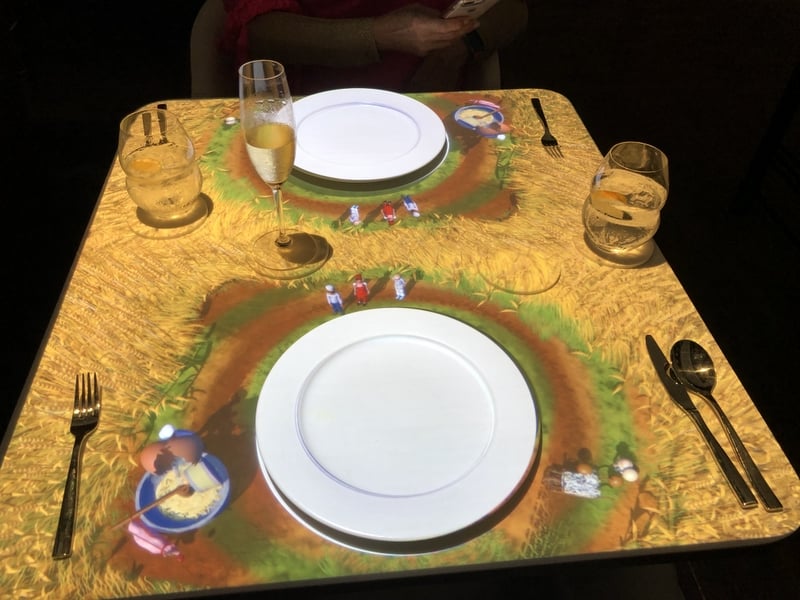 Le Petite Chef
Without a doubt the most talked-about restaurant onboard will be Le Grand Bistro that features the Le Petit Chef. It's a four-course, 4K-projection-mapping culinary experience that I've never seen before anywhere, let alone on a cruise ship. The partnership is between Celebrity and TableMation Studios/Skullmapping technology.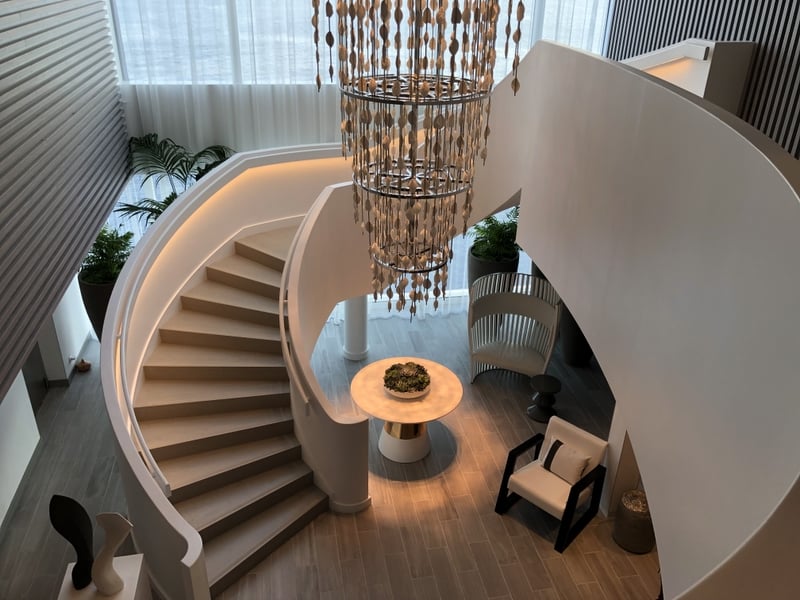 The spa
The spa on Edge is beautiful and features an assortment of treatments and beauty and fitness experiences. Highlights include: the SEA Thermal Suite, which features eight distinctive therapeutic experiences mirroring sea, earth and air (Salt Room, Rainfall Water Therapy and Float Room, among others). The spa offers more than 120 treatments, including signature offerings such as the "Ocean Spa Wave Massage," "Hot Mineral Body Boost," and "Poultice-Powered Muscle Release." My sister and I both bought orthotics for $199 from one of the therapists. I'll let you know how it goes, but they're from GoodFeet.com and seem to be a game-changer.
For kids: Camp at Sea
Edge doesn't have a kids pool, waterslides, bumper cars, an arcade, or a zipline. What it does have are well-trained counselors that work in the Camp at Sea program (no extra charge). It's located on deck 3 and for kids three and up. There are more than 500 activities on offer, including Celebrity's first youth coding experience at sea.
As you can see I loved my preview cruise and I can't wait to go back, next time for either one of the ship's Caribbean or European voyages. For (many) more photos, see below!
---
For more information, visit celebritycruises.com.