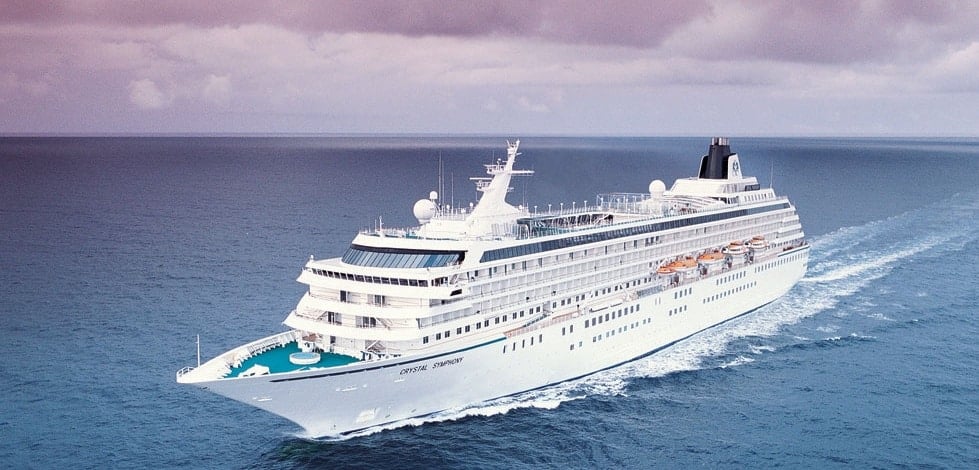 By now, you've likely seen news stories about the Crystal Symphony cruise ship that diverted to the Bahamas instead of returning to Miami because a U.S. judge ordered the ship to be, essentially, arrested. That's right, arrested over a fuel bill. It turns out that the luxurious Crystal brand is in serious financial trouble.
CBS News reports: "The lawsuit was filed in a Miami federal court by Peninsula Petroleum Far East against the ship under a maritime procedure that allows actions against vessels for unpaid debts. The complaint says Crystal Symphony was chartered or managed by Crystal Cruises and Star Cruises, which are both sued for breach of contract for owing $4.6 million in fuel."
Earlier in the week, Crystal Cruises announced they were suspending operations through late April but it now looks like they will be liquidated. According to The South China Morning Post: Crystal Cruise operates as "Genting Hong Kong", which is heading towards liquidation. Billionaire Lim Kok Thay has resigned from "Genting Hong Kong", but remains Chairman and CEO of "Genting Corporation". The news is not good and according to my travel agent, the luxurious Crystal brand will be picked up for pennies on the dollar.
So, if you do have a trip planned and didn't book through an agent or advisor, then you will want to get a hold of them ASAP. If you don't hear back from them or your agent, I would call your credit card company and stop the payment or dispute the charge.