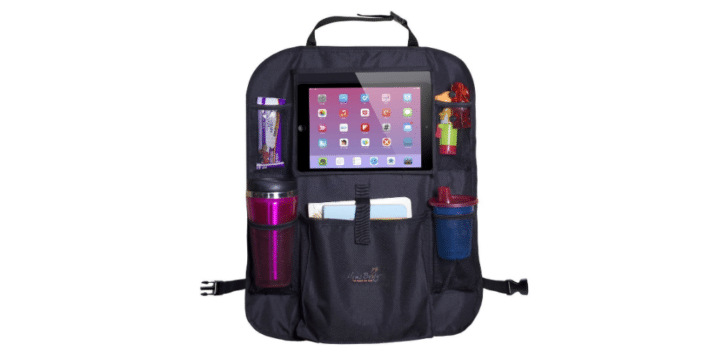 With Thanksgiving fast approaching, many Americans will be hitting the roads. According to AAA, last year 51 million journeyed 50 miles or more away from home, a 3.3% increase from 2016. Well, you can bet that those numbers are going to be even higher in 2018.
If you have kids or even just one child or toddler, you know how messy and unorganized your car can get with them in it. So when a friend of mine recommended we get a carseat organizer that hangs from back of the driver's or passengers seat, I was all for it. After some research, it looks like the best one on Amazon is called "Mom's Besty Car Back Seat Organizer for Kids and Toddlers."
This carseat organizer is only $15.79 and has four mesh pockets with elastic tops to keep contents securely inside. There's also a polyester pocket for bulkier items like books, crayons, toiletries, and snacks, with a Velcro strap to hold them in place. The organizer has adjustable top and bottom straps with buckles, making installation easy and keeping it flush with the carseat, and it's 20.8" x 16.9" so it fits most vehicles. The most unique feature is a clear touch-screen viewer window that can fit a tablet up to 10.1″ (like an iPad, Samsung Galaxy, etc.) to keep kids and backseat passengers entertained. (According to our pediatrician, kids shouldn't be watching TV in the car or even at home, but I know sometimes you just need to get them to cooperate and/or be quiet.)
By Thanksgiving, road trips may be just a little bit easier.