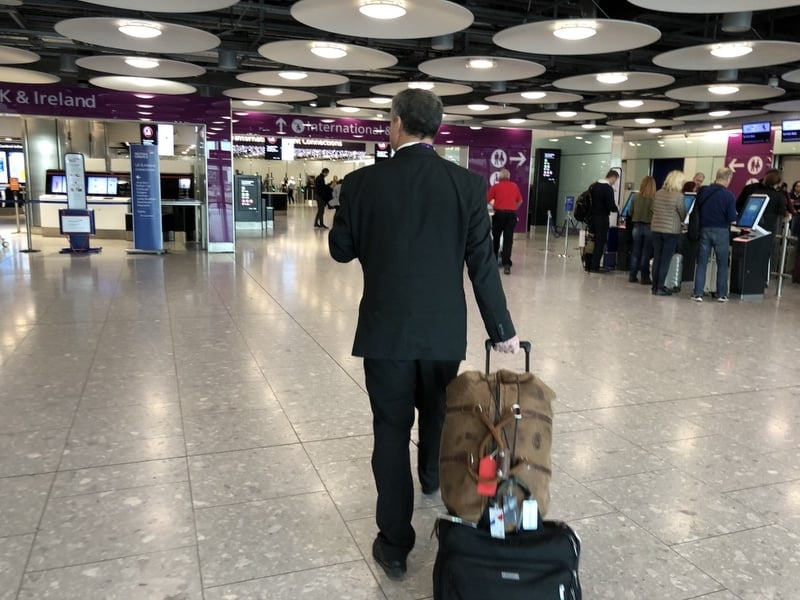 On Saturday, I wrote about a leak that suggested the EU was going to announce new travel restrictions for Americans traveling to Europe since Covid case numbers here are so high. It's now official. Here's what you need to know:
According to the Associated Press, "The European Union recommended Monday that its 27 nations reinstate restrictions on tourists from the U.S. because of rising coronavirus infections there."
The 27 nations in the European Union are: Austria, Belgium, Bulgaria, Croatia, Cyprus, Czech Republic, Denmark, Estonia, Finland, France, Germany, Greece, Hungary, Ireland, Italy, Latvia, Lithuania, Luxembourg, Malta, Netherlands, Poland, Portugal, Romania, Slovakia, Slovenia, Spain and Sweden.
This is no surprise for a couple of reasons, which the New York Times highlights in their article: "The threshold for being on the E.U. "safe travel" list is having fewer than 75 new Covid-19 cases daily per 100,000 people over the previous 14 days. The United States has an infection rate well above that threshold, and Covid hospitalizations in the country climbed above 100,000 last week for the first time since January.
The second reason has to do with reciprocity. The article goes on to say: "Yet while American tourists were able to travel to Europe this summer, the United States has remained closed to Europeans, drawing anger from Europeans and their leaders, who have expressed frustration at the lack of reciprocity."
That's not a good combo. The EU essentially gave Americans a free pass so we could spend in their countries, which many did. Now that the busy summer is winding down, it makes sense for them to offer this guidance.
That's right, this is just guidance and as the AP points out, it is non-binding. So U.S. travelers should expect a hodgepodge of travel rules across the continent. Depending on what a country decides, get ready for either an increase or decrease in flights to/from that country. The airlines follow the money. For example, back in April United Airlines announced they were going to start flying nonstop to three countries (Iceland, Croatia and Greece), three countries that had eased their entry requirements.
If you have a fall trip to Europe booked, don't panic yet. Just because the EU took the USA off its safe travel list doesn't mean the country(s) you're going to are going to follow their advice.
According to The Local Germany, "For vaccinated Americans nothing much should change. The EU recommends that anyone vaccinated should be allowed to travel to Europe as long as they are vaccinated with an EU or WHO approved vaccine and had the last recommended dose at least 14 days before travel, as well as so-called 'essential travellers' (see below) and all travellers from countries on the safe list, which includes the likes of Australia, New Zealand and China."
As I wrote a few days ago when I warned you about a new vaccination requirement (here's what you need to know) like everything these days, nothing is set in stone. The rules and requirements are constantly changing so continue to keep checking if anything changes leading up to your trip, including the day before.
I, for one, won't be going to Europe this fall for a few reasons:
1. I have two little unvaccinated kids and it's just too risky to expose them to COVID since no one knows the long term effects.
2. Even if I didn't have little kids, I wouldn't want to risk getting stuck abroad. As you probably know, every person traveling to the USA, regardless of vaccination status, or whether they're American, has to prove a negative COVID-19 test three days before. If you test positive, you will be denied boarding and have to quarantine for 10+ days at your own expense. Here are the details.
3. Hospitals across the world are at capacity because so many people are getting sick, including staff members, so many are short-staffed. If I was going to travel, I would be sure to check the hospitalization rates. Here's how.
But after my vaccinated 92-year-old dad, who was being relatively careful, caught COVID a few weeks ago and was hospitalized, it made me realize the vaccines are not bulletproof, which the experts warned us about. I do know that if my dad wasn't vaccinated he wouldn't be alive today so I'm so thankful for them.
Don't worry … we will be back traveling to Europe and the world. It's just going to take a little longer and might not be like it used to be.
Helpful resource
–COVID-19: Council removes 5 countries and one entity/territorial authority from the list of countries for which travel restrictions should be lifted – Consilium (europa.eu)
–Only Essential Travelers, Vaccinated Persons from U.S. Allowed into EU – European External Action Service (europa.eu)
graphic via: (europa.eu)