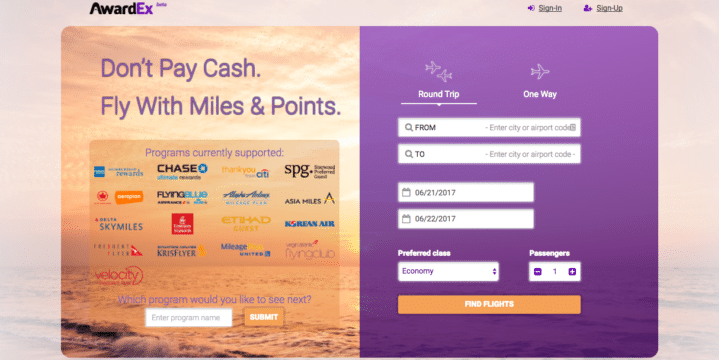 I'm always looking for ways to save money when I travel. Obviously one of the main strategies is to use frequent flyer miles or credit card points to offset travel costs (if you can pay off your credit card bills each month in full then consider getting a credit card that has a credit bonus, like some of these).
Even when you have a large amount of frequent flier miles and credit card points, you still want to get the best value—so it's prudent to shop around. A new site called AwardEx. You just search for a flight either by city or airport codes, then select one of the desired programs such as CHASE Ultimate Rewards, Citi Thank You Points, AMEX Membership rewards, SPG Preferred Guest, and/or sixty airline programs (sadly they don't have AA as a partner yet). From your options, you can choose a preferred itinerary to get booking instructions. Sadly, to get the booking info you need to sign up to the site either via your Facebook account or your email. They say they first five credits—used to find real time award seat availability—are free.
I just did a quick search for a one-way flight from L.A. to Toronto and 181 results were found. The cheapest was for 12,500 points + $5.60, which is a great deal. AwardEx doesn't have an app yet but according to the site, there will be one for iOS in the near future.