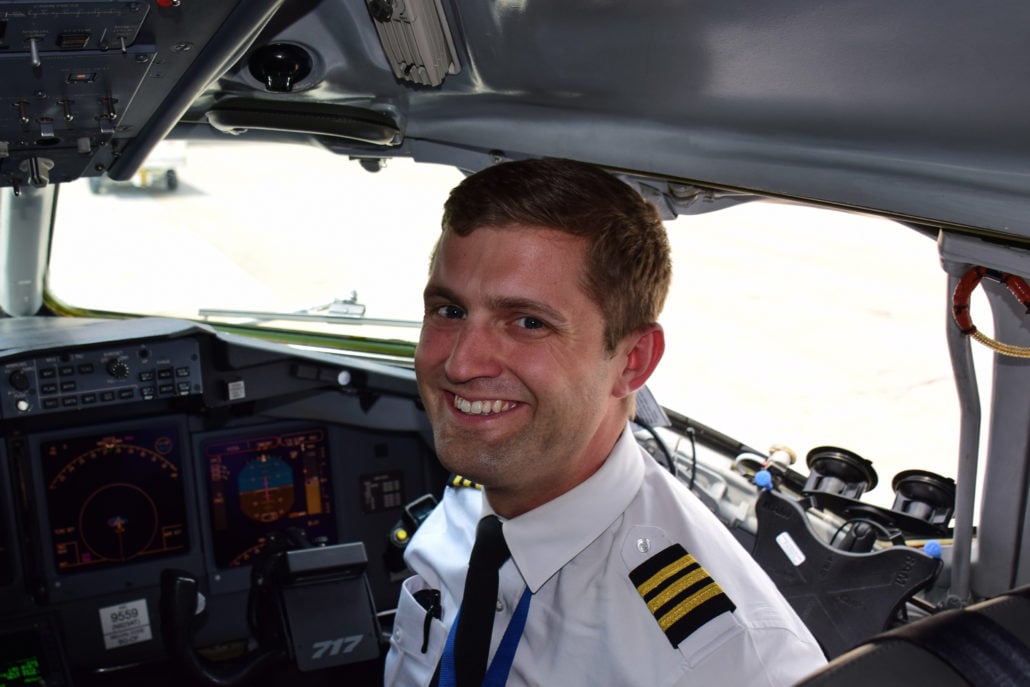 In our Ask a Pilot series, pilot Spencer Marker answers one of your aviation-related questions each week. See past installments here and submit your own to whitney@johnnyjet.com.
The question
Can you see Christmas lights while flying at Christmas and what does it look like?
—Oine Kimble
The answer
Hello there! With the holidays rapidly approaching, it seemed there would be no better time for answering a holiday-themed question. Also, I felt like it's a great time to share one of my favorite flying stories.
You can absolutely see Christmas lights while flying at night. In fact, my fellow crewmembers and I have great seats for a lot of festive holiday displays (Independence Day fireworks shows are my personal favorite).  
As with Christmas light displays on the ground, the view is much better the closer you are. Passengers can get the best views of holiday decorations while the aircraft is either departing the airport on its initial climb out, or while on approach. The benefit of seeing all the lights from the air is that you get to literally see ALL the lights! But since the aircraft is flying fast, you have to look quickly because the faster you go, the more difficult they are to see!
Unfortunately, when the airplane is at its cruise altitude, most of the lights of normal Christmas displays are drowned out by the presence of other ambient light, namely sodium-vapor lighting. These yellowish lights are the primary man-made lighting we see from the air and are often much brighter than consumer Christmas lights. In addition, the altitude we fly at also degrades our view of holiday decorations. Moisture in the atmosphere restricts our ability to see faint lighting when at our cruising altitudes. So, make sure to get a good look when the airplane is down low.
One of my favorite flying stories was during this time of year. When I was younger, I had the privilege of flying my mother and my aunt in a small, four-seat Cessna 172 around my hometown of Topeka, KS, for the sole purpose of looking at Christmas lights. I was a young pilot (I had recently earned my private pilot's license) and was happy to be sharing my passion for aviation with members of my family. I think my mom and aunt simply enjoyed our unique perspective of the Christmas festivities!
We stayed at a safe altitude and were able to get a good look at the lights all over town as we zipped through the chilly December air that night. And about an hour after we took off, we touched down back at the local municipal airport. It was one of the most memorable experience of my time in aviation and I still keep a photo from that night displayed in our home.
For those interested in taking in the sights of the season from a higher vantage point, aviation businesses all over the country offer holiday sightseeing flights in everything from helicopters to vintage WWII aircraft. In my earlier days in aviation, the company I flew for used to offer sightseeing flights over the Country Club Plaza in Kansas City, MO.
Thanks for the question this week! I know with the hustle and bustle of the holiday travel season, simple things like taking the time to look out the window at the world passing below can seem unimportant. But sometimes, taking the time to notice simple things like Christmas lights going by make the stress of holiday travel a little more bearable.
Thanks again for the question! And if you have a burning aviation question or if there's something you'd like cleared up, drop us a line at Whitney@johnnyjet.com to get your question featured in an upcoming "Ask a Pilot" column.
Tailwinds,
—Spencer