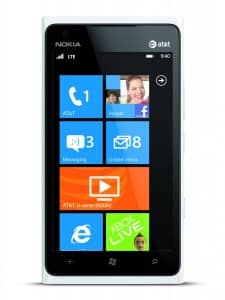 A big congratulations to Bill M. of South Carolina- the lucky winner of Johnny Jet's survey raffle of the Nokia Lumia 900 Windows Phone and 30 days of free service (provided by our friends at Microsoft and valued at nearly $550 USD).
This award-winning smartphone is 4G LT fast with a 4.3′ AMOLED large, clearblack screen makes it compatible for both indoor and outdoor use. The 8 MP front-facing camera with Carl Zeiss optics is perfect for any travel guru looking to document and share their life experiences through high quality photographs, self-portraits, and video chat.
We especially love the Windows Phone specific "Live Tiles" feature which allows you to "pin" important information to your phone's start screen for immediate, at-a-glance access and as well as its summer travel apps from  My Trips, to AccuWeather.com, and many more.
Thank you for all for taking the time to complete our survey. The submissions provided us with very useful feedback and we're excited to give our readers more of what they want. Also, don't forget to enter this week's caption contest to win some more travel swag.