I adore Iceland, have evangelized on its behalf for years, believe everyone of the necessary means should root around in its volcanic soil and tuck behind its waterfalls. You should go for 20 days, risking your job if you must. Yet last Tuesday I dropped in for just 20 hours.
Why?
In the fog of World Cup fever, I sought to leave America (did not qualify) to feel more wholly the tournament's wonder. I wanted to gaze up at a [TEAM X] match from a sea of [TEAM X countrymen], heartstrings hitched to theirs, projected onto the largest outdoor screen imaginable. Iceland, I decided, could be this team. Reykjavik (~125,00 people) is an easy flight (under six hours) from New York, a World Cup participant (first time!), and coursing with the sort of sensibilities I might seek in my future children. On June 26, at 6pm Reykjavik time, the Icelandic squad was to face Croatia in its final group stage match. Once the result was in, the team's fate would be set: moving on to the round of 16 (with a win and some luck) or going home. And so was my fate set. With help from United Airlines, I would go to Reykjavik.
United now operates daily flights from Newark Liberty to Reykjavik, which in basic economy—a product resembling WOW air's plus a loyalty program—start at $293 roundtrip. I had just two nights for the trip (one lost to the red-eye flight over), but I also carry a near-unreasonable resolve to fill my free time with transit. With seats (8C, 12C) booked in United's Economy Plus (with a swimming pool of legroom), I headed for Newark.
Thanks, United: The EWR-KEF red-eye is best when slept through, but if you're up maybe 30 minutes in, United serves a choice of (typically) an apple-and-smoked-gouda sandwich or a turkey-and-cheddar sandwich. Both come with Lays potato chips. The apple-and-gouda was simple but really nice. If you can't sleep at all, the route's 757 is well-appointed, with power outlets under the seats plus 61 movies (Call Me By Your Name, Isle of Dogs…), 81 TV shows (Bob's Burgers, David Attenborough's Ant Mountain…), and six mostly-Gimlet podcasts (but no music for some reason).
Mine is no longer an imitable itinerary, but from my shortest trip yet to Iceland I culled an afternoon's worth of thoughts and successes to put to paper. If you don't care enough to read on, fair enough, but I still think you should go to Iceland—and maybe watch the clip of Iceland scoring from ground-zero.
Getting to Reykjavik from the airport
3:30pm-4:15pm
The airport serving Reykjavik—and United's flights and those of WOW, etc.—is not in Reykjavik. It's called Keflavik Airport (KEF) because it sits in (yes) Keflavik, which is a 50-minute drive southwest over magma fields from the capital. Connecting the two requires a rental car, a taxi (very expensive) or a bus. In my experience, taking the bus into town (and later renting a car in Reykjavik to explore deeper) is the way to go. You can buy a seat on a Flybus in the airport arrivals hall (buses leave every 30 minutes), or you can buy in advance to save a little cash. Either way, you're looking at another $60/person minimum roundtrip in travel costs. There's no way around it. The trip by bus, at least, is easy, Wi-Fi-connected and packed with just enough rugged Iceland-scape to get you excited.
Note: United's EWR-KEF flight departs daily from Terminal C (near Classified) at 10:30pm and gets in at 8:10am the next day. My fragile itinerary on this trip was pushed to its breaking point by a six-hour weather-related delay, which explains why I wasn't boarding my airport Flybus until 3:30pm. That's a risk inherent in air travel, I guess. For its part, United provided compensation options ($100 flight credit or 5000 MileagePlus miles) via email within a few hours.
Bao buns at Skúli Bao Bun
4:30pm
Skúli, on the shoulder of Reykjavik's Ingólfur Square, may be the best beer bar in Reykjavik. It also operates a fantastic food truck maybe 25 feet from its door, inside which you'll find a couple of dudes stuffing fluffy bao buns each day until 9pm (possibly later on weekends). The fried cod and pulled pork buns were truly delicious—and at just 750 krona each (about $7 via XE.com), near city-best value in a place that is, unfortunately, not known for cheap meals.
Beers at Skúli
5pm
Again: maybe the best beer bar in Reykjavik. Expect to see great stuff from Iceland (like Borg), Scandinavia (like Mikkeller) and much further away scratched in chalk onto the rotating taplist, and flavor notes of things foraged from the Icelandic bush. For the World Cup, there was a special half-off beer at 600 krona (beer, like everything, is expensive in Reykjavik).
World Cup match (Iceland v. Croatia) in Ingólfur Square
6pm
The main event! From the match, which I succeeded in watching from a sea of Icelanders in Ingólfur Square, here are a few moments in which the excitement peaked (thanks to the The Guardian for help):
Through the 6th minute: Croatia with 39 completed passes, Iceland with just one…
7th minute: Good cross through the box from Iceland
12th minute: Iceland midfielder Birkir Bjarnason takes an arm to the face, goes down, temporarily leaves the field, continues to bleed for a while
15th minute: Across the giant screen flashes that news that in the other Group D game, Argentina has gone up 1-0 against Nigeria (this means that if Iceland wins by one goal today, it will advance)
20th minute: Dramatic scene in which blood appears to empty from unfazed Birkir Bjarnason's head; he also changes shorts
27th and 28th minutes: Successive chances for Iceland, led by defender Hörður Björgvin Magnússon
31st minute: Iceland free kick is saved
41st, 44th and 45th+ minutes: A couple of near-goals for Iceland, including a shot from striker Alfreð Finnbogason, just before half
Halftime: 0-0 (people feeling good!)
51st minute: A Croatia shot bonks off the crossbar
52nd minute: News flashes that Nigeria has tied Argentina (not good for Iceland's chances of advancing)
53rd minute: Milan Badelj scores for Croatia (1-0 now) and everyone is sad
54th minute: A Viking clap is led by I'm pretty sure an American guy
56th minute: A header from Iceland's Sverrir Ingi Ingason goes off the bar!
56th minute to 73rd minute: Croatia controlling the game, making Iceland feel more sad
73rd minute: Birkir Bjarnason, who earlier had his face smashed, misses the goal from inside the box
75th minute: Croatia handball! Iceland gets a penalty…
76th minute: 1-1!
78th minute: Another Viking clap
88th minute: News from the other game is that Argentina has scored again to go up 2-1 (this means that if Iceland scores before the whistle sounds, they'll advance!)
90th minute: The optimism that arrived with that news is dead, as Croatia's Ivan Perisic scores again to put Croatia up 2-1 (this means Iceland will have to score two more goals to advance over Argentina)
90th minute to final whistle: It's just over at this point
So, a sad result. But also a tremendous day, even without the time you typically build into an Iceland visit to see the likes of this…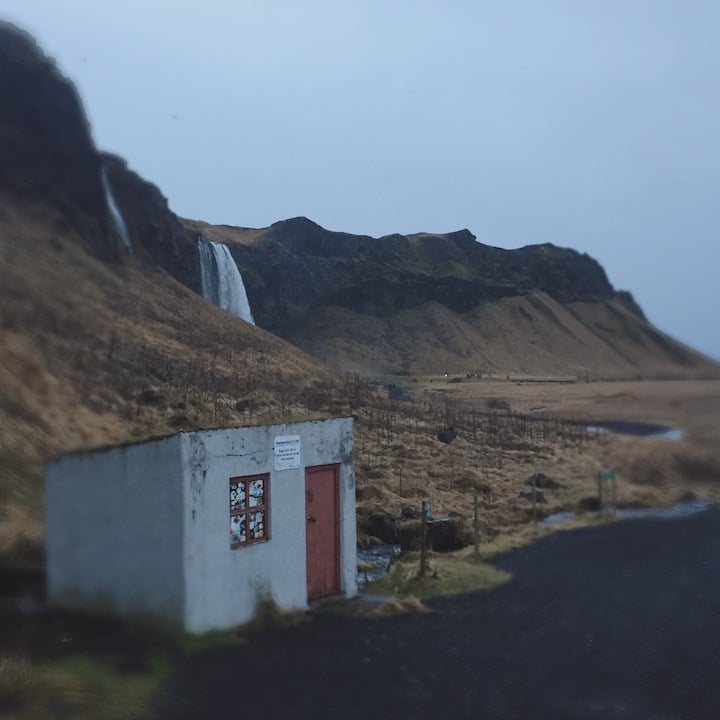 and this…
The team's loss left no room for euphoric, city-wide drinking, but my day in Reykjavik was not yet done. I was still happy to be in town.
Lobster soup from Lobster-Hut food truck
8:15pm
Food trucks are big and getting bigger in Reykjavik (and mitigating the city's high food costs, according to the guy at Skuli). Right off Arnarhóll park, the Lobster-Hut truck pours delicious "lobster soup" that the proprietor suggested I take with "whipped cream" (probably not American whipped cream, but in any case it was good). There's also a "lobster sandwich"—a lobster roll, basically, rolled in garlic—that looked perfect. After soup, I got a Liege waffle from the gold-lit truck nextdoor.
To the water…
A walk along the water
8:30pm
Iceland's other-worldly natural bounty is largely out of reach when you have only a few hours in the country. But not completely. The evening of June 25, it turned out, was a wonderful time to skirt the walking streets of Reykjavik for the footpath that runs along the water (and beside the Sun Voyager). Even in Icelandic summer, crisp pricks of wind teased a wild frontier somewhere beyond city limits. The sun's light was to stay on until near midnight, milking the tranquility of the seaside mountains above.
Volcano documentary at Volcano House
9pm
In the news, and in the rolling fields of black magma sprouting green, it's apparent that Iceland is a place of ruthless volcanic activity. Volcano House shows documentaries (1,790 krona) each hour on the hour (last show is at 9pm) that bring color to historic eruptions—like that of Eyjafjallajökull in 2010—and walk through the mechanics of plate tectonics. On my visit in 2016, I decided that the "theater" resembled an attic workshopped into a volcano school. It may be that. With perhaps three Swedes I sunk into a couch, cushions worn to maximum comfort, and sipped a beer, loving life. Our host hit the "X" button on a PlayStation 3 controller to start the show. Thirty minutes later, she sent us off with a big smile. This is the other half of the Iceland I love. Wild earth and good people have a way of finding each other.
Flight back
The night cooled, I read a book under the (half-)midnight sun, and then my body crashed. At 9am the next morning, I caught my pre-arranged Flybus at City Hall ("bus stop #1") and headed for the airport. By noon local time, I was in the air flying home.
The purpose of this post is not to wrangle out of Iceland a visitor's cheatsheet. It is to recount, in a few words and visuals, how I came to construct from a single afternoon a memory that will long outlive the logistical constraints stacked against it. The trip was a testament to the endowment of Iceland, it of 1,000 rental car adventures, but also to that of Reykjavik, in whose hands I will always trust my time. There are currently more opportunities to visit Iceland—to really come to know it—than in any time in history. When you have the chance, I suggest you take one. (You should also watch the World Cup.)
Afram, Islaaand!
---
For more information on United's new EWR-KEF route, visit united.com.