Traveling with pets can be a real hassle, particularly when you're traveling through destinations and airports that are less than ideally equipped to handle four-legged travelers. So, if you had a choice between traveling through a pet-friendly airport and a not-so-pet-friendly airport, you'd take it, right? As pet parents and frequent travelers ourselves, that's why we've put together our list of the seven best U.S. airports for traveling with pets.
How are we deciding the best U.S. airports for pets?
Our list of the seven best U.S. airports for pets is based on several factors, including pet-friendly amenities (dog parks, grooming services, etc.) and conveniently located boarding facilities and daycares. In alphabetical order, here are our top U.S. airports for pets.
Denver International Airport
Not only does Denver International Airport offer your basic pet relief areas, but it also has exercise space for pets, something that's much-needed after any long flight. The exercise space is enclosed, so no worries there, and is wheelchair accessible, too, proving the airport's thoughtful consideration when designing this space.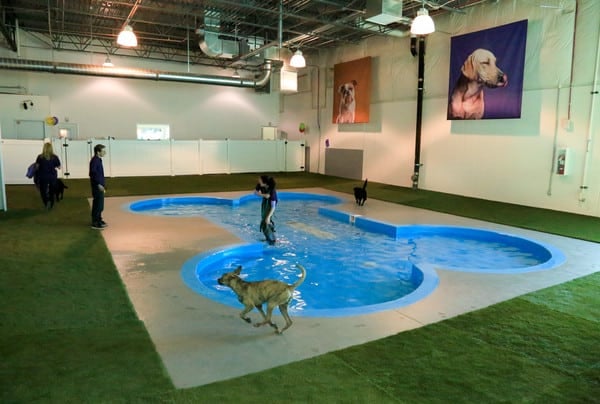 Denver International Airport's Paradise 4 Paws pet resort
Hartsfield-Jackson Atlanta International Airport
One of the busiest airports in the world (once the busiest, though that honor now goes to O'Hare, in Chicago), Hartsfield-Jackson sees its fair share of traveling pets, and the airport has provided everything you need to care for them accordingly. 
Private pet restrooms are available for dogs and cats to relieve themselves on faux grass. There's even a shower area, in case Fido gets a little messy. A pre-security dog park offers 1,000 square feet of space. And right outside the airport, there's Pet Paradise, for daycare, boarding, vet services, and grooming. The boarding is top-notch, with plenty of amenities, and 24-hour pick-up and drop-off services.
John F. Kennedy International Airport
JFK is really setting the bar when it comes to pet amenities. The airport is rolling out a whole luxury pet terminal called The Ark, that features an export and quarantine center, for internationally traveling pets, as well as a huge pet resort that hosts dogs and cats during your stay. And if you're worried this is some bare-bones kennel, think again. This is truly a luxury pet resort, with TVs for your dogs, climbing trees for your cats, spa and grooming treatments available for both and even a swimming pool. Worried about your pet? Just tune in to your pet's webcam and check in on everything. JFK also offers a 24-hour pet clinic. 
Beyond these world-class Ark amenities, there's a 4,000-square-foot outdoor rooftop garden for pet relief, in Terminal 5, that can seat as many as 50 pet parents!
Minneapolis-Saint Paul International Airport
Minneapolis-Saint Paul offers your normal pet amenities, such as relief areas, but the airport also provides one very unique pet amenity: its Now Boarding service. This Humane Society-associated program will board (and even train!) your dog if he or she ends up not being able to fly with you. Since Now Boarding is part of the airport itself, the service also picks you up at baggage claim after your flight, re-unites you with your pet and then shuttles you to your car.
Philadelphia International Airport
There are seven pet relief areas at Philadelphia International Airport, meaning you're never too far away for your pet to make it to at least one of them before having an accident. The areas have a mulch surface, with benches. The pet relief areas are fenced in, relatively large and offer clean-up bags.
Reno-Tahoe International Airport
While you might think that all the best U.S. airports for pets are major hubs, think again. Reno-Tahoe International Airport is a bit of a sleeper, in that it offers great amenities for pets, but it's not an airport many fly through. Amenities include pre-security dog parks that are fenced, with drinking stations and provided clean-up bags; there's also a canopy, in case of inclement weather. There's another pet relief area located inside the airport, after you go through security. The enclosed, private space is ideal for pet parents that have tried using one of those other pet relief areas at other airports, that are just sitting randomly out in an airport hallway, to lackluster effects.
Sky Harbor International Airport
In Phoenix, Sky Harbor International Airport caters to traveling pets with nine pet relief areas across its terminals, both pre- and post-security. And, if you're taking the PHX Sky Train, you'll be relieved to know that there are pet-friendly bathroom spaces near both the parking garages and the train station. You're never too far away from a convenient patch of grass, some clean drinking water, space to play and the disposable baggies you might need during your visit.
Related Posts
7 Best Airport Lounges in the World