Airport lounges vary wildly depending on a whole slew of factors. You could have a great lounge experience at one airport, then go to another lounge by the same airline at another airport, and the difference can be night and day. Similarly, major airports boast a varying lineup of lounges, so the lounges in Terminal A might be great, while the lounges in Terminal B might be less than stellar. And now, on top of all the airline lounges you have to choose from, there are non-airline lounges, like the Centurion Lounge, competing for your attention.
If you can't exclusively say that lounges by a certain airline or brand, or that lounges at a certain airport, are top-tier, how can you determine which airport lounges are really best?
How We're Determining the 7 Best Airport Lounges in the World
Given the above, we compiled our list of the seven best airport lounges in the world based on several factors. We're looking at lounge age, amenities, exclusivity, accessibility and recognized awards. Consider yourself a world traveler and seasoned jet setter? See if you agree with our picks below (arranged in alphabetical order).
Air France Business-Class Lounge, Charles De Gaulle International Airport
Air France just re-opened its business-class lounge at Charles De Gaulle last year following extensive renovations and we can't say it wasn't worth the wait. The old lounge was completely gutted and every little detail changed. The new, large lounge features lots of soft lighting and a true taste of French style and hospitality. Dine on Parisian fare at the open kitchen, book a spa treatment, relax in a private sauna, refresh yourself at the detox bar or just enjoy a cocktail or two.
Cathay Pacific The Pier First-Class Lounge, Hong Kong International Airport
Cathay Pacific first-class travelers and other Oneworld first-class travelers moving through Hong Kong can enjoy access to The Pier. Passengers can bring along a guest as well (and if you have Diamond level within Cathay Pacific's Marco Polo frequent flyer program, you can bring two guests along for your lounge visit).
While this lounge is relatively small, it offers something unique — private suites that you can call your own during a long layover. You get a bed and other furnishings, as well as access to showers, so you can freshen up from your travels and maybe even catch a few winks before moving on. Other amenities include massages services, a library, and fine dining.
Emirates First-Class Lounge, Dubai International Airport
Emirates is well known for its lauded first-class service while in the sky, but what can you expect while on the ground? This first-class, 100,000-square-foot lounge that's as long as the terminal itself is extravagant in a multitude of ways.
Befitting its Dubai location, the lounge amenities include day beds, a separate Champagne lounge separate from the normal bar, a wine cellar also separate from the normal bar, a coffee bar, cigar lounge, fine dining and dedicated children's center. But the supreme services hardly start when you arrive at the airport; no, they begin when Emirates sends a chauffeur to your hotel, to cart you off to the airport in high style. Once you're ready to board your flight, you don't even have to leave. You can board directly from the lounge.
Lufthansa First-Class Lounge, Frankfurt International Airport
First-class Lufthansa passengers traveling through Frankfurt International Airport can enjoy this expansive space that's actually in a completely different building from the airport, as it sits at a whopping almost 200,000 square feet. Technically named a "terminal" rather than a lounge, due to its size and location, what can passengers expect at this best airport lounge?
For starters, custom-made, stylish and modern furnishings; high-end dining and drinking options; a cigar lounge; private offices; and bathrooms and showers with luxury toiletries.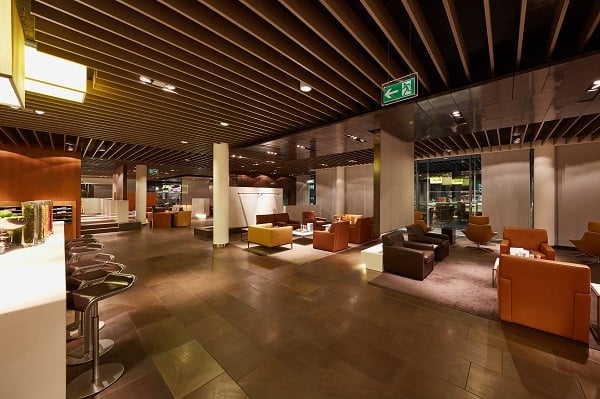 Qantas First-Class Lounge, Sydney International Airport
For unprecedented airport relaxation, look no further than the Qantas first-class lounge in Sydney. Open to first-class passengers and platinum-level frequent flyers only, the lounge is dedicated to a Feng Shui experience for passengers. As such, there's plenty of natural light, no corners to be found and a huge vertical garden with nearly 10,000 plants. Oh, and that marble that you see throughout? It's from the same quarry that Michelangelo used when sourcing marble for his work. No big deal.
United Polaris Lounge, Newark Liberty International Airport
United's Polaris Class has really been praised for the way it's just overall transforming the business-travel experience. The Polaris-class lounge at Newark, though opened as recently as last year, was one of the very first to open in the world, and the first on the East Coast.
Open to both United Polaris and Star Alliance first- and business-class passengers, the lounge is filled with plenty of spacious seating, that offers lots of privacy, individual lighting and charging ports at each seat — perfectly thought out for the business traveler needing some luxury along with their functionality. There are nap pods with Saks Fifth Avenue furnishings, in case you need a snooze, as well as shower suites, to freshen up. Staff are on-hand to provide you with any kind of shower amenities or toiletries you might need, from a hair straightener to a sewing kit. Laundry services are available, in case you need something steamed while you wait.
Virgin Atlantic Clubhouse, John F. Kennedy International Airport
One of only two domestic lounges to make the list, the Virgin Atlantic Clubhouse is one of the more relatively accessible luxury lounges. While it's typically just open to Flying Club Gold members, Upper Class passengers and elite-status passengers of partner airlines, the average Virgin Atlantic passenger can purchase a day pass for a mere $75 — a good bargain.
There are arguments on whether or not the Virgin Atlantic Clubhouse in New York City is truly better than the same in London, but we'd have to argue for the Big Apple location. The larger space, stellar staff, and great dining experience set it apart.
As you might expect from the Virgin brand, this is far from your ordinary airline lounge, with truly a clubhouse feel, with the posh seating, billiards tables, and craft cocktails. Complimentary dining and complimentary spa treatments are just the cherry atop the sundae.
Know of a great airport lounge that you think should be included on the list? Let us know in the comments!