This post is sponsored by Marriott but all opinions expressed within are my own.
Summer is finally here, the kids are out of school and it's time to take to the skies or hit the road! Whether you opt for a far-flung vacation that takes you clear across the country or a road trip closer to home, there are so many wonderful family-friendly destinations in the US to discover. Here are five to consider:
Orlando
When you hear 'Orlando', you probably think: theme parks. And with good reason. From Walt Disney World and Universal Orlando to SeaWorld Orlando, theme parks are Orlando's biggest attractions. But there are lots of other things to do as well so if you're looking for things to do that are a bit more off the beaten tourist path, consider alternatives.
For instance, the Central Florida Zoo and Botanical Gardens is an experience the whole family will enjoy and offers something for everyone. Kids and adults alike will love the opportunity to get up close and personal with giraffes by feeding them and the rhinoceros experience where you can meet PJ, the zoo's resident rhino.
Gatorland is 110-acres of family fun. With thousands of crocodiles and alligators to see, a breeding marsh, a zip line and a splash pad where kids can cool down on those hot Florida days, this wildlife experience is sure to delight. Before you leave, be sure to check out the White Gator Swamp where rare white alligators (about 10-12 feet long and weighing over 800 pounds) are on display.
Where to stay
Whether your Florida vacation is jam-packed with theme parks or not, the kids will love staying at the Walt Disney World Swan and Dolphin Resort. The property was recently renovated to the tune of $140 million and every room in the sprawling resort has been updated. It's within walking distance of Disney's Hollywood Studios, Disney's Boardwalk and Epcot's International Gateway. Check out a full review of the Walt Disney World Swan and Dolphin Resort here.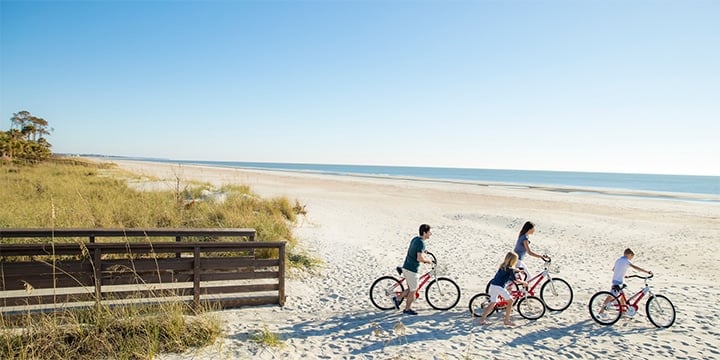 Hilton Head Island
Hilton Head Island is a dreamy getaway in South Carolina, just 98 miles from Charleston and even if you've never been before, you may think of the widely recognized red and white striped lighthouse that stands sentry over the harbor. You probably also know that its beautiful beaches are one of the destination's biggest draws. Some of the most popular include Coligny Beach, Driessen Beach, Mitchelville Beach and Folly Field Beach. Arguably the most popular beach on the island, Coligny Beach is bound to be the most crowded during peak times with tourists and locals alike, and it's also the only beach where you can play beach volleyball on the island. Whether you're looking to play beach volleyball or are just looking for a fun-filled family day at the beach, you'll find it here.
The other popular thing to do in Hilton Head? Tee up for a game of golf. The island is home to more than 400 golf courses so there's definitely no shortage to choose from. But not all are intimidating championship courses. There are also mini-golf courses that the whole family can enjoy, a putt-putt course at Adventure Golf and a pirate-themed course at Pirate's Island, which has two beautifully landscaped golf courses and activities for kids as young as three.
Where to stay
Close your eyes and think of soft white sand beaches and palmetto trees swaying in the breeze. Feel the ocean breeze in your hair and hear the sound of the ocean gently lapping at the shores of the beach. Then imagine yourself right there, taking it all in in person. At the Westin Hilton Head Island Resort & Spa on Hilton Head Island, you'll love the coastal South Carolina setting, from the natural beauty that surrounds you to the beautifully designed guestrooms that reflect the oasis outside. As a guest, you'll enjoy the private beach access, three swimming pools and four restaurants.
Fort Lauderdale
Known for its beaches, boating canals, bars and boutique shopping, Fort Lauderdale has something to appeal to every kind of traveler. No longer just a Spring Break kind of destination, this southeastern Florida city has lots of family-friendly things to do to make your next family vacation unforgettable.
Kids are sure to love Flamingo Gardens, a 60-acre botanical garden and everglades wildlife sanctuary that was originally established in 1927. The gardens are home to over 3,000 species of native flora (including the largest tree in Florida!) and the sanctuary is home to Florida's largest collection of local fauna like alligators, bobcats, peacocks, panthers and, yes, flamingos. Inside the garden are a butterfly and hummingbird garden, which is also a big attraction for kids and adults alike. If the kids are really into butterflies, then check out Butterfly World, just 10 miles north of Fort Lauderdale. The tropical gardens and waterfalls here are home to 20,000 butterflies!
The Museum of Science and Discovery will open up a whole new world of possibility for your kids, spark their curiosity and ignite their imagination. With a combination of permanent and limited run exhibitions, there's always something new to discover. The Discovery Center is an educational space for kids under six to play and learn while other exhibits teach older kids about everything from Florida's ecosystems and new sources of energy to hurricanes, climate change and Florida's prehistoric past.
Where to stay
The location of the Fort Lauderdale Marriott Harbor Beach Resort & Spa makes it an ideal choice for your Fort Lauderdale getaway. You'll have access to the quarter-mile of private beach that the hotel sits upon while still being within quick and easy access of the city's vibrant Los Olas Boulevard, where you'll find some of the best shopping, dining and nightlife in Fort Lauderdale. The recently updated rooms are simple and serene, perfect for a relaxing beach vacation. The hotel offers guests a lagoon-style pool to cool off in, lots of beachfront water activities and a luxury spa to help revive and rejuvenate you.
Chicago
Chicago's Riverwalk is a 1.25-mile urban pedestrian playground but if you think it's just for adults, think again! Sure, it's got lots of shopping and romantic nooks for cozy dinners but if you've got the kids in tow, there are lots of things they'll love as they explore this main artery of the city. The whole family can kayak in the river and the kids will love splashing around the Centennial Fountain. You can do boat tours along the river or even just hop into a water taxi for a bit of fun exploring. Not only are there lots of kid-friendly restaurant options along the way, but the Chicago Riverwalk also has educational programming and pop-up PlayCubes, part of a modern urban playground presented in collaboration with Design Museum Foundation.
Chicago's Children Museum features programs and activities for kids of all ages, broken down into age-appropriate categories so every child will find something to stimulate them. With a focus on learning through play, each area features a space dedicated to a specific topic. For instance, there's a sound playground, an art studio, a dinosaur expedition, a kids market, a story hub and a tinkering lab … to name just a few.
Where to stay
The Renaissance Chicago Downtown Hotel features modern rooms and suites with all the amenities you'd want. But perhaps the best feature of all is that many of the rooms have sweeping panoramic views of the Chicago River and the city's downtown skyline. The hotel's ideal location places you near to the theater district as well as attractions like the Magnificent Mile and Navy Pier. On property, enjoy the heated indoor pool and a meal at the rooftop restaurant and bar Raised, where you'll be treated to amazing views as you dine.
Tampa
Orlando might be home to some of the biggest theme parks in the country but Tampa has plenty to offer when it comes to theme parks as well. Busch Gardens is probably the most well-known but there are tons of the kid-friendly attractions to introduce the little ones to. If you've got a budding paleontologist or a kid who's positively preoccupied with the prehistoric, Dinosaur World is the place to go. With over 150 life-size model dinosaurs as well as mining and excavation experiences that will definitely thrill your dinosaur lover, this experience is one the kids won't soon forget.
Regarded as one of the best in the country, the Florida Aquarium is a family adventure waiting to happen! From getting up close and personal with African penguins and swim and dive experiences to a 4D theater and a splash pad for little ones, the aquarium will keep the family entertained all day long.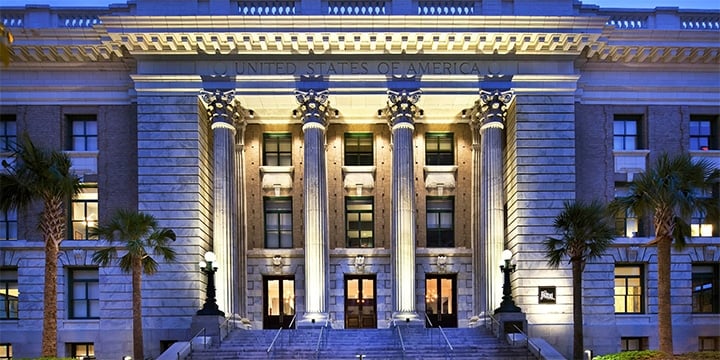 Where to stay
Located in a historic building that was formerly a federal courthouse, Le Méridien Tampa is recognized by the National Register of Historic Places and welcomes guests to this AAA 4-Diamond Hotel in style. Now a boutique hotel in the center of downtown Tampa, it's situated near Ybor City and Channelside and despite the fully modern design and amenities that you'll find, you'll still get a feel for its historic roots. The judges' chambers and former courtrooms are now the hotel's guestrooms and at the stylish Bizou Brasserie, an old witness stand serves as the restaurant's front desk. This hotel, lovingly restored, thoughtfully juxtaposes the old and the new and the result is a memorable stay at a truly unique property.