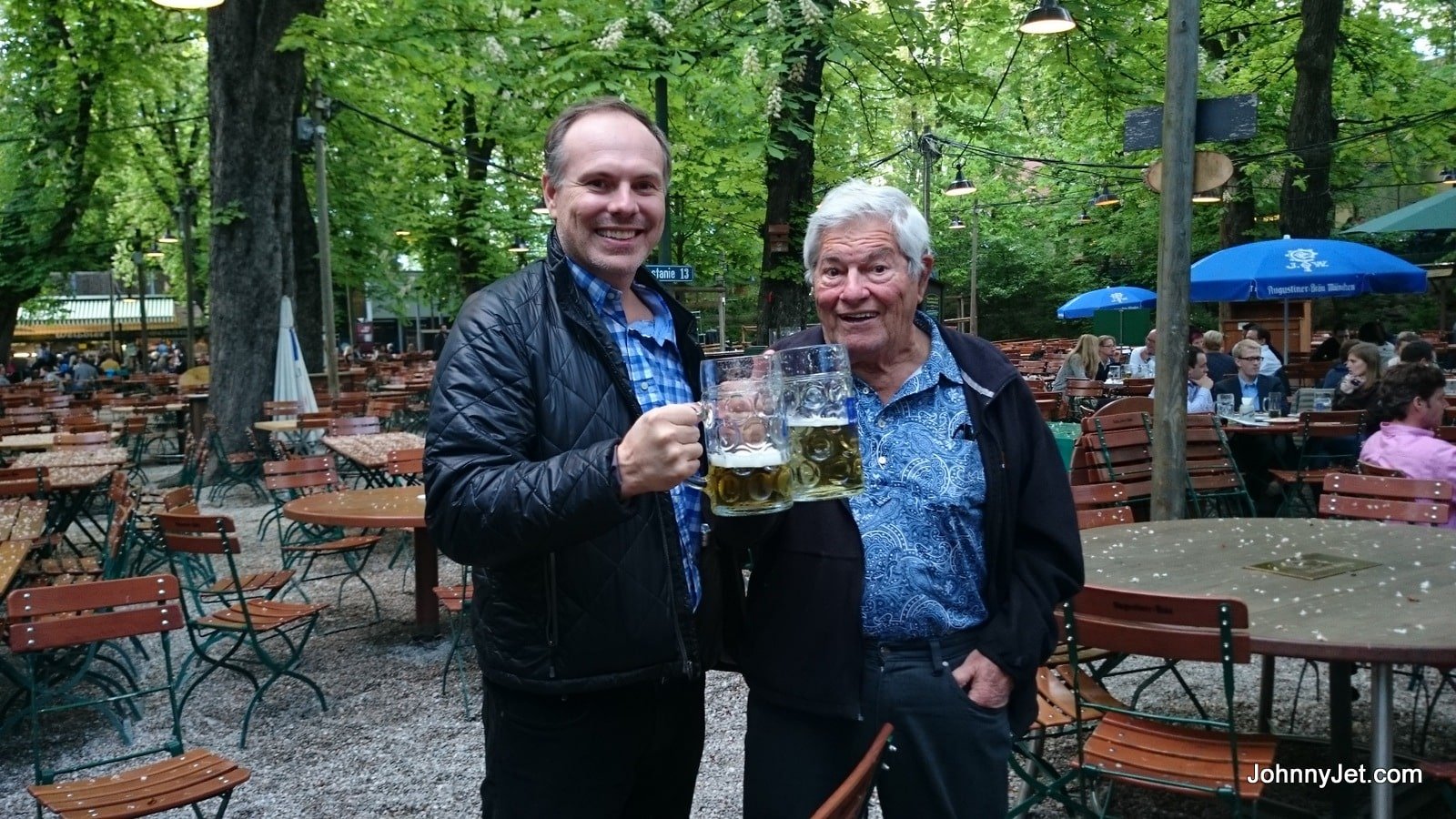 After my dad and I had an unforgettable river cruise aboard Uniworld, we had a few days before we needed to be in Lisbon to catch our Viking ocean cruise. I thought about taking him to see his aunts (yes, he has two aunts still alive in Italy), but they live on a small island off the coast of Naples so it's not easy to get to.
Instead, I decided we'd go to Munich, which was a two-hour train ride from Passau, Germany — our last stop on the Danube cruise.
It was the first time for both of us and we loved the city. Unfortunately, it was a last-minute decision and most of the hotels were sold out, as a huge trade conference was in town, as well as a tennis tournament.
Golden Leaf Parkhotel in Lehel
Luckily, with some help from PR friends who hosted us, we found the Golden Leaf Parkhotel in Lehel. It's a small German chain of hotels and this one was in one of Munich's residential neighborhoods. Rooms are small and basic but you can't be the price, which starts at 108 EUR ($120) and includes basic WiFi (the faster stuff costs 7 EUR). Breakfast is an additional 12 EUR ($14) but you better get there early because they ran out of eggs and pretzels both days we arrived at 8am.
Good to know: Golden Leaf Parkhotel is in a quiet neighborhood, walking distance to many museums, and the largest city park in the world. But the bathrooms don't have washcloths or bar soap (awkward) and the receptionists leave at 10:30pm so don't forget your room/building key.
Getting there from the airport by taxi costs around 55 to 60 EUR. Public transportation is 10 to 12 EUR per person. You need to take train S8 directly in the airport, change to U5 (metro) at Ostbahnhof in the direction of Laimer Platz to Lehel. At Lehel station, go up to Triftstrasse, cross Liebigstrasse, and bear left onto Unsoeldstrasse. The hotel is number 10.
Munich
My dad was tired from the cruise and I had a ton of work to do since internet on cruise ships is painfully slow. Besides, it was a Sunday and there's nothing open in Germany except churches and some restaurants. Munich has over 400 Catholic churches and the ones I popped my head into were jaw-dropping beautiful.
Liebighof im Lehel
We asked the friendly receptionist at the hotel where we should eat. He told us there was an Asian and an Italian restaurant close by or a German restaurant three blocks away. We obviously chose the latter and I memorized the directions. Liebighof im Lehel serves local Bavarian dishes and they have menus in English. I had chicken cordon bleu served in a pan with potatoes, onions, caraway seeds and marjoram (15.50 EUR) while my dad had the Bavarian style potato dish (14.90 EUR). For dessert, we shared the most insane apple fritters with a scoop of vanilla ice cream. Cash or German bank card only.
Munich
The following day, I needed to go into the city to try and get the screen fixed on my iPhone 6 Plus, after running it over on one of my bike tours. Unfortunately, I ruined it and it needed to be completely replaced but none of the three Apple stores in Munich carry U.S. phones and I didn't have 2-3 business days to wait. Instead, my dad and I strolled around the outdoor market and Munich's Old Town, Altstadt.
German Taxis
It's not easy flagging a taxi so you need to either go to a hotel or one of their designated taxi spots. Or have a restaurant or store call you a taxi. The drivers charge 60 Euro per bag unless they are 55 centimeters. There's no extra charge to use credit cards but they prefer cash like most places I found in Germany. There is Uber Black Car and Uber Pop, but I didn't use either.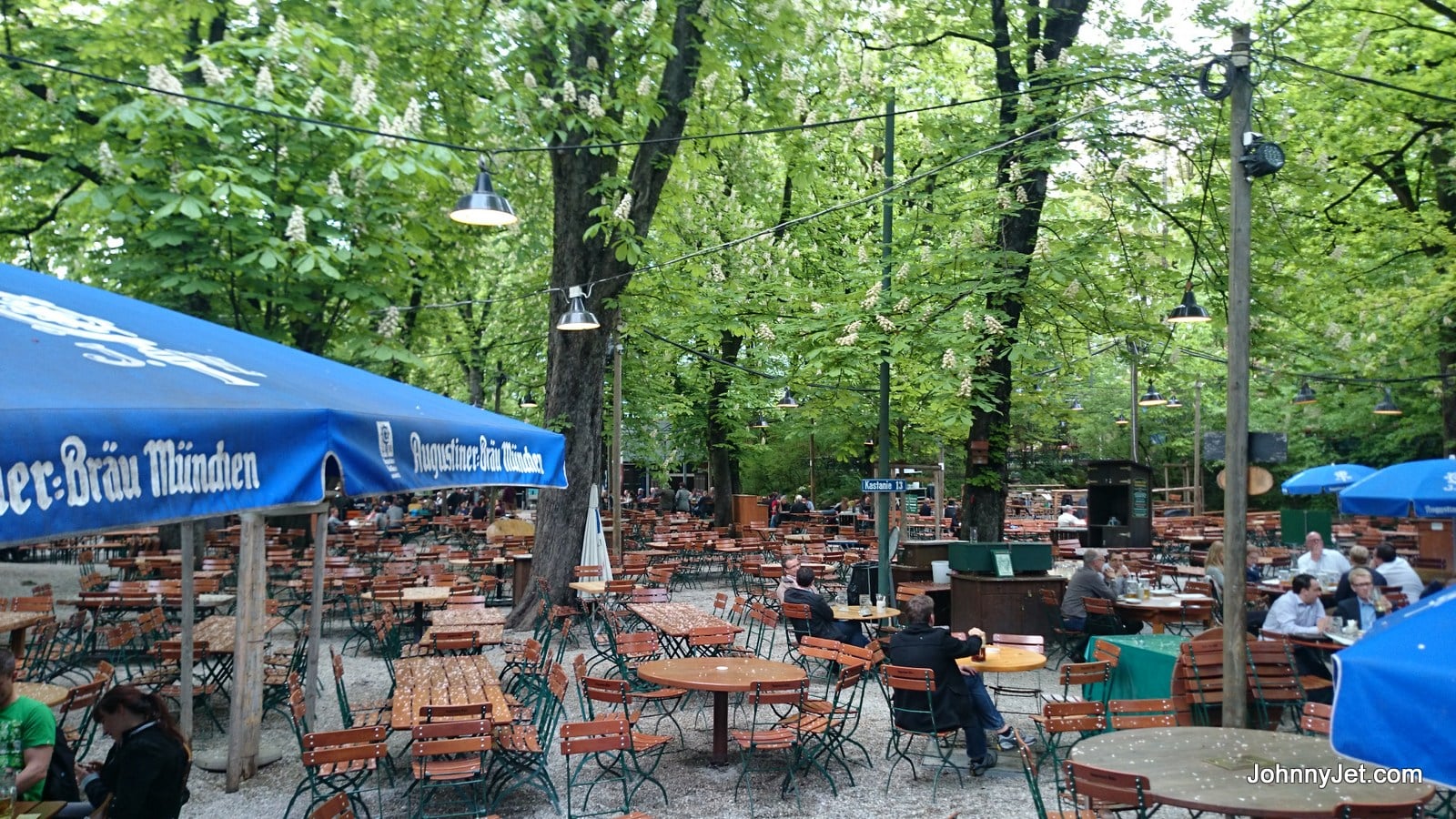 Augustiner-Keller
For dinner, we took a 10 EUR taxi over to Augustiner-Keller (Arnulfstr. 52; 80335 München) to meet some friends. It's one of the six Munich breweries that are allowed to provide beer to Munich Oktoberfest and has an incredible beer garden …. and serves those monster beers. In the summertime, many locals mix their beer with 7Up (they call it lemonade) so they don't get so drunk. After sitting outside, we went inside the historic building that has various spaces and rooms for dinner (outside serves food too, but it's more casual). They specialize in traditional Bavarian cuisine and I had the special white asparagus risotto (12.90 EUR) while my dad went the more traditional route and had the Wiener Schnitzel. Menus are in multiple languages and every table gets a basket full of pretzels.
Munich Airport
Speaking of beer gardens, the next day we were in the Munich Airport (MUC) and it's the only airport in the world to have a brewery with a beer garden; it's called Airbräu. So if you have a connection of three hours or more and it's a nice day, you should definitely go outside of customs/security and get a flavor of Germany. They serve Bavarian food, too. Unlike Terminal 1, Munich's Terminal 2 is modern, bright and quite pleasant to be in. They also have free coffee, tea and newspapers every two gates.
My dad and I then hopped on a flight to Lisbon. Read about it here.