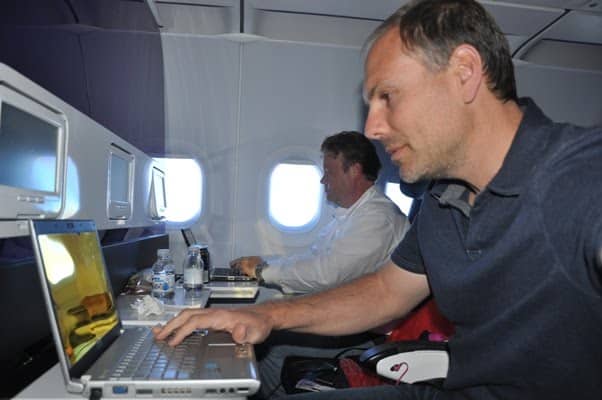 I was recently asked in an interview what 10 products I never leave home without. I decided to open up my carry-on bag to see what's actually in there and discovered there are really 20 products I just can't leave home without! Here they are. Let me know if you carry some of the same or what's on your must-have list.


1. iPhone 6 Plus
I think many of us would say that our smartphone is one of our top travel essentials. Since I made the switch to an iPhone 6 Plus recently, I've realized just how amazing it is. I love that it takes amazing photos but more importantly, that I can download any app I want. When I was using an android, I found that a lot of apps weren't available. But the best feature of all: When I'm flying, I can connect to the in-flight Wi-Fi and use iMessage to "text" with my wife, my family and my friends. That's a big plus in my books!
2. LifeProof protective phone case
I'm often presented with the opportunity to test new camera products, travel gadgets or various phone accessories. Unfortunately, many of them come up short when put to the test. The LifeProof protective phone case is a product I not only endorse but actually go out of my way to turn people onto. One of my writers recently spent a couple of days in the British Virgin Islands with the LifeProof team, and came to the conclusion that hands down, the must-have tech gadget of the summer is the LifeProof protective phone case. It's waterproof, dirt-proof, snow-proof, and shock-proof. During his time in the BVIs, Tim Gaylord put his case to the test against most of these elements—and it didn't fail. So whether it's for you or for your kids or a gift for someone else, I recommend looking into the product.
3. Aspire S7 Series Ultrabook
Although I love my iPhone, I'm not a Mac computer kind of guy. I love my Windows and my Aspire S7 Series Ultrabook. It's incredibly thin and light. It has a full HD display that is touchscreen. The keyboard auto-illuminates so I can type on a plane in a dark cabin without disturbing my seatmates. It doesn't make any loud fan noises, has decent battery life and has an SD card slot so I can quickly download my photos from my big Nikon camera.

4. Nikon D1700 with a zoom lens
Although my iPhone takes great photos, you can't get a shot like the one above while on safari in Africa. These days, I don't lug my big camera everywhere but I do take it out when there's something really special to capture or when I need a serious zoom lens.
5. GoPro
A GoPro is an expensive camera but it's totally worth it if you're an adventure traveler, are into any heavy duty action sports or do a lot of water activities. The GoPro can easily be mounted to a helmet, a bike, a surfboard (to name a few!) and will give you amazing video footage of your adventure. I particularly love that it takes up next to no room in your suitcase.
6. Scottevest
I'm a huge fan of Scottevest products because they've really helped to streamline the way I travel. I originally learned about the company when one of our writers got mugged in Barcelona. If she and her husband had only had their passports, money and other valuables in one of Scottevest's 20+ hidden jacket pockets, they would have only lost their luggage and (other) clothes that day. I recommend Scottevest jackets and vests for hiding your valuables and keeping them on your person—as well as for practical travel. The classic Scottevest jacket has so many hidden pockets that it basically serves as a piece of carry-on luggage. Brilliant! Check out the latest in the Scottevest line here.
7. Credit cards to get into the clubs
I carry a number of credit cards when I travel but the two that get me into the clubs are the Citi® / AAdvantage® Executive World Elite Mastercard® since it gets me into all the Admirals Club lounges and is great for American Airlines fliers. The Platinum Card® from American Express is another card with lounge access and plenty of other benefits.
8. Noise-cancelling earphones/Headphones/Earbuds
This is a simple one. These days, most airlines are offering either free or paid in-flight entertainment. To save a few dollars (usually $2-$5), bring your own earphones/headsets/earbuds so you aren't forced to buy the airline's cheap plastic pair. Looking for a good option? Check out these earbuds from Amazon.com. If you travel a lot, then you might want to splurge, like many business travelers do, for the Bose QuietComfort 20i Acoustic Noise Cancelling Headphones or Bose QuietComfort 15 Acoustic Noise Cancelling Headphones.
9. Lug Buddy
The simplest invention of them all, the Lug Buddy is essentially a bungee cord that makes toting a duffle bag on top of your roller a cinch. I don't check bags so this is perfect for cruising through airports without having to juggle or balance bags. With the $15 Lug Buddy I never have to let my duffle bag touch the wet and filthy men's room floor. The only bummer is they no longer sell the exact one. However, Amazon has one that's similar and cheaper.
10. Maui Jim sunglasses
I used to be a big fan of Ray Ban—but after a few bad experiences (broken lenses and bad customer service), I switched to Maui Jim. And I'm a huge fan! Their sunglasses look great and I love their patented polarized lens technology, which makes everything look amazing and minimizes the glare, while protecting your eyes from harmful UV rays. But what I love most and what really turned me into a fan is their customer service. If you have any problems with the glasses, just send them back and they'll take care of you in a timely and inexpensive fashion for a reasonable price.


11/12. Hat/Sunscreen/Lip balm
When I opened my mail in LA recently, I found the nicest present and note from an executive at Tilley Endurables named David. David told me that he was a longtime subscriber of my newsletter and was sorry to read that I'd had squamous cell carcinoma on my lower lip. The note continued to say that he thought I would like the included Tilley Hat (style LTM6) since it has UPF 50+ built into it, and that if it's good enough for the Mayo Clinic to sell as a form of sun protection then it should "cover" me as well. Thank you, David! I loved it and will be bringing it along on future travels (along with SPF 50 sunscreen and lip balm). I also carry a Wallaroo hat as well.
13. Travel Journal
The moment I take my seat, I open up my black leather Travel Journal and write down my destination, the date, the airline, the type of plane, seat number, the listed departure time, the actual departure time, flight time, and miles. I know it's kind of Rainman-esque of me, but I used to do it back when I was afraid to fly, to focus my mind on something else. And now it helps me with my story details. I also jot down what I did, where I ate, how much I spent, transportation modes, weather and so on. And on the last page, I put stamps of all the countries I visit. You can get it online at Graphic Image or Barney's New York ($55).
14. Mini Surge Protector
I bring Belkin's Mini Surge Protector whenever I travel overseas or go on a cruise since most of those rooms don't have multiple outlets and this way I don't have to bring a pocket of electrical adapters, just one universal (see next item). With Belkin's three-outlet surge protector and a built-in two-port USB charger it allows me to power up and/or charge my laptop, camera, cell phone… all at one time. It weighs under seven ounces and is about five inches long. Not only is this much smaller than the power strips you normally find in stores, but it doesn't come with a clumsy cord. It's available for $24.99 at Belkin.com.
15. International Electrical Adapter
With an international electrical adapter, you won't need to travel with a bag full of adaptors for every country. The International Electrical Adapter has four different electrical adapters built into the surge protector and it works almost everywhere. It's also small and lightweight. I bought mine at Radio Shack (now out of business) for around $24 but I see on Amazon.com they are going for under $4.
16. 3M Privacy Shield
I can't believe more business travelers don't use 3Ms Privacy Shields ($55) as they allow me to work on my laptop on planes, trains, and buses, and in airports and cafés, without having to worry about seatmates or passersby peeking over my shoulder to read my emails or see my bank statements.
17. External Hard Drive
I have a ton of external hard drives all around the country since most of my life is documented digitally. I always carry a lightweight one in my bag so I can download the photos and videos from my trip while I'm still away and keep it in a separate location, so if—God forbid—my computer gets stolen, I still have my pics, emails, and banking backed up. Seagate's 1TB costs $59.

18. Ear Plugs / Eye Mask
I never, ever leave home without ear plugs and an eye mask. I can't sleep on planes without either and sometimes they come in handy if my hotel room is loud or if it doesn't have blackout curtains. I don't like the cheap scratchy eye masks that the airlines tend to pass out; I'd recommend spending $10 or less to buy a fluffy Lewis N. Clark one that will make you look silly but feel fresh. They're available on Amazon.com and in most travel stores.

19. Antibacterial Wipes
I have a bag full of individual packets of antibacterial wipes ($3) that I get from Target, CVS or Amazon. They are the best way to prevent getting sick besides washing your hands often and keeping your fingers away from your face. It takes less than a minute to use antibacterial wipes to disinfect your airline seat, hotel room, rental car, etc. Just wipe down everything you're going to touch: seatbelt, tray table, remote controls, steering wheel, handles, light switches….
20. A Box of Chocolates
You should always be nice to everyone, but especially when you're flying. Trip after trip, I see how poorly many passengers treat gate agents and flight attendants, so I'm always extra nice. In fact, I almost always bring three boxes of chocolates – one for the gate agents, one for the flight attendants and one for me. When you hand the chocolates over, do it with a big smile, be genuine and don't look for anything in return. If there is a chance they can give you a better seat or service, they will. And if you don't know what to say, just tell them Johnny Jet recommended it! It will make someone's day and that is always a good thing! BTW: You don't have to spend a fortune on gourmet chocolates: I usually bring Hershey Kisses.
Let me know what's on your must-have list!