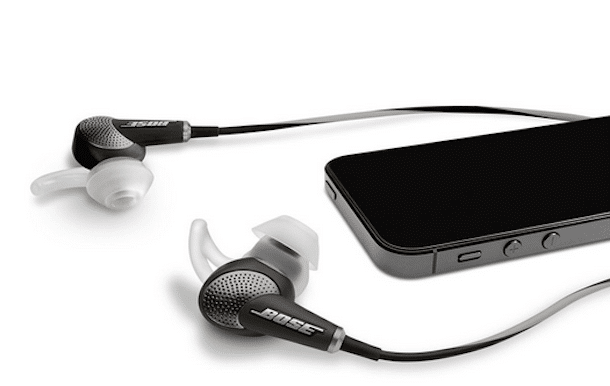 Here's another product that's definitely going to be included in my traveler's holiday gift guide: Bose QuietComfort 20i Acoustic Noise Cancelling Headphones.
Everyone always raves about Bose's Noise Cancelling Headphones, but I've never bought a pair myself because they take up too much space in my carry-on and I've found that after a while of wearing them, big headphones hurt my ears. Well, Bose just sent me (not to keep) their new QuietComfort 20i (QC20) Acoustic Noise Cancelling Headphones, and they are amazing!
They're the first in-ear noise cancelling headphones in the Bose line, and despite their small size, they really do block the outside world out with full-on noise reduction. They're perfect for drowning out the noise of a screaming baby on the plane or the annoying hum of the plane's engines. And besides their size, I love the fact that they come with a rechargeable battery and so are more environmentally friendly. The battery charges in just 2 hours using a USB cable and delivers up to 16 hours playing time per charge.
Bose QuietComfort 20i Acoustic Noise Cancelling Headphones are retailing on Amazon for $299.