One day, my wife came home from seeing some friends and said they were all raving about the Omni Hotel in Carlsbad because it's so family friendly. I'd never heard of it but I Googled it and learned that the Omni they were talking about is actually the Omni La Costa Resort & Spa.
The La Costa Resort & Spa is a hotel I'd heard about for years from my Uncle Joe who used to go often to play golf, tennis and of course, hit the spa. My uncle is very holistic and has been for decades, long before it was a fad. La Costa is billed as California's original destination for mind, body and sport and Omni purchased it in 2013.
I've only stayed in a couple of Omni Hotels that I can remember, including the one in Atlanta near the CNN offices and and multiple times at the Omni in San Diego, across the street from the Convention Center. I really enjoyed them both but they're mostly business hotels, not the kind of place you'd rave about to your friends.
A few days later, I received an email from a friend who used to work at Ritz-Carlton, letting me know that she was changing jobs and starting at Omni Resorts. It was almost like it was meant to be so I emailed her to see if she could set up a visit so we could check it out. A couple weeks later, we packed up the car and drove south. Full disclosure: Omni hosted our two-night stay.
La Costa is 98 miles from LAX so without traffic, it takes about 90 minutes. About halfway there, after the kids had fallen asleep, I started going through my mental notes as I always do. I had a nagging feeling that I'd forgotten something. I'm sure you know the feeling … you're on your way to the airport or you're on the plane and you just can't shake the feeling that you've forgotten to do or pack something. It's happened to me before but fortunately, it's never come to fruition. Until, all of a sudden …
I realized I'd forgotten … my LAPTOP! When you run your own digital content business, it's kind of a big deal to be without your laptop for a couple of days. After seeing bumper to bumper traffic heading north on the 405, I took a deep breath and accepted it as a sign to take a break and enjoy some time off with my kids. I haven't taken a day off since … well, I honestly couldn't tell you when. My honeymoon in 2012, I think.
Well, if you're going to take a couple days off, this is not a bad place to do it! Here are 12 reasons to stay at the Omni La Costa Resort & Spa: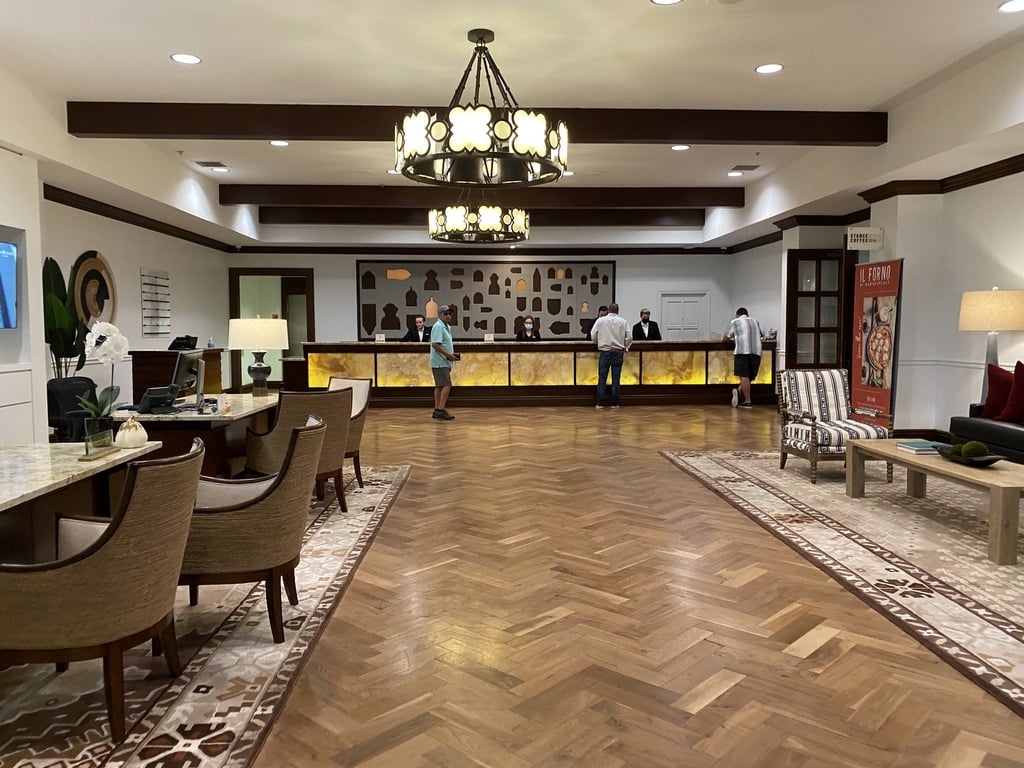 1. Service
When we rolled up on a Sunday afternoon, I was surprised how busy the valet was but they still managed to whisk us along quickly so there was no waiting. The bellman grabbed our bags and was super-friendly. I plopped the kids into our wagon and dropped them off with my wife near the entrance.
I entered the beautiful lobby, which has a California/Spanish feel. There were four receptionists to help the four guests checking in. I was next in line and I noticed that only half the staff were wearing masks so I asked about the mask policy. The team member said, "you're from Los Angeles, huh?" I confirmed I was. She said, "Well, in San Diego County, masks are optional as long as you're fully vaccinated." It took some getting used to but it's nice not having to run back to your room or car to get a mask when you forget one.
The reason why I highlight the hotel's service is for two main reasons:
a) Every time I called the front desk from our room, they answered the phone. You might think that's not a big deal but it is. Anytime I've called the front desk from any hotel I've stayed at in the past year, it almost always goes to voicemail. It's mostly because of labor shortages but still not a great customer experience.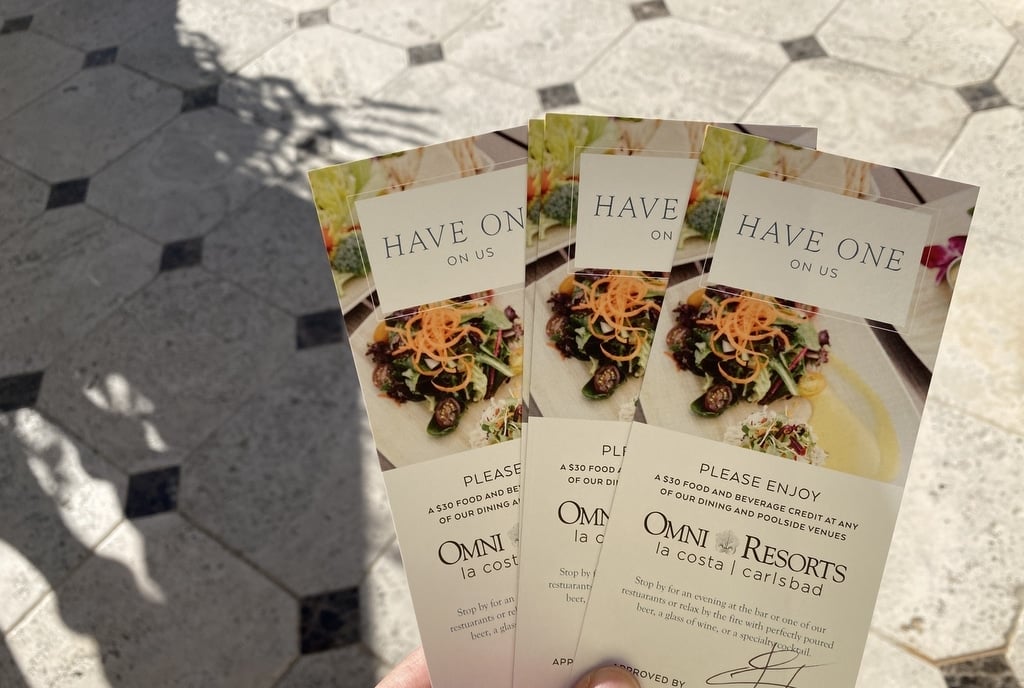 b) Our room wasn't ready when we arrived around 3:30pm. The front desk took my phone number and told me they would text me when it was ready, which would be by 4pm (the official check-in time). When 4pm rolled around and still no call or text, I went back in to make sure they hadn't written down the wrong number. They hadn't. They apologized for the inconvenience and the manager came out and handed me four $30 dining credits. There was one for each of us, which really helped offset our dining costs.
Twenty minutes later, the room was ready so I take that as a big win.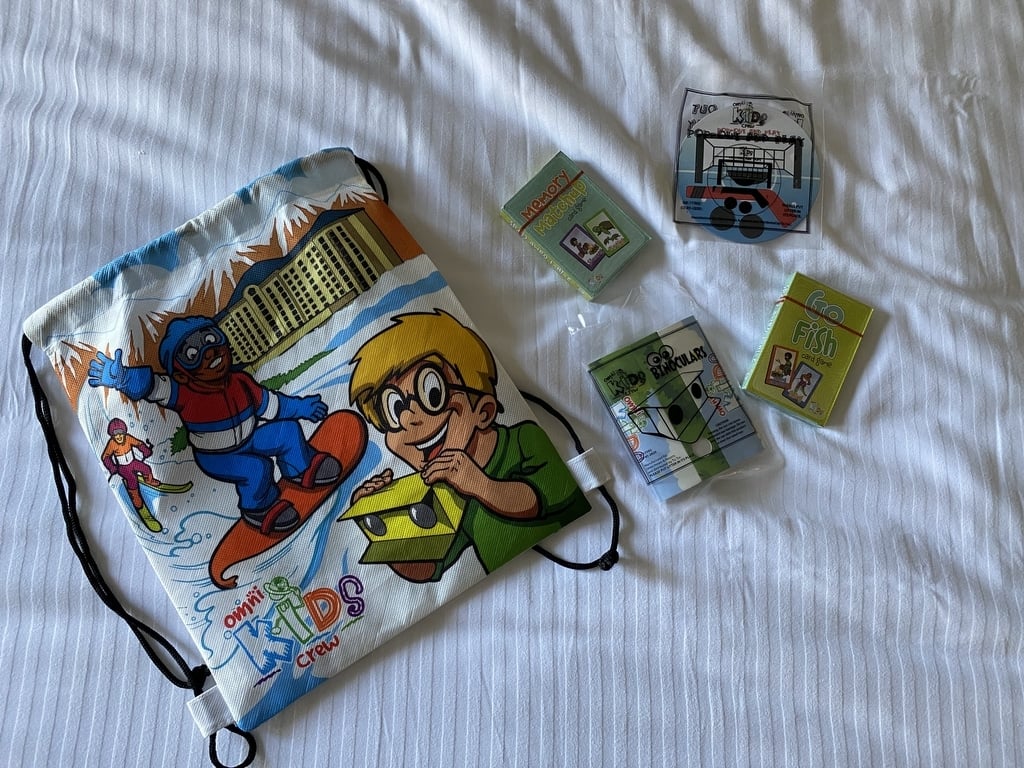 c) They gave me two kids bags when they found out how old my children were. And it wasn't like I was getting special treatment. I saw them do the same for another family.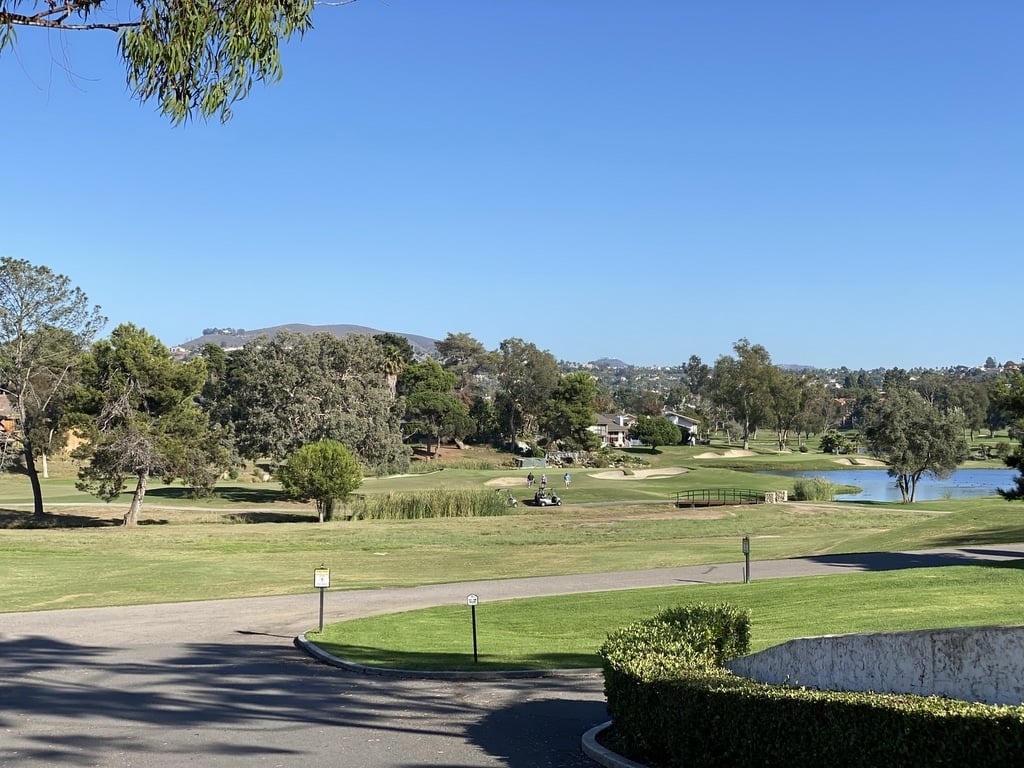 2. Golf, Tennis and Spa
The resort is famous for golf, tennis and their spa and if I'd actually done any of them, I wouldn't have combined them in one reason since they each deserve their own. However, I didn't play tennis on any of their 17 courts or golf on their two championship courses since my wife doesn't play and I don't like playing alone or with strangers during COVID. But I did see tons of happy golfers who looked like they'd just finished a round after a conference. It was nice to see business travelers again.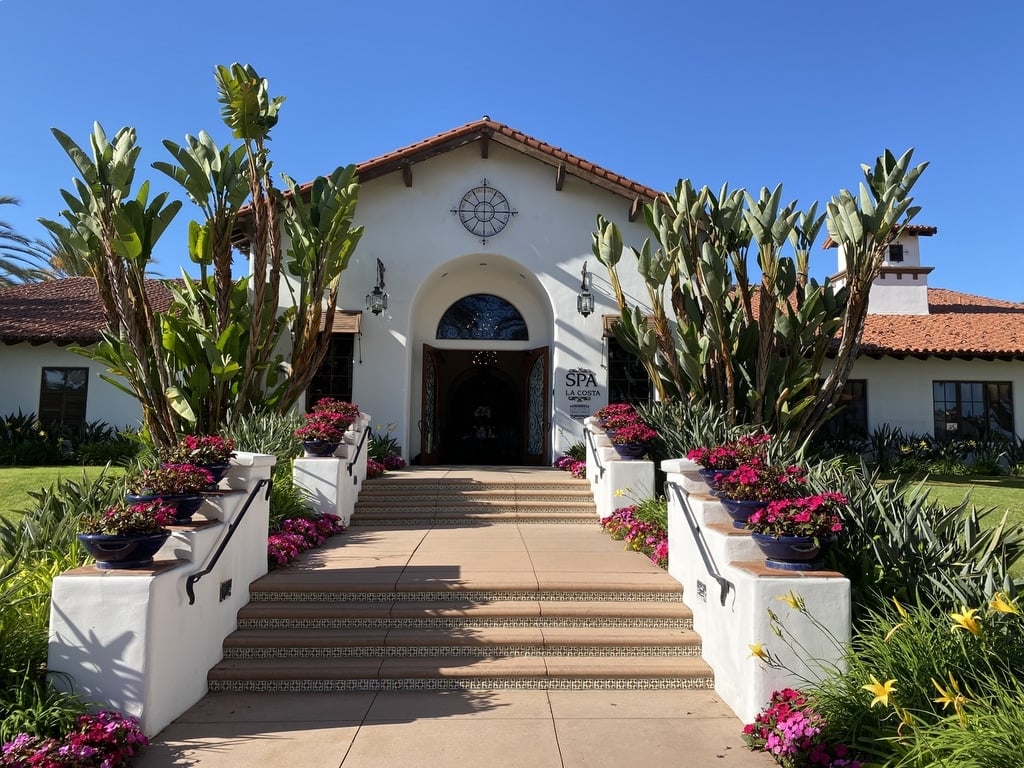 The spa looked gorgeous from the outside but I didn't get a treatment because I'm still not comfortable getting a massage indoors during COVID.
3. Pools
The hotel has eight pools and is one of the main reasons families love this place. One pool has two 100-foot waterslides where children must be 48" or taller to ride. Jack didn't make the cut there; he did on the toddler slide but my sweet daughter didn't. She was just a couple inches shy of the 36" mark.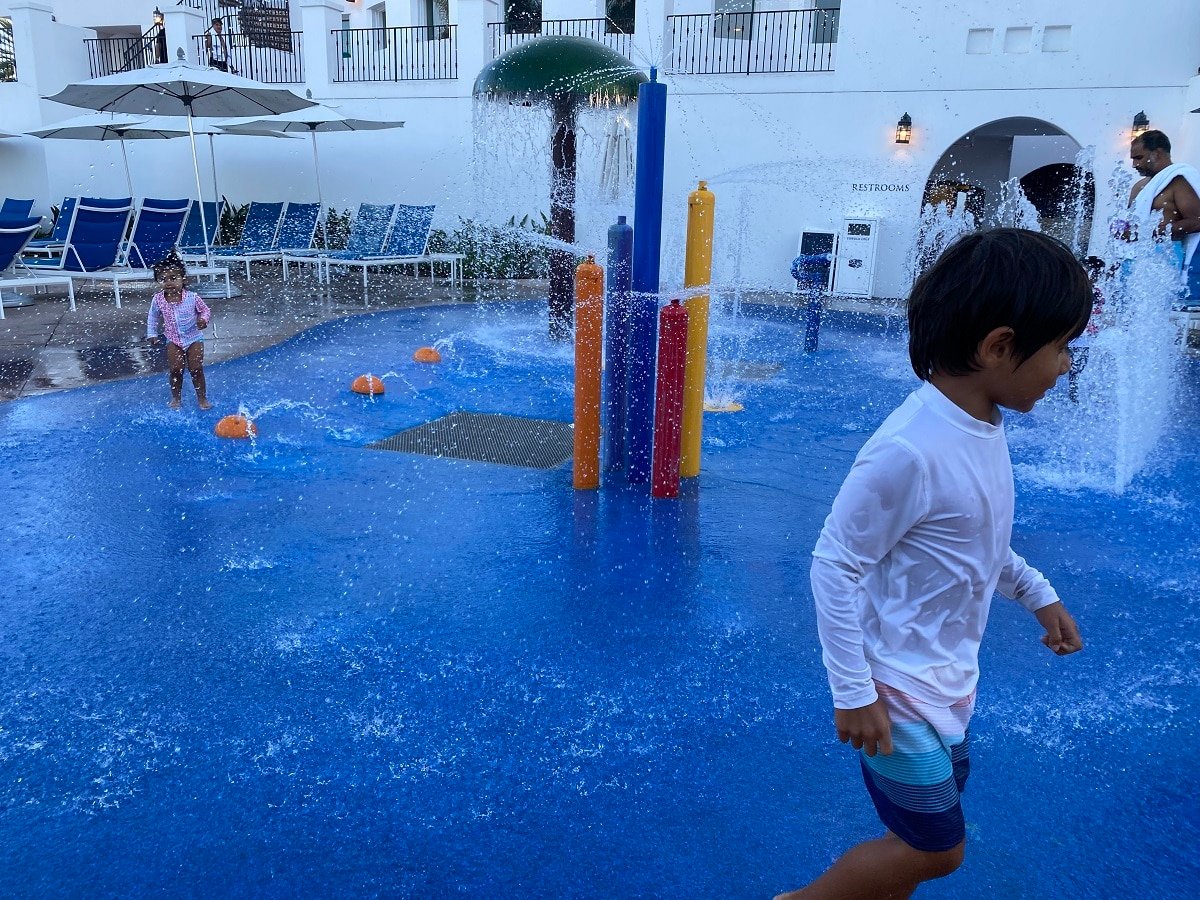 She was devastated until she saw the fountains in the splash pad. It wasn't all that bad because the weather turned chilly so we didn't end up spending much time by the pool.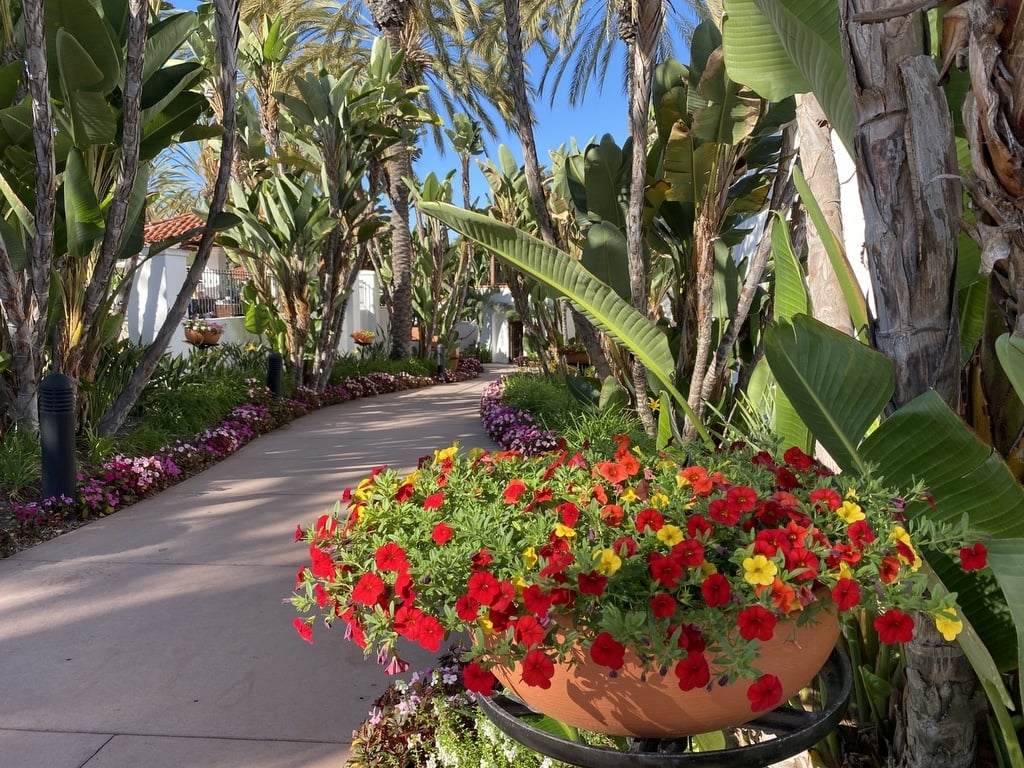 4. Landscaping
Driving up the long driveway of the rolling 400-acre property, you can't help but be in awe of the landscaping. It's what really sets this property apart from other hotels. They must spend a small fortune on the landscaping all over the property but wow – what an impact!
Just walking around day or night, it's surreal. I commented to my wife more than once that we're so lucky to live in California.
5. Restaurants
The hotel has multiple dining options available. The first night, we had takeout from Bar Trazzo because the kids were cold but it does have a beautiful outdoor patio with a firepit overlooking the golf course.  The second night we planned to eat at Bob's Steakhouse and had chosen our meals in advance, only to discover it's closed on Mondays.
6. Solid pizza
The second night, we ended up getting a pizza and some pasta from the on-site marketplace, which was surprisingly delicious. I was not expecting a solid New York-style pizza at the resort.
7. The Rooms
Our room was spacious, cozy and comfortable. The shower was great with strong water pressure and there was a separate closet and vanity area, which was convenient.
The deep soaking tub was a big hit with the kids and we couldn't get them out!
8. Windows that have screens
I love a hotel that has windows you can open and what I love even more is when the windows have screens. Seems like a simple thing but most hotels don't have either. This is especially important during a pandemic. It was nice to throw open the windows and enjoy some fresh air in the room.
9. On resort boutique shopping
The Omni La Costa has shopping right on site so technically, you really don't need to leave the resort. From shopping and restaurants to golf, tennis, a spa and pools, you really do have everything you need here. There's a Lilly Pulitzer and a spa boutique, a marketplace, which I mentioned above and a golf and tennis shop.
10. Kids club
Our kids didn't go to the kids club but I know parents love to have a place they can drop their kids off with qualified supervision while they go out.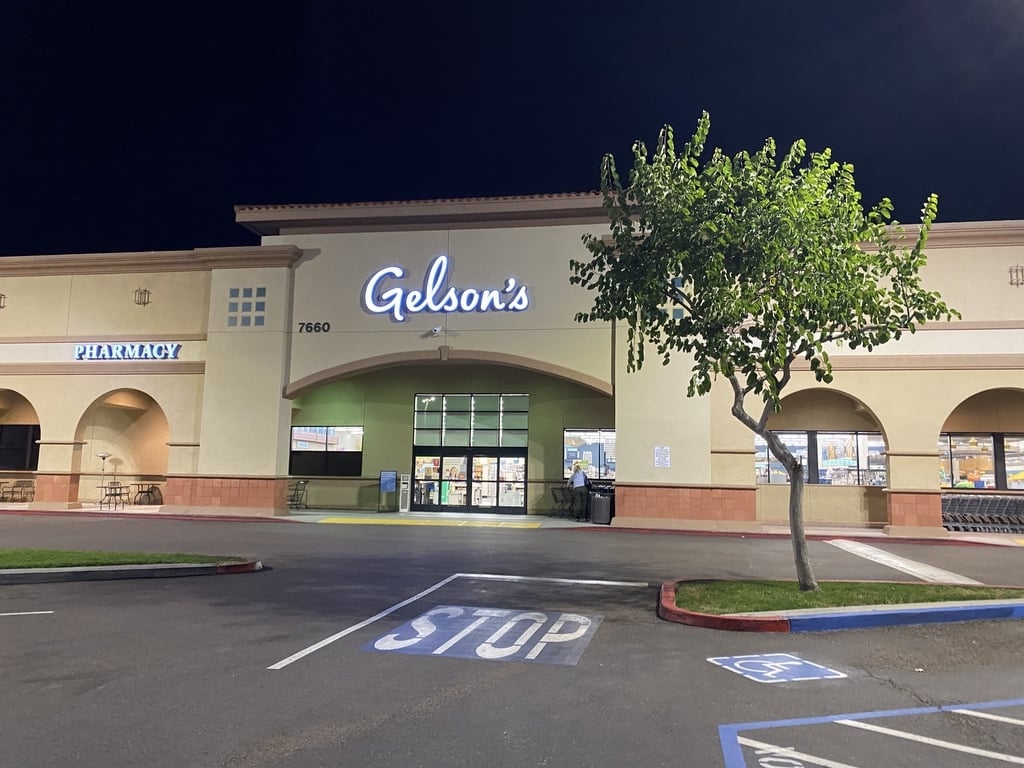 11. Grocery store nearby
Four tenths of a mile away is an upscale major grocery store chain called Gelson's. It's similar to Whole Foods. It's nice to have a place so close to be able to get milk and snacks for the kids, especially since each room has a mini fridge.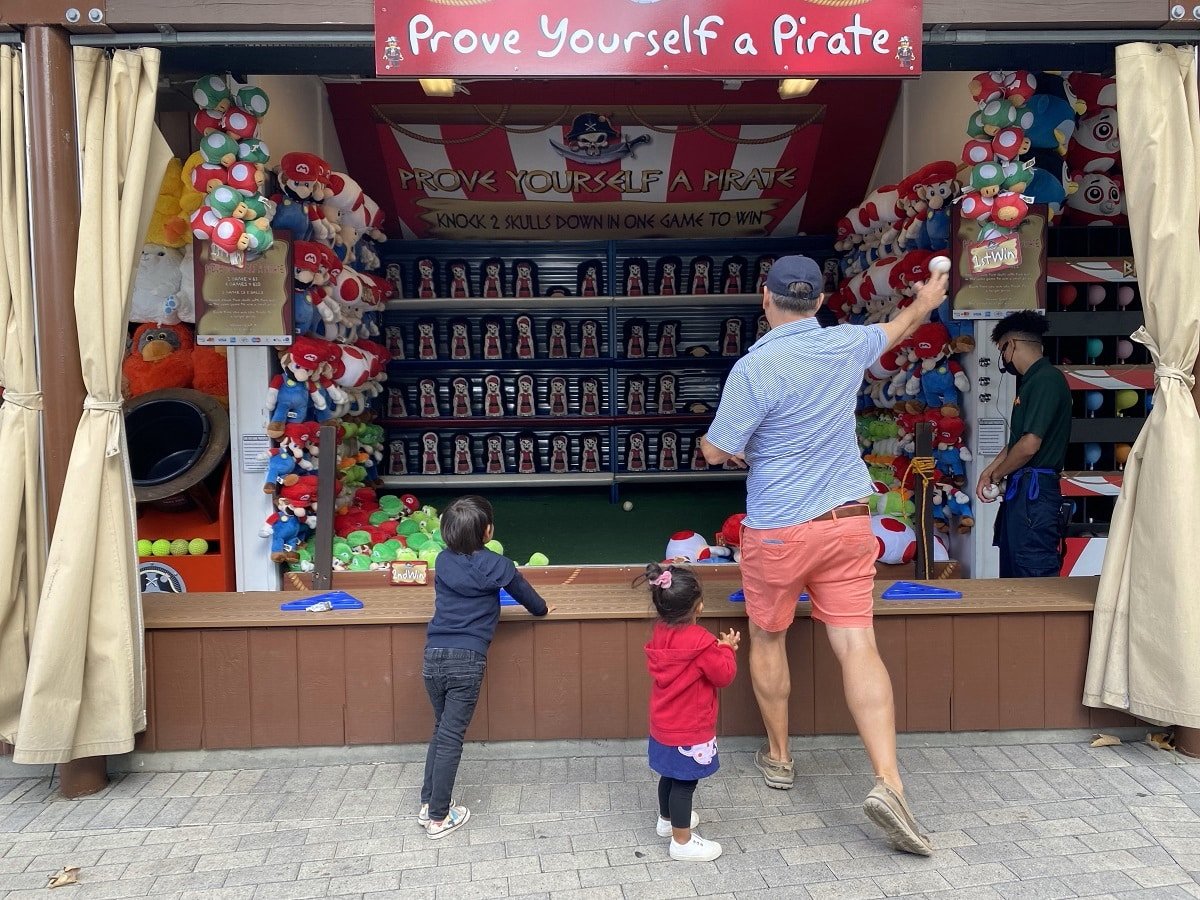 12. Proximity to Legoland
Without a doubt, another reason the Omni La Costa is so popular with families is because it's just 3.6 miles away from Legoland. It was our second time going to Legoland in five months and the kids just love it.
As you can see, the Omni La Costa Resort & Spa is a special place. My uncle made it a family tradition decades ago and hopefully I can carry it on as well. Rates begin at $459 a night.