Christmas can be magical whether you are at home or not and many people are starting to think about where they should spend Christmas this year. Whether you are looking to escape the cold weather this Christmas and get tropical or have a more traditional experience with snow and cold weather, or looking for a quaint town with big Christmas spirit, we have some inspiration for you.
1. North Pole, AK
If you don't believe in Santa, after a visit to North Pole, Alaska, you might just change your mind. While the town keeps Christmas going year round (even in 80-degree weather in July!), Christmas comes alive in December with the annual North Pole Christmas Ice Contest, which attracts ice sculptors from around the world. The Winter Festival entertains with activities and fireworks. It's great for those traveling by and RV. It's a 15-minute drive south of Fairbanks and nearby Chena Lake Recreation Area has 80 campsites along with a swimming beach, paved bike trails and canoe rentals. Chena Lake can be fished for arctic char, grayling and rainbow trout. Within North Pole there are two full-service campgrounds as well as tent sites located in North Pole Park.
2. Mount Washington Valley, NH
For skiers and families who enjoy scenic beauty, Mount Washington Valley is made up of 27 towns and villages that surround Mount Washington, the tallest peak in the northeast. At the center of the Valley is North Conway, NH, a top ski town in the U.S. It's home to 13 ski resorts and XC Centers, so for those who love to hit the trails, this is a great spot to do so in the northeast. Non-skiers will also find fun with two mountain coasters (a roller coaster downhill!), zip lines and canopy tours, three tubing parks, snowshoeing and more.
3. Alexandria, VA
The historic waterfront town of Alexandria, just minutes from our nation's capital, lights up with old fashioned traditions. Stroll historic King Street and feel like you are in a real-life Dickens village, with European flair, cozy cafes and restaurants to warm up in. Attend Campagna Center's 46th Annual Scottish Christmas Walk Weekend, featuring a parade with dozens of Scottish clans dressed in colorful tartans, the 17th Annual Holiday Boat Parade of Lights on the Potomac River, and the 22nd annual First Night Alexandria, a spectacular New Year's celebration with over 150 performances and a fireworks finale. There's even a Waterskiing Santa on Christmas Eve.
4. New York, NY
There's a reason people love New York over the holidays—it's truly a magical place to be at this time. And it's a place to experience over the holidays once in your lifetime. From the tree and ice skating at Rockefeller Plaza to the Rockettes' Radio City Christmas Spectacular show, the New York City Ballet's The Nutcracker and Broadway shows, endless holiday shops and cheerful department store windows, New York is the quintessential holiday experience. Check around: many hotels around the area have great holiday packages that include tickets to some of these iconic holiday festivities.
5. Grand Canyon, AZ
Spend Christmas at the Grand Canyon! Melanie Tucker of Rare Finds Travel suggests you enjoy family memories in a cabin perched near the canyon rim, hike down into the colorful canyon and then day trip to The Wave. Start the holiday in Las Vegas where you can catch a Cirque show and do yoga with the dolphins. And end at the historic El Tovar Lodge – the first of the grand national park lodges from the early 1900s – with a festive celebratory dinner.
6. Kauai, HI
To truly escape the cold, how better than to plan your Hawaiian vacation over Christmas! Beyond being one of the most gorgeous Hawaiian islands filled with secret beaches to explore and resorts to soak up the sun, Kauai has much going on for the holiday. The Christmas season is kicked off by a month-long event centered on recycling. Festival of Lights celebrates its 20th anniversary this year. Everything on display is made from recycled materials. What started as one woman's hobby of Christmas eco-crafting 50 years ago has grown into a production so complex that it requires thousands of volunteer hours. Fully decorated trees are covered with eco-ornaments created from aluminum cans, plastic containers, water bottles and more.
7. Cocoa Beach, FL
Cocoa Beach, Florida's Space Coast is a favorite among families, adventure seekers and beach bums alike. Located just east of Orlando, the Space Coast has 72 miles of beaches, golf courses, the East Coast Surfing Capital (Cocoa Beach), the world's largest community-built zoo, rocket launches and more. Check out the annual charity Surfing Santa event with more than 300 Santas catching waves and entertaining 4,000 spectators who come to kick off the Christmas holiday on the coast.
8. Gettysburg, PA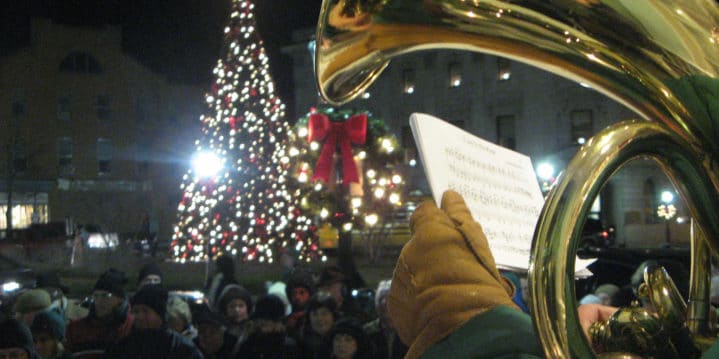 Gettysburg isn't just a Civil War town. It's a charming and culturally rich community that blends the town's rich history with the spirit of the holiday season. See the town Christmas tree, Santa's Shanty on Lincoln Square and the annual Christmas Parade. Get tickets for A Christmas Carol being produced by the Totem Pole Playhouse at the Majestic Theater. Experience holiday house tours of Civil War-era homes including President Eisenhower's home, unique shopping, downtown art galleries and holiday events that allow visitors to escape the stress of the holidays.
9. Solvang, CA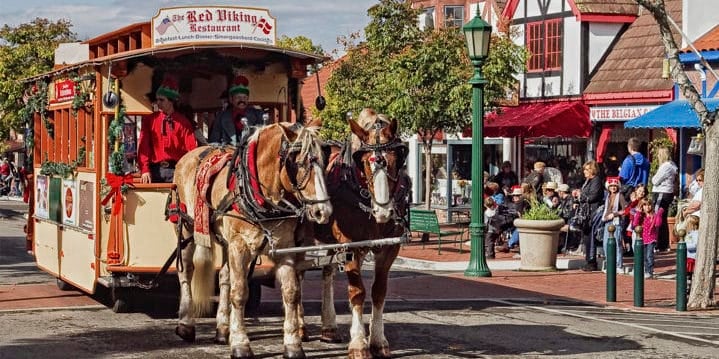 Solvang celebrates Julefest (Christmas Festival in Danish) with unique events you won't find anywhere else in the USA such as an outdoor nativity pageant with live animals, choir, opera singers in a 700-seat amphitheater, a holiday wine and beer walk, free visits with Santa and a tree burn (over 500 Christmas trees) in the field of a historic mission. Solvang, which is two hours from LA, has more than 150 one-of-a-kind boutiques and specialty shops offer everything from clogs and Danish porcelain to iron art, jewelry, elegant antiques and more.
10. Paso Robles, CA
Located in between Los Angeles and San Francisco and about 30 minutes from the beach is Paso Robles. From wine tasting at their more than 250 wineries, art galleries, specialty farms and horseback riding to a charming downtown with some fun Christmastime celebrations, the whole family can enjoy this off-the-beaten path central California coast spot. Check out Vine Street's annual Victorian showcase of homes decorated brightly for Christmas. The community closes the streets for Ebenezer Scrooge, the Snow Queen, Mr. & Mrs. Clause and there's community caroling, illuminated floats, entertainers, open houses, live music, cotton candy, cookies, hot chocolate and more!
11. Colorado Springs, CO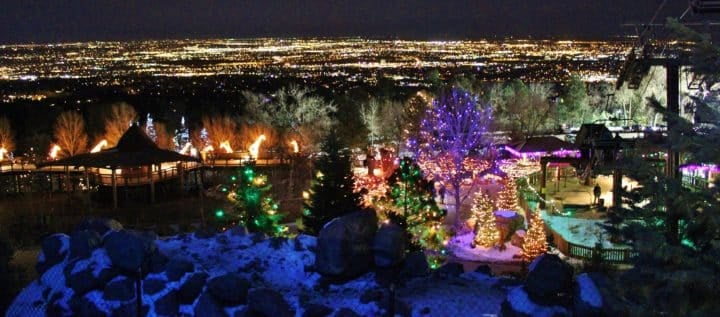 From snow-covered Pikes Peak, thousands of twinkling lights at America's only mountain zoo, Santa Express trains and a Madrigal Dinner inside a Colorado castle, there's unique holiday cheer in Colorado Springs to get you in the spirit! Stay at a unique property like The Broadmoor and Cheyenne Mountain Resort. This Rocky Mountain city is also home to North American Aerospace Defense Command's (NORAD) Track Santa program across the globe. Every year on Christmas Eve, "NORAD Tracks Santa" tracks Santa Claus as he leaves the North Pole and delivers presents to children around the world!
12. San Diego, CA
There may not be snow on the ground, but during the Christmas season, San Diego is a unique place to be with those you love (the average temperatures in winter are about 66 degrees). From ice skating by the sea at the landmark Hotel del Coronado and watching Santa surf to rousing holiday bowls and the largest balloon parade in the nation, Christmas in San Diego brings the family together with fun experiences.
Save