Edinburgh is the heart and soul of Scotland, and has been for over 1,000 years. Once the capital, Edinburgh has witnessed the rise and fall of monarchs, survived the plague, endured battles, political and religious reformations, and defended against sieges with a history dating back to prehistoric times (900 BC to be exact).
Visitors from all over the world flock to Edinburgh to experience its culture, taste its fine whiskies, and witness its natural and architectural beauty. Unlike London, Berlin or even Paris, it's one of the few major cities that wasn't bombed during World War II, leaving many ancient buildings intact for travelers to enjoy today.
Edinburgh Castle
The city's crown jewel and a UNESCO World Heritage site is Edinburgh Castle. The castle receives millions of visitors per year and for good reason: it's one of the largest, extravagant and oldest fortified structures in all of Europe. Perched on the top of volcanic rock, Edinburgh Castle can be seen from miles and has a 360-degree view overlooking the surrounding town and beyond, providing an excellent vantage point and defensive position. This natural stronghold has been occupied for thousands of years, with new additions built around it to adapt to new military threats and provide a lavish residence for Scottish royalty and its guests.
The Royal Mile
Stretching from Edinburgh Castle to the Palace of Holyroodhouse (the official residency of the Queen of Scotland) is The Royal Mile. Today, The Royal Mile is comprised of shops, restaurants, pubs and other tourist attractions. Stop in one of the pubs for lunch, a pint or a sample of local whisky. Deacon Brodie's is a popular place and a great example of Scottish pub culture. Scotland is famous for its wool textiles and there are numerous shops offering scarves, sweaters and other knits. If you're looking for an authentic kilt, The Royal Mile is the place to pick one up. For fans of Game of Thrones, you can also purchase an authentic Abbeyhorn, a cup made from a cow or reindeer's horn using ancient traditional methods, as featured on the show.
Historic Alleyways
Walking along The Royal Mile, you'll notice alleyways every few feet; these are known as "closes". Some closes lead to courtyards and apartments, some to restaurants or hotels, and others to nowhere at all. In medieval times these were where the working class lived, and some used to go for miles leading to an underground world. They were named after prominent tenants or members of society that inhabited them, like Dunbar's Close, Jollie's Close or Dickson's Close, each having unique history and legendary tales. For example, during the plague there's an urban myth that some closes were sealed off with their inhabitants still inside to prevent the disease from spreading.
To get an idea of what it was like to live in a close during the 17th century, visit The Real Mary King's Close for a guided tour. Named after a prominent businesswoman during the 1630s, the close is shrouded in mystery with stories of murder, ghosts and a once prominent street market from 400 years ago.
Have a Scotch
What's a visit to the cultural hub of Scotland without tasting their official national liquor? The Scotch Whisky Experience is steps away from Edinburgh Castle and offers three floors of tastings, tours and the largest selection of Scotch Whiskey you'll ever see. Learn about the different regions from the Highlands to Islay and their unique characteristics from smoky and peaty to caramel.
The Birthplace of Golf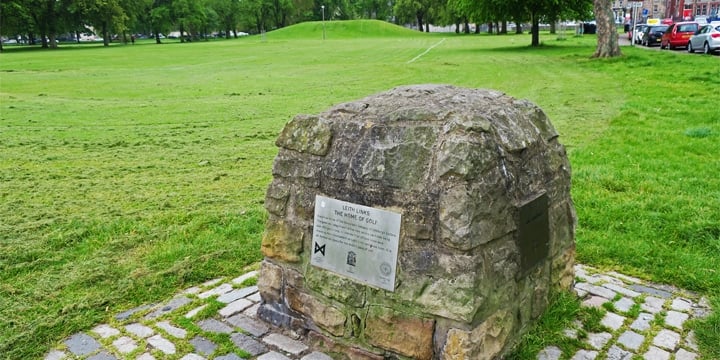 St. Andrews is famously known as the 'Home of Golf,' but the first official tournament was played on a five-hole course in Edinburgh called Leith Links in 1744. It was here the first rules were drawn up and are still the basis for today's modern game. Today Leith Links is a city park, but there's a small monument and plaque commemorating the birthplace of one of the world's oldest sports.
Equally impressive is the oldest golf course in the world, also not located in St. Andrews but nearby in the town of Musselburgh. Musselburgh Links is now in the middle of a horse track and holder of the Guinness Book of World Records for oldest golf course in the world, dating back to 1672. According to local lore, Mary Queen of Scots also played here as early as 1567. Musselburgh Links is the original home of the Open Championship dating back to 1860 as well, at that time called the 'General Open Competition.' It continued to be played here until 1872, when the Old Course at St. Andrews opened and joined the rotation as a venue for the Open Championship.
Calton Hill
Located on Scotland's east coast, Edinburgh's air is fresh, the wind is brisk and the surrounding landscape is full of green hills and vibrant wildflowers. Nowhere is this more apparent than Calton Hill, a half-mile east of Edinburgh Castle and The Royal Mile.
The history of Calton Hill dates back to the Bronze Age some 4,000 years ago, and was used to host medieval festivals and tournaments in the 1400s. In 1724, the Town Council of Edinburgh purchased the land and made Calton Hill one of Britain's first public parks. During the period of Scottish Enlightenment between the 1760s and 1820s, a number of monuments were built on Calton Hill to display advances in art, science and literature. These include the Nelson Monument, completed in 1816 to commemorate a Navy Admiral who died in battle in 1805, an Acropolis similar to and inspired by Greece's Parthenon, and the Dugald Stewart Monument which is featured in many iconic photos.
Arthur's Seat
A quarter-mile from Calton Hill and the peak of Holyrood Park, Arthur's Seat is a popular place for locals and tourists alike. There are roads to the top for easy access, but it's best to experience on foot along one of the hiking trails to really appreciate the city views. The trails are mostly dirt and can be steep in some places, so dress accordingly.
Sitting 400 feet above sea level, Arthur's Seat is one of the four ancient forts of Edinburgh dating back 2,000 years and is home to St. Anthony's Chapel, built in the 15th century. From the peak you can enjoy the best views of Edinburgh and beyond to the ocean.
Leith
A former warehouse district, naval harbor and fishing port, Leith has a unique history of its own and was its own burgh (or city) until it became part of Edinburgh proper in 1920. Today, it's still a fishing port but also home to trendy restaurants, bars and hotels.
One of the main attractions of Leith is the resting place of England's floating palace and royal yacht, Britannia. Decommissioned as the Queen of England's royal residence after 44 years of service and traveling one million miles, Brittania is open daily to visitors. Take a self-guided audio tour throughout its many decks to get a rare look inside how the royal family lived, worked and entertained. Learn about daily life on the ship for the royal family, and equally as fascinating, about the crew and security personnel on board who served them. You can also read stories about the many foreign dignitaries, pop culture icons, sports stars and members of British royalty who spent time on Britannia throughout the years.
The Kitchin
Leith is home to many fantastic seafood restaurants from Michelin-rated to local hangouts. Perhaps the finest restaurant in Leith (and to some, all of Scotland) is The Kitchin. Award-winning chef, Tom Kitchin, who is locally heralded as Scotland's best, has a simple philosophy of providing locally sourced ingredients from nature to table. The result is the finest dining experience one can ask for, accompanied by an extensive local whisky and wine list. They even provide a map of where every ingredient on the menu is sourced, all from Scotland.
If you're looking for something more modestly priced, head to Fishers located at the base of a tower built 300 years ago. Serving fresh mussels, hake, sardines and other local delicacies, The Shore offers a similar menu. For hotels in Leith, Malmaison is a good choice.
Edinburgh Fringe Festival
Every August, the city hosts a month-long celebration and the largest arts festival in the world: the Edinburgh Fringe Festival. An amphitheater holding thousands is built in front of Edinburgh Castle to host a variety of acts, many of which are free to attend. Across the city, performing arts shows are held in parks, venues, bars and just about anywhere else a crowd can gather. From big names in the world of entertainment to unknown artists looking to build their careers, the festival caters to all tastes and includes theatre, comedy, dance, circus, cabaret, children's shows, musicals, opera, music, spoken word, exhibitions and special events. In 2015 there were 50,459 performances from 3,314 shows in 313 venues, making it the largest ever arts festival in the world.
The Fringe story began in 1947, when eight theatre groups showed up uninvited to perform at the Edinburgh International Festival, an initiative created to celebrate and enrich European cultural life following World War II. Not being part of the official program didn't stop the performers; they went ahead and staged their shows on the 'fringe of the festival' anyway, coining the phrase and name 'Edinburgh Fringe Festival.' Each year more performers followed their lead, and in 1958 the Festival Fringe Society was created in response to the success of this growing trend.