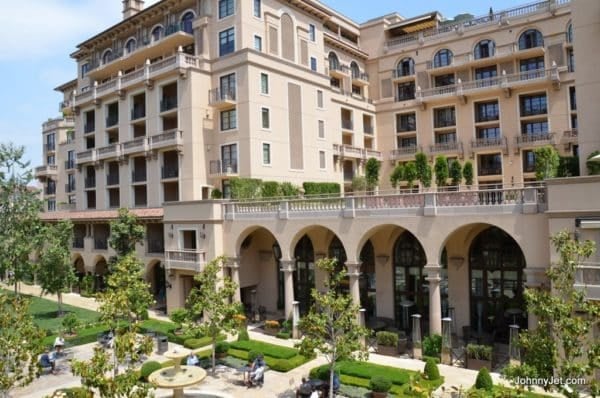 My wife Natalie was in LA this past week and since she was on assignment for Style at Home and for her blog OhTravelissima.com, I got to tag along with her while she lived the good life at the Montage Beverly Hills. The hotel was so incredible and if you haven't been, you should consider checking it out. Here are 10 reasons to stay at the Montage Beverly Hills.
1. It's an oasis in the city
The Montage Beverly Hills is located in the middle of Beverly Hills. You don't realize what an oasis it is until you go to the top floor of the hotel and look out and see all the ugly rooftops surrounding the Montage's beautiful buildings, which have Mediterranean tiled roofs and a small city park in between. It really is a beautiful oasis in the city.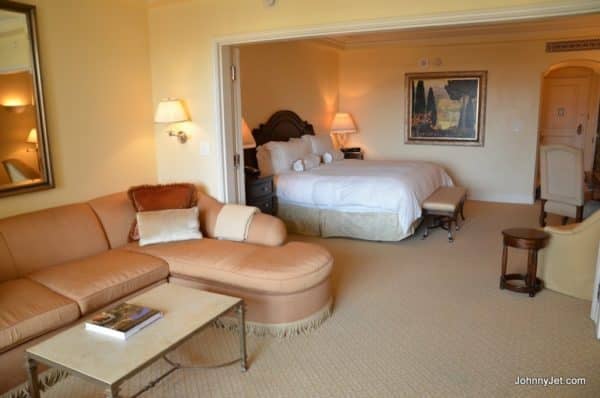 2. The rooms
The Montage Beverly Hills has 201 guestrooms that are above average in size with a decor that reflects both the1920s Hollywood era and modern day luxury. All the rooms feature a 42-inch (or larger) LCD television and there's a technology panel so you can easily hook up your computer to it. There's also free basic WiFi (fine for checking email and surfing the net) but it costs $19.95 extra to upgrade to premium, which is key for downloading or watching movies, using Skype, etc. What I didn't like was that I could hear noise out in the hallway. And the blinking lights from the smoke detector disturbed my sleep at night but I remedied the problem by hanging my Yankees cap over it.
3. Cool electric curtains
I love when, with the press of the button, I can electronically open and close the curtains including the sheer drapes, which allow light in but still provide privacy.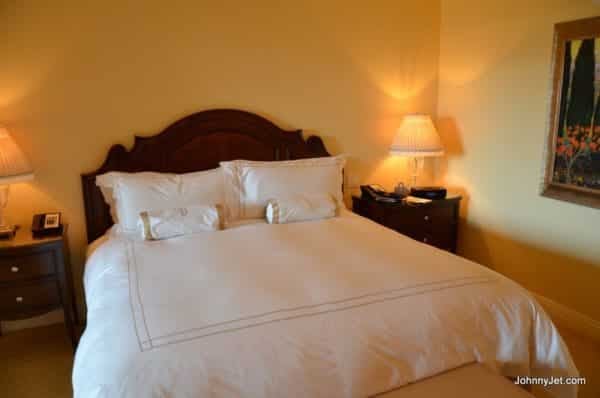 4. Soft sheets
Although I didn't find our bed very comfortable – the padding was too lumpy in the middle – the 500-thread count Egyptian Fili D'Oro sateen sheets were dreamy. The first night I didn't sleep well because our duvet was way too heavy. So the second night, I called housekeeping andasked if they had a lighter blanket. They did and quickly changed it for us. I asked if I was making an unusual request but was told that many guests prefer a lighter duvet, too.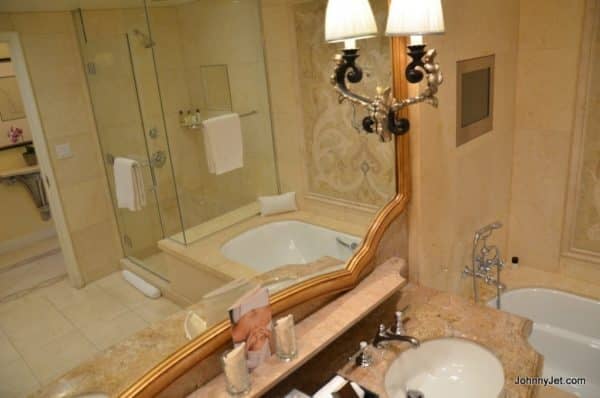 5. Bathroom
The marble bathroom has a large shower and a separate deep-soaking bathtub. The bathroom also comes with an exclusive line of Antica Farmacista bath products and plush Turkish cotton robes.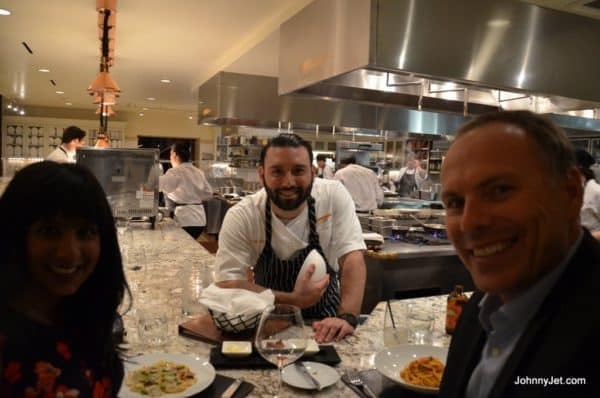 6. Chef's counter at Scarpetta
Scarpetta is located on the first floor of the hotel and there are several others throughout North America. They have all garnered glowing reviews, including a selection as one of the "Best New Restaurants in America" by Esquire magazine and a nomination for "Best New Restaurant from the James Beard Foundation." The Italian cuisine is modern, earthy and refined, with seasonal ingredients and sitting at the Chef's Counter, watching all the cooks in action, is entertainment in itself. The head chef is Freddy Vargas (@chefFV) from Brooklyn and he is not only an incredible cook but a great guy, too. We had the farmer's market salad, scallops, burrata, kale ravioli and their award-winning spaghetti with homemade pasta. The pasta was enough to make Natalie say that this Latino chef could really teach the Italians how to cook!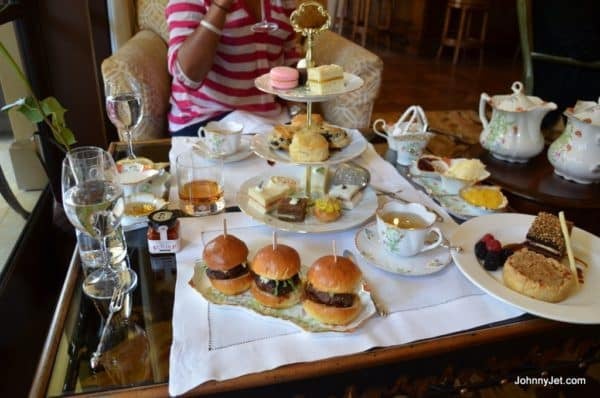 7. Afternoon tea
When Natalie asked me to go to afternoon tea with her, I admit, I thought it would be torture. I mean, how many guys like to sit in a quaint room with hand-painted china sets and eat finger sandwiches? Zero. That might change when you find out that the Montage Beverly Hills offers a Gentlemen's Tea ($58) with sliders, apple pie and chocolate cake and a glass of Johnnie Walker's Black.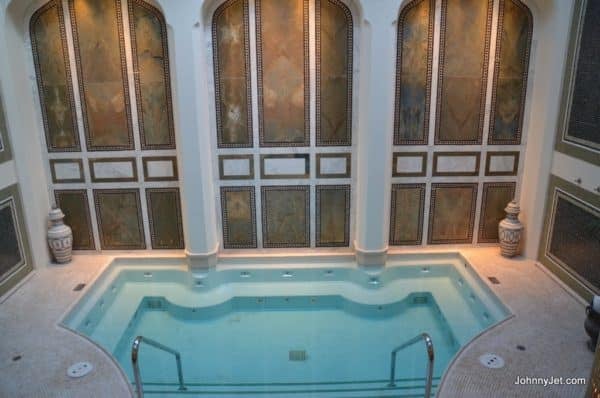 8. The spa
The Spa Montage Beverly Hills is located on the third floor and is massive. It's 20,000 square feet with 17 treatment rooms. It was inspired by the 9th century Andalusia region of Spain and has a Moorish-style design. The men's room had the hottest steam room I've ever been in as well as a large Jacuzzi. I didn't hit the co-ed mineral pool or the fitness center. The only room for improvement is the design of the men's waiting room – it needs some serious help.
9. Complimentary use of a Mercedes
In the past, only guests who stayed in a suite would be able to get to drive one of the hotel's Mercedes-Benz vehicles during their stay, for free. They've now extended this offer to any guest at all of their properties (Montage Deer Valley or Montage Laguna Beach). It's based on availability and the vehicle is only available for four hours or less and you have to pay for the fuel you use.
10. Its central location
One of the best things about the Montage Beverly Hills is its location. It's located on North Canon Drive and Wilshire. It's a block from Rodeo Drive so the best shopping in the world is just steps away. But don't think that because you are in Beverly Hills and near Rodeo Drive that everything is obscenely over-priced. There are plenty of reasonably priced restaurants and shops all around.
I could go on and tell you more — like the fact that this is where tons of A-list celebrities stay, the rooftop pool, there's a fine barbershop and a great Kim Vo hair salon (Natalie's new favorite) located in the building and that Thomas Keller's Bouchon bakery is in the building across the way but I will save that for another time. In the meantime, you should definitely go and check it out for yourself!