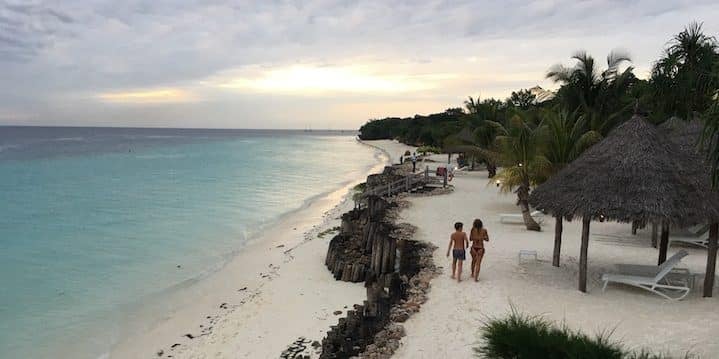 After a trip to Zanzibar I can finally say that I've traveled the world from A to Z.
My family and I stopped on this small island on the eastern coast of Africa en route to Amsterdam after going on safari in Tanzania. That's a lot of alphabet covered right there. Zanzibar is as exotic as it sounds. More than an island, it's a tropical archipelago in the Indian Ocean that sits just 70 miles off the coast of Tanzania. It comprises many scattered islands; the two larger ones are called Ugunja (also known as Zanzibar Island, where we stayed) and the other is Pemba. For me, my husband and my son—all fresh off an exhilarating but extremely travel heavy Tanzanian safari—the lure of clear waters, white sand beaches and a touch of luxury was exactly the relaxing tonic we craved before our onward journey to Europe.
Zanzibar is the gateway to East Africa. It has equally long day and nights (12 hours each) due to its proximity to the Equator. This proximity also means that it's warm all year-round. Add to that the fact that Zanzibar is home to a vibrant spice-growing industry, delicious Swahili cuisine, a culturally rich and intriguing history, the almost-extinct Zanzibar red colubus monkey and you've got a destination that's more than just a beach resort.
But for the beach… Bring sea sandals or shoes you can scuba or snorkel in. The water is perfection, but there are sea urchin warnings posted around the beach. My sister-in-law stepped on one and it hurt a lot. So protect your feet. And as ever, make sure you cover yourself in sunscreen.
A little history
In fact, the origins of settled Zanzibar are fascinating. Zanzibar was historically a base for Arab traders traveling through Arabia, India and Africa that by the 15th century was its own sultanate. But the islands were vulnerable, and the Portuguese gained and maintained control of Zanzibar for nearly 200 years until the sultanate of Oman wrestled it out of their control in 1698.
By the mid 19th century, it was the main trading port of the East African slave trade (a reported 25,000 slaves passed through Zanzibar each year) and the world's leading exporter of cloves. The British Empire was the next to rule the islands, which it did until 1964 when they finally won independence. Freedom wasn't smooth sailing though; just a month after independence, the Zanzibar Revolution saw several thousand people killed in a bloody battle, resulting in the emergence of the Republic of Zanzibar.
Shortly afterwards, Zanzibar merged with Tanzania and became the semi-autonomous region it remains today. However, it wasn't until the 1980s that this archipelago became a free market. Today, the people are ruled by the Revolutionary Government of Zanzibar and their president incumbent Ali Mohammed Shein. Democratic elections are held and peace reigns.
Arriving in Zanzibar
Celebrations were in the air when we arrived, which was a very specific time in their calendar: the last day of Ramadan. This wasn't by design but by accident. Think of New Year's Eve in America and you'll get an idea of how chaotic it was at the airport and on the streets. Our 45-minute transfer to the hotel took just under two hours instead of 45 minutes. Thankfully, I'd booked our transport ahead of time and I'd suggest you do the same at any time of year.
Traffic lights: It's not the traffic lights that hold you up. Zanzibar only has three stoplights—and we found one of them!
What to see, do and eat
Stone Town
A cultural melting pot and a UNESCO World Heritage Site, Zanzibar's Stone Town, its capital and the historical heart of the island. You can book guided tours on foot and by bike. All of Zanzibar's history comes together in its narrow stone streets. Landmarks include the House of Wonders (a former sultan's palace), the Anglican Cathedral (built on the site of the Old Slave Market), the Sultan's Palace (Beit al-Sahel), the late-19th-century Hamamni Persian Baths, and the Old Fort and Cultural Center (built to defend against the Portuguese; also where you can buy souvenirs or get a henna tattoo).
Freddie Mercury's birthplace
Charmingly, you can also see the front of the house where rock star Freddie Mercury was born. Freddie's father Bomi Bulsara was a government official and would walk to work every day at the nearby House of Wonders. The family fled to England to escape the 1964 revolution. You can't tour the house, but if you're a Queen fan it'll rock you to have a photo taken outside of the building that was the singer's home until he was eight-years old.
Local markets and street food
In Stone Town especially, there are local markets galore selling fruit, vegetables, fish, and spices, as well as shops selling antiques, traditional clothing and crafts. It's a busy market town that seems to be constantly moving. We felt as if we were in an Indiana Jones movie! Street food is big, and there are hot food stalls selling kachori, which are deep-fried mashed potato balls (forget any diet you might be on!), and urojo soup, made with spices, crispy onion, egg, fried potatoes, mashed potato, and hot mango chutney.
Spice tour
You can also take a spice tour of Zanzibar (some of them incorporate a tour of Stone Town) and if you're a foodie, this may be something worth doing. We bought some packaged spices to take home as the smell of cloves that lingers in the Stone Town air was too enticing to ignore.
Jozani Chwaka Bay National Park
We'd seen a lot of animals on our Tanzanian safari, so animal-spotting wasn't top of our Zanzibar to-do list, but you can tour the Jozani Chwaka Bay National Park. Also known as the Jozani Forest, it was designated as a conservation area more than 50 years ago and is home to the endangered red colobus monkey. Thanks to this safe environment, the monkeys are slowly recovering from the brink of extinction. In the park, you can see them swinging from the trees and foraging for food. Other species you may see include Sykes' monkeys, chameleons, bush babies, lizards, frogs, suni antelope, and many breeds of bird. This adventure into the wilderness is certainly something we'd do if were ever returned to the island.
The hotel: Diamonds Star of the East Zanzibar
We stayed at the magnificent Diamonds Star of the East Zanzibar, which is an hour's drive from Stone Town and part of the Plan Hotel Hospitality Group. The compound features nine single villas and two double villas all decorated in contemporary African style, and each with a private hot tub. Our villa was exquisite and called "Reward of Faith," which I loved. We had lots of indoor and outdoor space to watch the sunsets from and a private pool, and we were only a five-minute golf cart ride to beach.
For my family, the hotel and its location were really the stuff that dreams are made of. It's an Instagram fantasy (try taking a bad photograph; you can't). You can linger by the pool or the still, clear turquoise ocean. It also offers a wellness center and spa called the Mvua African Rain Spa. The word mvua in much of Africa (including in Swahili) means "rain," which also means "life." Treatments here are based on ancient African, Asian and European traditions and use natural ingredients such as plants, flowers, salt, cereals, spices, wild honey, and unrefined sugar. There are many different kinds of massages as well as a Turkish bath and hydrotherapy pool.
The hotel was extremely family-friendly, which is something that will always make a mom happy. There were kids everywhere, which was great for my son as he enjoyed making friends and playing games with them in the pool. The staff were cheerful, the food was unbelievably delicious and there were many tasty temptations in the form of their fresh fruit and fish. The sunsets were divine and the entire coastline was picturesque beyond belief. You literally can't do anything other than relax and recharge.
Available watersports included catamaran trips, rides on a banana boat, sailing and windsurf courses, waterskiing, wakeboarding, canoeing, and of course scuba diving and snorkeling.
The food, too, was something that we all looked forward to. After a day on the beach and splashing around in the water, we were all ravenous. We dined at the hotel's Ocean Blue Restaurant, which is open to the elements and the cool evening breeze. You literally sit above the ocean as you eat, which means that the fish here could not be any fresher. My son absolutely loved the signature calzone, which is enormous, tasty and an island favorite. Other local dishes we tried included mandazi, the Swahili version of a donut but lightly seasoned with cardamom. The spices grown in Zanzibar really come into play in their cooking. We also loved their biryani rice, which is fragrantly spiced and the perfect partner to the fish curry (goat is also popular).
The hotel was a quiet oasis, and on our final day on the beach I wanted to linger there forever. It was just so beautiful and quiet. You feel as if you're on the edge of the world as you gaze across the endless ocean, which soothes and thrills simultaneously.
Coming soon, for families
Giving the Caribbean a run for its money in terms of the destination for luxury and sandy beaches, the Diamonds Star of the East will be joined in November of this year by a new hotel, Sandies Baobab Beach Zanzibar, from the same hotel group. Our son loved all the activities at the Star but Sandies has been designed with families in mind. As well as villas it features 105 rooms built on two levels and furnished in contemporary Swahili style. An amphitheater will host the resorts evening entertainment featuring local dancers, musicians and acrobats.
For us, Zanzibar was perfection… with just the right amount of spice!