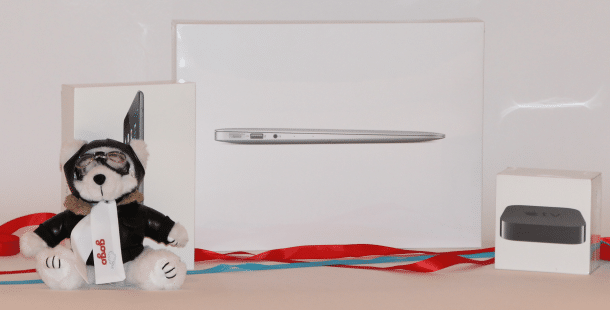 CONGRATULATIONS to our winner: Keri Butler, seen in the photo here with her haul! Keri's wine glass-holding necklace was just one of hundreds of great (and ridiculous) products we received as answers. See them all in the comments below!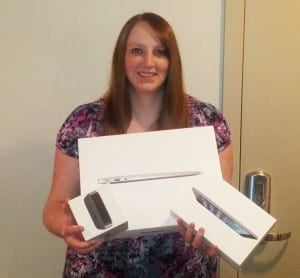 The contest (now over):
Have you ever been on a plane, flipping through one of those in-flight catalogs, and seen an item that's made you laugh, or point out to your seatmate, or just shake your head? Something like, say:
A remote-controlled towel
A hat that can remember your name
Dog ice skates
Edible bookmarks
A TV powered by bacon grease
None of those items are real, but in the air—based on what else is out there—they really could be. In our "Only In The Air" contest with Gogo, we're asking for the craziest, most ridiculous, coolest, most ingenious, most impractical, or just most memorable product you've ever seen in an in-flight catalog. If it made you think, "Only In The Air," we want to hear about it.
From the pool of readers who share their favorites, one lucky winner will be picked to win a Macbook Air, an iPad and an Apple TV!
Here's how to enter:
From Wednesday, December 4, 2013 – midnight PT on Tuesday, December 17, 2013, you can enter by using the form below to Like both me and Gogo on Facebook. You can also follow me on Twitter, Instagram and Pinterest and Gogo on Twitter, Instagram and Pinterest to earn yourself bonus entries (meaning more chances to win).
Then, submit your "Only In The Air" product as a comment in the comments section of this page. Simple as that!
The fine print:
All official rules apply.
Good luck!
[raw_html_snippet id="gogo-onlyintheair-contest"]