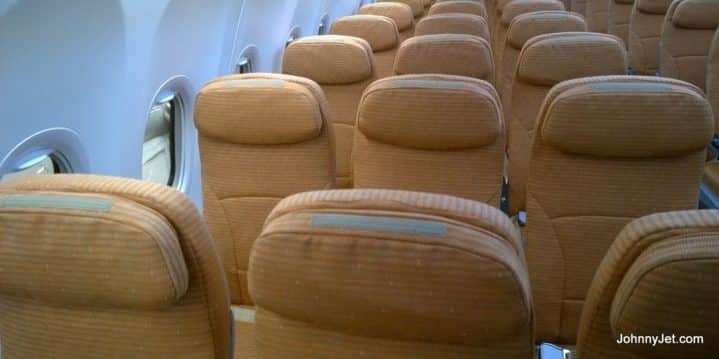 I'm a huge fan of Expert Flyer (EF), written about in depth here. It's not the easiest website to figure out, and there's a subscription cost ($99/year or $9.99/month), but for certain things it's extremely useful. I use it mainly to check flight loads to see where my best chance to get upgraded is—and to set seat alerts.
With EF, I can set seat alerts for seats I really, really want, like exit-row-aisle or bulkhead seats. This means I no longer have to return again and again to the airline's website to check the seat map to see if a better seat has opened up. EF, which emails you when the seat you want opens up, makes finding the best seat on a plane easier and less time-consuming.
Tip: Frequent flyers tend to hold the really good seats (like exit row and bulkhead), which often open up closer to the flight after these flyers get upgraded to first or business class.
My new seat alert trick
Recently, however, I discovered an additional use for EF's seat alerts. I now set a seat alert for the seat that I'm booked in, even if I'm already in an exit-row-aisle or bulkhead seat. That's because once in a while, the airline will change the plane/equipment it's using before the flight and have to reshuffle seats. If that happens, I don't want to get moved to some random seat, which has happened before. When I set a seat alert for my own seat, and I get an email telling me that the seat I'm sitting in has opened up, I know that something's up. Instead of being surprised at check-in to find myself in a different seat, when most of the seats are likely taken, I find out right away and can head to the airline's website or app and update my seat.
Another reason I set my own seat alert? To know when I've been upgraded. This way, I don't have to keep checking to see if the upgrade went through. Brilliant, eh?
---
Have your own tip? Email it to whitney@johnnyjet.com!
Want to see more tips? Click here for all 1,600!
Want even more travel tips? Sign up here for the Daily Travel Tip newsletter! Enter your email address and check "Daily Travel Tip" to receive Johnny's best tips in your inbox each day!
If you already subscribe to our weekly newsletter, you can sign up on the same page. Just fill in your email and check "Daily Travel Tip" on the same page. You'll receive an email with a link to update your JohnnyJet.com preferences. On that page, just click the Daily Travel Tip box and Update Profile.