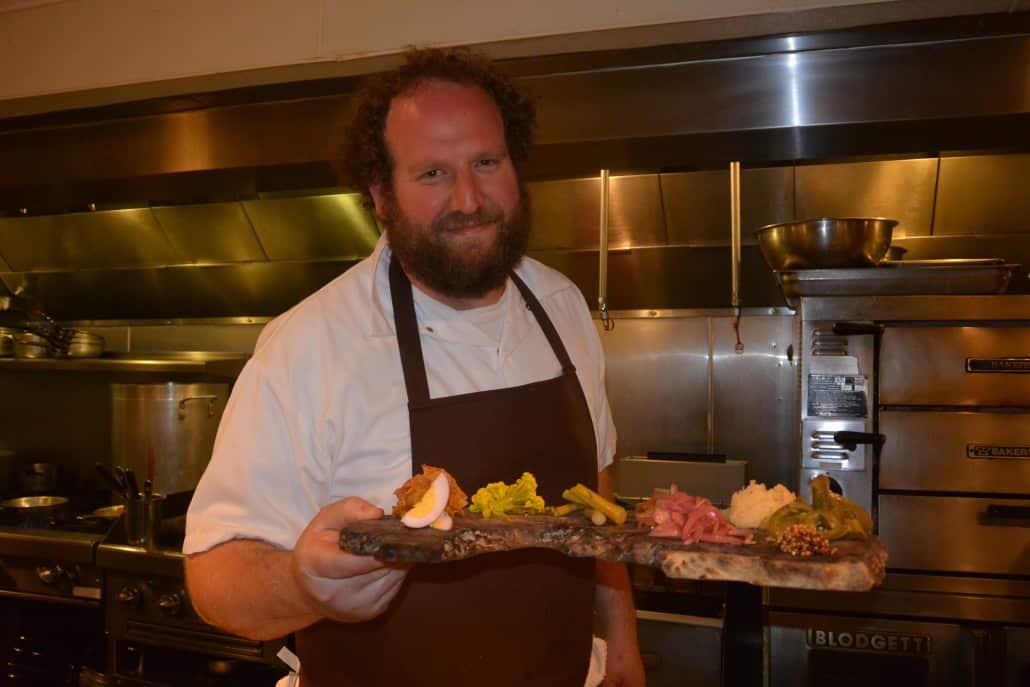 This is the first post in Caitlin Martin's series on Sonoma County, CA. Check out the homepage here, the second post here, the third post here, and the fourth and final post here.
During our stay in Sonoma County, we quickly realized just how fresh and delicious the food is here. Not only do chefs use very fresh local ingredients found from farmer's markets, but they also pick veggies from their own gardens. Talk about fresh!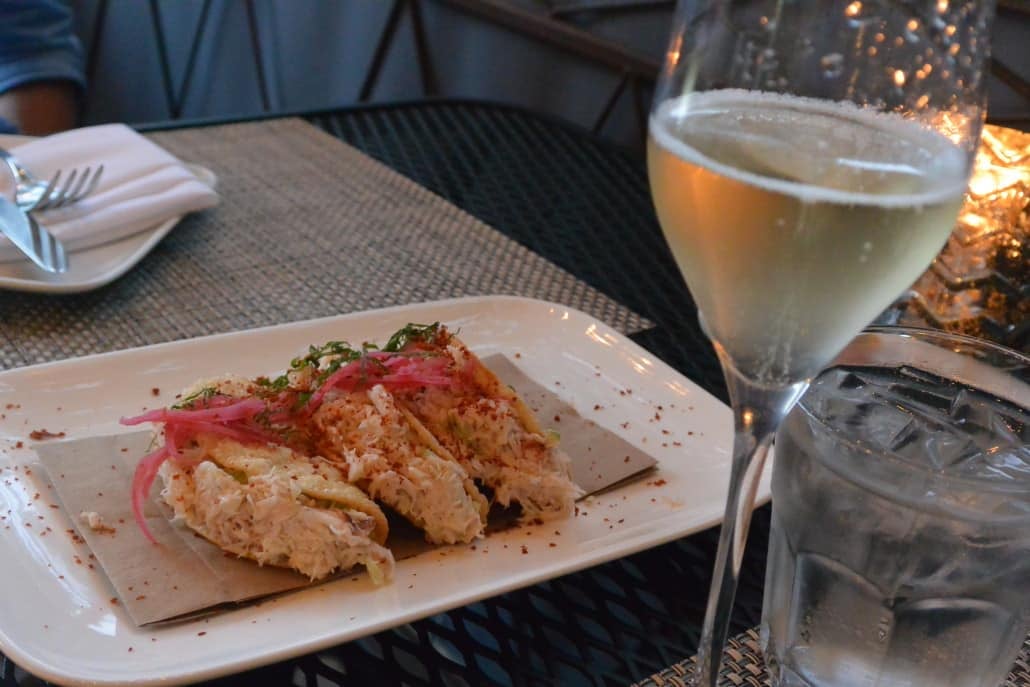 1. Willi's Wine Bar (4404 Old Redwood Highway, Santa Rosa, CA; 707-526-3096)
Opened in 2002 and located in an historic roadhouse, Willi's is highly rated by locals. We asked several people where to eat in Santa Rosa and this place was brought up more than once. Willi's was the first venture of Mark and Terri Stark, who were James Beard Outstanding Restaurateur Award semifinalists in 2013. This is one of the five restaurants the Starks have in Sonoma County.
You must sample the Crab Tacos, Lamb Tartare, Scallop Dumplings and Chocolate Bread pudding.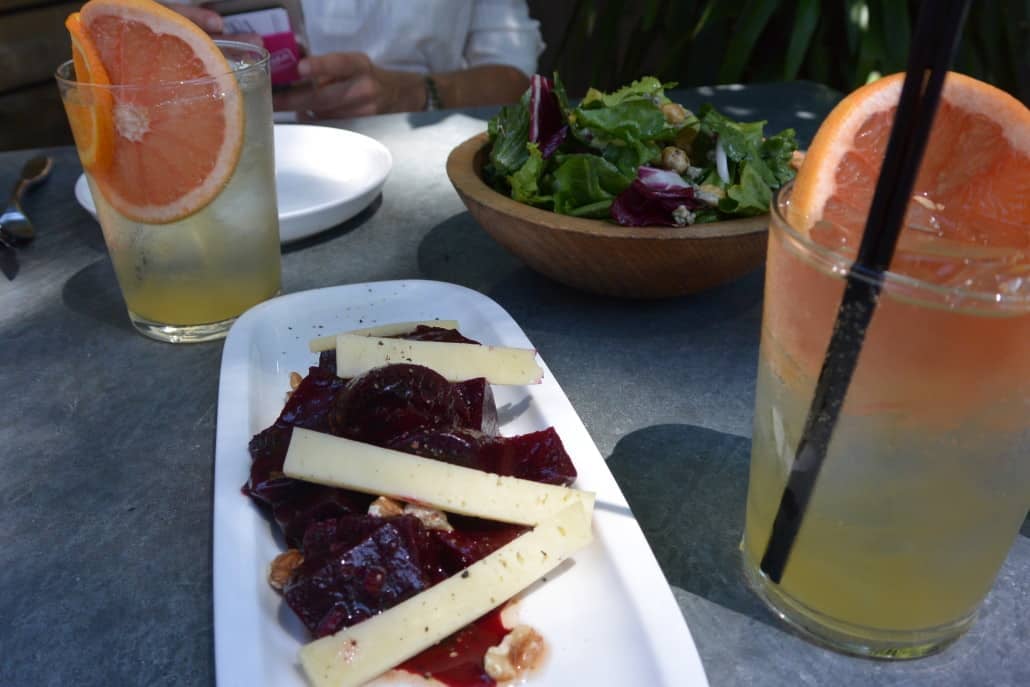 2. Bravas de Tapas (420 Center Street, Healdsburg, CA 95448; 707-433-7700)
Bravas is another property by Mark & Terri Stark (of Willi's Wine Bar above) and a top spot for Spanish tapas. You should try a little bit of everything (which is what we did), but make sure the roasted beets and bacon-wrapped dates with blue cheese are on the list. Also be sure to check out Bravas' great selection of signature gin and tonics!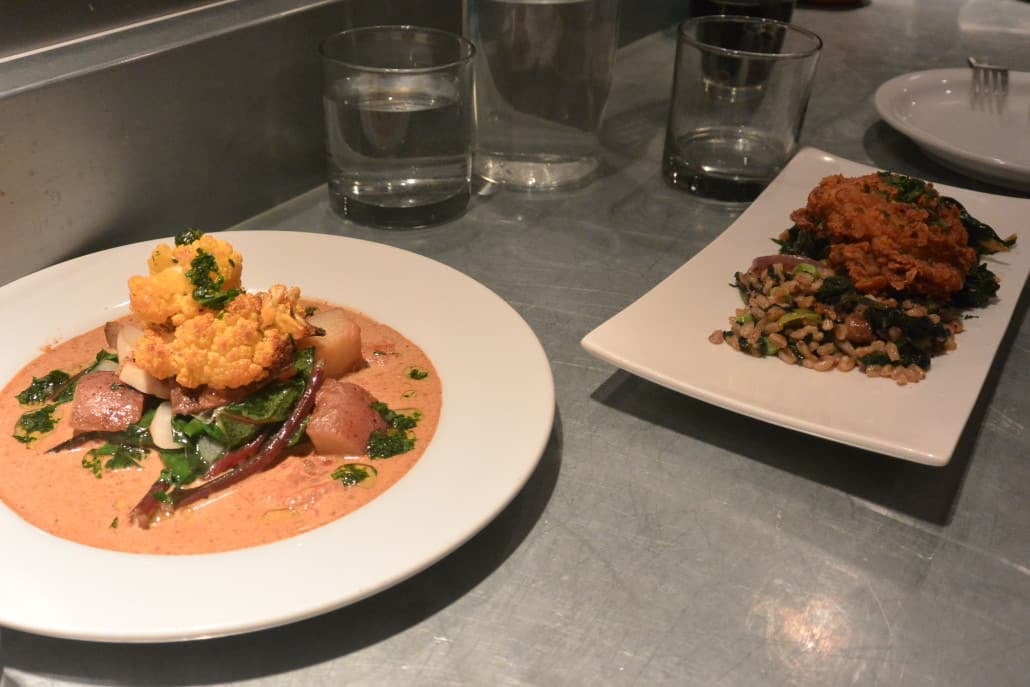 3. Backyard (6566 Front Street, Forestville, CA; 707-820-8445)
Come here for the rustic, California cuisine with a Mediterranean flare but more importantly come here for the husband-and-wife team of Chef Daniel Kedan and Chef Marinanna Gardenhire. They first met at the Culinary Institute of America and now call Sonoma home. Every piece of fruit, vegetable and animal is grown, raised or line caught locally.
Chef Dan certainly has a cult of local followers. In fact, the hotel owners at the Farmhouse Inn were there for lunch the day we came for dinner. And after tasting his food and chatting with him (so fun and personable), we totally understand..
His menu features whole animal butchery from local ranchers, a great pickle board and charcuterie plate, and pasta, as well a great list of local beer and wine. You must try this place on Thursday nights for its famous family fried chicken. I promise you won't regret the decision.
We enjoyed the ambience (and the Chocolate Budino for dessert) so much we stayed until closing and even watched as Chef Dan prepared house-made sausages for the next day.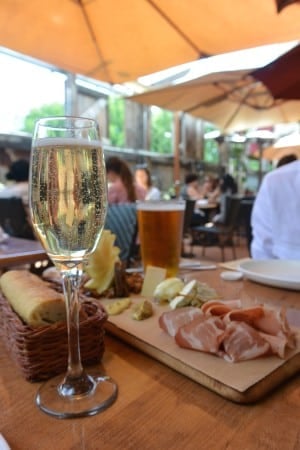 4. The Girl and the Fig (110 West Spain Street, Sonoma, CA; 707-938-3634)
"Country food with a French twist" describes our lovely meal at The Girl and the Fig. We dined outside on a rustic patio loving our cheese-and-cured-meat plate called The Works. In this selection, we had local Sonoma chevre goat cheese from Laura Chenel and house-made fig cake. They have their own in-house meat workshop so we sampled their salumi, bacon and pancetta. Everyone needs to have this signature item.
We also enjoyed the Duck Confit with spinach spaetzle, red pearl onions, carrots, and walnut vinaigrette. For dessert, it's a must to get anything with their Salted Fig Caramel sauce. It was so good we brought home a jar of it!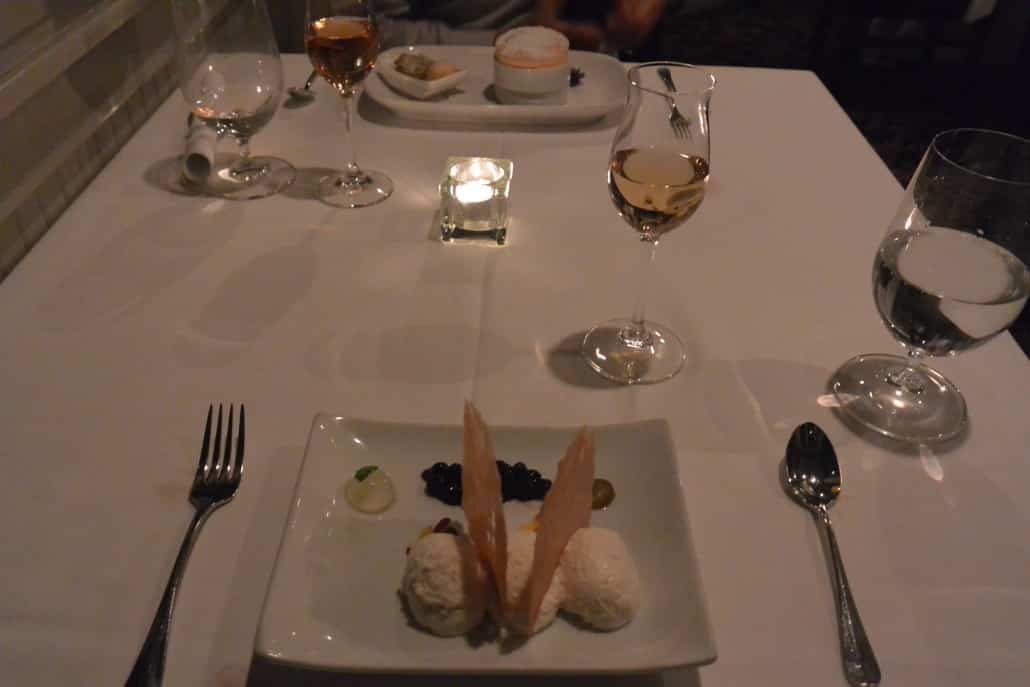 5. Farmhouse Restaurant (7871 River Road, Forestville, CA; 707-887-3300)
Michelin-starred Farmhouse Restaurant at the Farmhouse Inn is an experience like no other for exquisite fine dining. Executive Chef Steve Litke serves items sourced from owners Joe and Catherine Bartolomei's ranch or local artisan farmers. The restaurant relies not necessarily on what's fresh but instead what's perfect and unexpected. The careful attention paid to preparation stood out to me during the dinner we were lucky enough to have here.
I recommend getting the wine paring with each of the four courses because it gives you the opportunity to taste local wine—as well as some of the best wines in the world. Estate Wine Director Allyson Gorsuch's wine list is just phenomenal.
We had the best foie gras I've ever tasted here. The Duck Foie Gras and came with rhubarb gastrique, pickled green strawberries and a buttered brioche. But what stood out was the preparation of the foie gras—seared to perfection.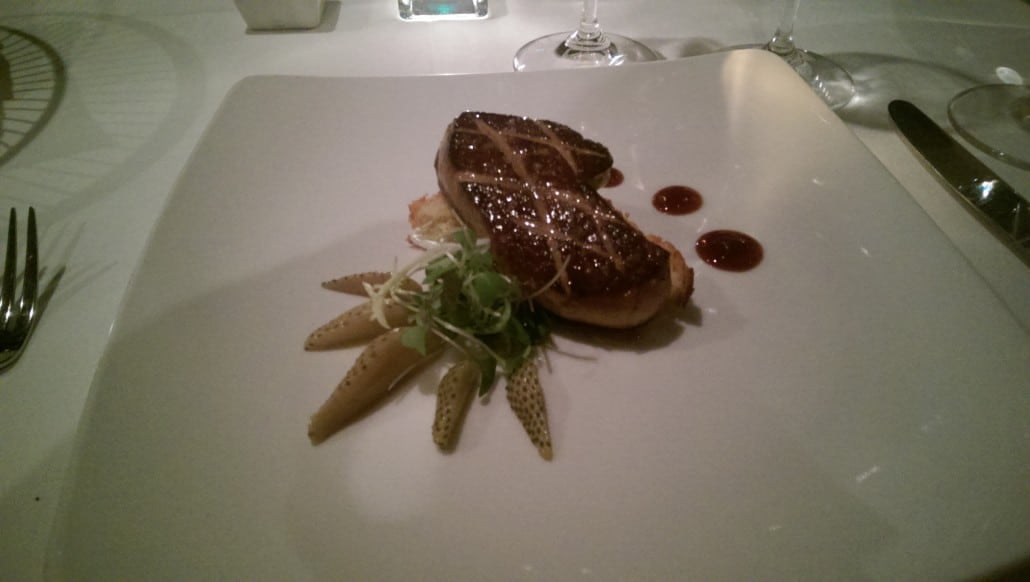 I heard the Rabbit Three Ways is their signature dish but it wasn't on the menu that night. So, I ordered the pork chop and I'm glad I did. The Snake River Pork Rib Chop with prosciutto, snap peas, tapenade, and polenta was divine. Even though I'm not typically a pork fan, Chef Steve clearly changed my mind.
The dessert was light but full of sweet and spicy flavors. Leaves of Coconut had coconut wafers and mousse with Serrano chile with blueberries and mint. I had a local wine with dessert. It was from Kelly & Young in Alexander Valley, the late harvest sauvignon blanc, a great late harvest wine with flavors of apricots and hazelnuts.
Stay tuned to my Sonoma County series for more on the Farmhouse Inn's three-course breakfast (yes, that's right) and farmhouse-elegant accommodations.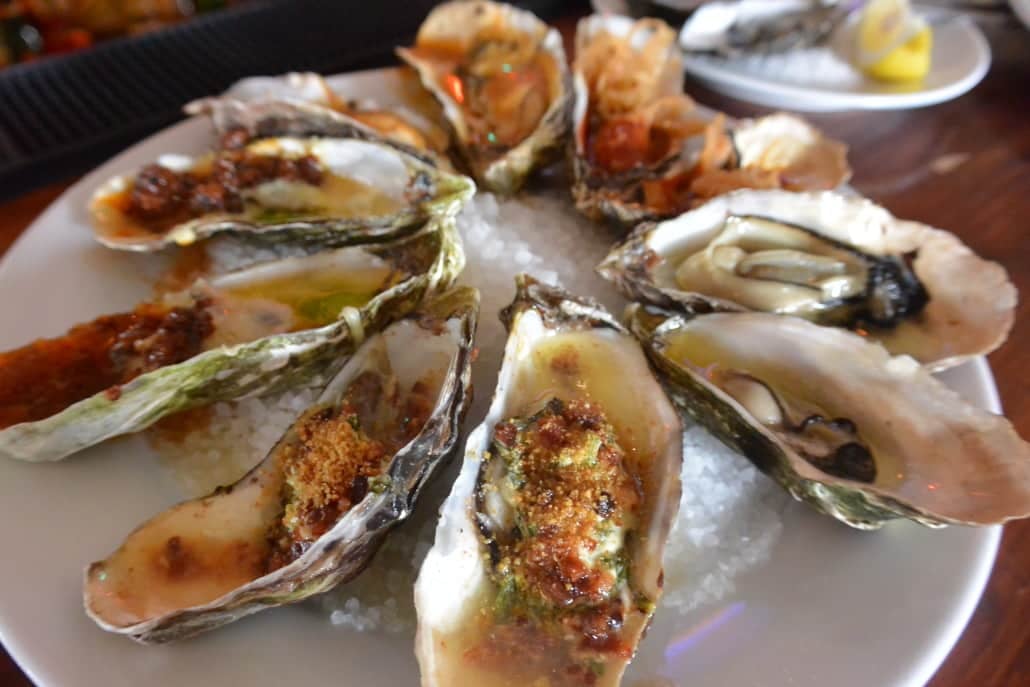 6. Rocker Oysterfellers (14415 Shoreline Hwy, Valley Ford, CA; 707-876-1983)
As we were leaving Sonoma on our way back to San Francisco on Shoreline Highway, we stumbled upon a little gem on the side of the road in a town called Valley Ford. The town must have had about 10 people living in it (okay, I just checked—147 people). Rocker Oysterfellers was a great stop, mainly for their BBQ oysters from Tomales Bay Oyster Company. We tried each of their six kinds and loved the Estero Gold (Valley Ford Estero Gold Cheese, Chorizo Sausage, Serrano Chile). Another, unique style was the Gangnam Style oysters (Fermented Chile Paste & Kimchi).
We enjoyed the bartender banter with the bar patrons, and getting to know each person's name and family history. Halfway through our oysters, I asked the bartender to tell me more about where the oysters come from. Literally as I said that, a man who had just walked in said, "Oh they come from Washington where they are raised in plastic trays, then are transported to Tomales Bay where they are raised anywhere from 9 months to 1 year." Of course I'd meet the oyster farmer of these oysters in the bar!
We enjoyed talking with Ed, a retired policeman who works part-time for Starbird Mariculture. Starbird purchases seeds for Pacific oysters from Washington. They're grown over a period of four to five months and Ed grows them to about .75″ and passes them along to the growers like Tomales Bay Oyster Company.
After our oyster lesson, I let the bartender have her conversation with Ed. "How's the wife, Ed?"
"She's doing a book club."
"How's the non-bf?"
I love Sonoma County and the locals!
Photos courtesy of Caitlin Martin/Spencer Marker.