At a moment's notice last week I decided to fly from Los Angeles to Florida so I could be with my dad and help him get settled into his winter rental after being discharged from the hospital/rehab center. It's a long story, but last month he fell on the beach, broke his back, had some complications from lying in bed for two weeks and became very weak after losing 25 pounds. Instead of shelling out my credit card I turned to my frequent flyer miles.
To buy a last minute, nonstop, one-way ticket from L.A. would've cost me over $400 (except for Spirit Airlines' base fare but after all of their nickel and diming it would've been comparable). I didn't even bother to look at using my Delta Sky Miles since they don't discount one-way tickets and the trip would've been at least 40,000 miles with one or two stops.
I checked United.com and I could've flown their soon-to-be-former partner US Airways (they just announced they are merging with American and will be a part of the Oneworld alliance) for 12,500 frequent flyer miles, but the times weren't great and I would've needed to make a stop in Phoenix.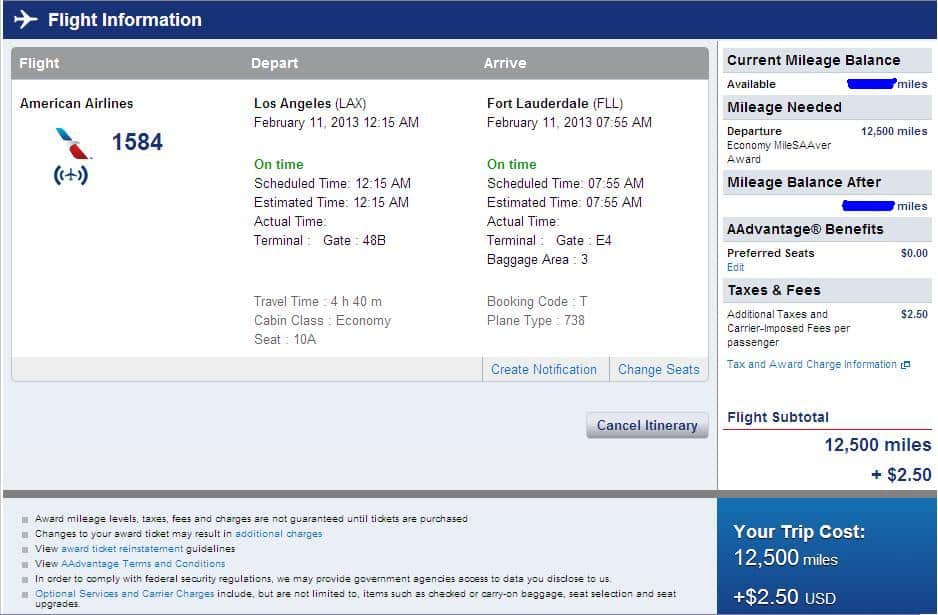 I ended up cashing in 12,500 frequent flyer miles and paying $2.50 for the September 11 Security Fee to fly nonstop from LAX to Fort Lauderdale on American Airlines. That's obviously a great deal and it saved me a good amount of money.
The point of this post is to show all of those naysayers out there that keep saying "Frequent flier programs are a scam" that they are mistaken. They can keep living in the dark and shelling out their hard earned cash while we whisk around the country/world on points.
To accrue 12,500 frequent flyer miles doesn't take long. In fact, you can do it within a few minutes by signing up to an airline's credit card to receive anywhere between 15,000 and 40,000 bonus frequent flyer miles at signup.
Or you can charge purchases on your airline credit card or buy from their partners to earn anywhere between 1-15 frequent flyer miles per dollar spent (just be sure to pay your credit cards off on time or it's not worth it).
And of course, you can earn miles the old fashioned way and do it by flying. To accrue 12,500 frequent flyer miles requires flying just 2.5 round trip tickets between the east and west coasts and that's if you don't have elite status or are flying on a premium ticket. Those with status and/or flying up front can do it in a lot less.
Related: Frequent flier programs are NOT a scam – here's why you should signup now.